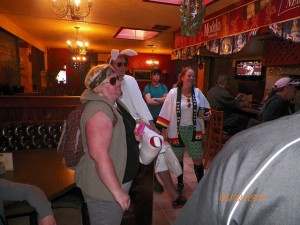 This week, our Hares, Dung Fu Grip, Pink Cherry Licker and Hugh Heifer decided to do a Big Lebowski themed hash.  The pack met up at Tampico, Hugh Heifer's favorite joint.   Hashers were asked to dress like a character from the movie.  There were several Dudes in bathrobes, Pink Cherry Licker and Broke Bench Mountain dressed like Walter, Hugh was Donnie, Princess Di (arrhea) and Finger Nips were Maude and yours truly was Bunny Lebowski.  Waxi Pad showed up as "The Big Pavelski".  Puff dressed like Puff.  He has said on several occasions that he dislikes "themed costume hashes".  He's the first drag queen that I met that doesn't like to dress up.  WTF!  Come on Puff!  It's fun!
There were 3 trails and the intricate plan was devised after the hares smoked a lot of weed.  There was a Dude trail (Dung Fu), a Walter trail (Pink Cherry Licker) and a Donnie trail (Hugh Heifer).  All trails lead to a white Russian check in the beach flats and ended at the parking area on east Cliff Drive overlooking Seabright Beach.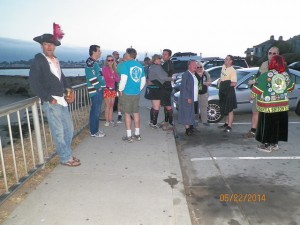 Donnie died, and so did his trail, after the white Russian check, however no one found his ashes.  Several cars honked at yelled cat calls at Princess Di (arrhea) for her outfit.  There was a nut job on the beach and Just Jeff started yelling pirate shit at him.  Some chick approached the group and asked for help solving a crossword puzzle.  Pink Cherry Licker gave her the answer and she went on her merry little way.
Religion was in the parking lot above the bowling alley.  Hairy Potter was RA, Thmp-Thmp was Beer Fairy.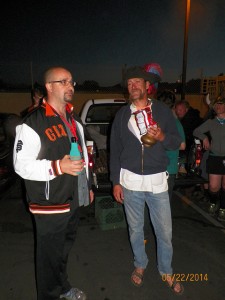 Just Jeff was up for naming.  The last 2 hashes, he showed up dressed like a pirate.  Aside from being an asshole, he also was a bee keeper.  He was named Bee Qeefer.  Welcome to the hash!  Virgin Evan was called up next.  Moose Turd Pie made him cum.  That dude seemed like he was on his own trip.  Possibly an alien from mars.  He told a lame joke.  There were 2 analversaries- Broke bench Mountain celebrated his 225th hash and Puff the "I don't want to dress up" Drag Queen celebrated his 669th consecutive hash!  Get a life!  Accuprick, Choka Cola, dBASED and Puff drank for not wearing costumes.  Religion was cut short by some asshole tourist who couldn't park his minivan.  He got out of his vehicle and yelled "you don't belong here!"  He got on his phone.  We suspected he was calling the cops, so the hash left in peace.  And the Hares…………
See you Wankers on Thursday!
On On,
Shallow "Bunny" Hole