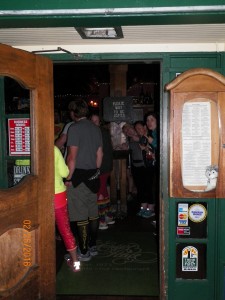 Why I need to hash scribe when puff sends out hash flash emails like that still baffles me, but I am a half-mind so I am often baffled. This week Thmp and Princess (our hares)had some serious backsliders crawl out of the woodworks for them!
The crepe place was poppin' with hashers many of which I did not recognize. Once we finally managed to head out we hit a speed check immediately…and about a million others along our route. There was a debacle involving one of the speed checks and Pink Cherry Liquor where she went the wrong way and threw the pack off despite her denying the incident or having some sort of story I feel like there were lies thrown around by everyone and placing blame on her is much easier!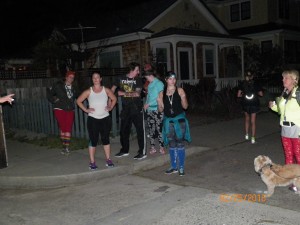 Once we got led around here and there for a while like many times before we found dBased off on his own, he didn't fall for PCL's tricks and actually ended up on proper trail solving on the speed checks for the pack who fell about 15-20 min behind. We eventually got to JFP and Bacon Queef's for beer check, tits were shown, pussies were pet, beer was drank and packages were delivered. After all that good stuff we got over to Casa de Puff's for Religion.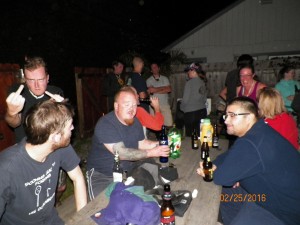 Dung-fu was our religious advisor and the first order of business was to down-down those backsliders! Banana Basher, Broke Bench, Dog Breath, Apple Bobber, Bacon Queef, Pedofiddler (we will get to that), Tits n Game and Moose Turd Pie all got their down downs! Most of them came down with the zika virus in some form, which explains the shrunken brains characteristic of microcephaly they seem to exhibit. Tits n game wasn't coming because she wasn't cumming, someone help her out! Moose Turd Pie was in Yosemite frolicking in the forest. Pedofiddler said her name was awful and she demanded a new one, since the hash could not seem to have remembered her muggle name (Even before she had a hash name) the general confusion Jessic-jenn-jang-GENITAL TONGS as named byFingernips emerged and she had a new hash name.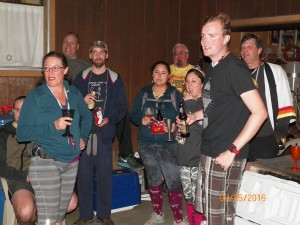 So from here on out she will be known as "Genital Tongs". We had some visitors as well Michael fuckin Vick (as he put it, "you throw a beer can in the direction of a dog ONE TIME") and Trashbag Coochie were visiting from Humboldt. I think Broke Bench attempted to sodomize Dog Breath and the plastic chair, rather than be involved just decided it was better to die and it exploded, they got a down down for that.
This is why Puff has so many chairs because when you have hashers over you definitely can't expect to get your security deposit back. We also had a VIRGIN! Virgin Cassie had a simple but good joke with "How do you make 5 lbs of fat look good?"…You put a nipple on it. Which is factual. PCL got her backcheck scandal down-down. There were some more down-downs given something about dog breath having a flashlight up his ass or something I forget.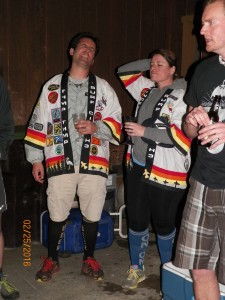 We also had beer day celebrations! Thmp and Michael fuckin Vick got their song. Finally the hares! Thmp-thmp and Princess laid a truly shitty trail! It's the gay chicken team next week with Twisted and Dung-fu leading the way through a shitty trail!
On-on,
Pussy Wood