What a lovely day for a shitty trail.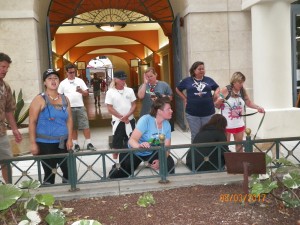 The weather was unseasonably humid thanks to monsoonal moisture so it didn't take long for a glistening glow to appear on our skin. Huge beads of sweat traced a vertical descent through rac*ist t-shirts and tiny thongs culminating a sizable puddle on the sidewalk.  Everyone had something to say about the sticky situation and we were not talking about The Human Pube, Unicrack or TestaCoil!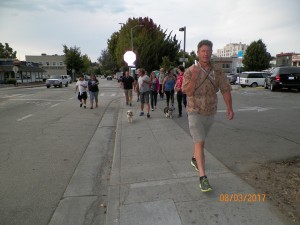 After sufficient imbibing of colorful cocktails at the most delightful outdoor cafe/bar/art venue and after receiving our coveted shiny new orange whistles – THANK YOU REAL BORING BITCH – we all set off through down town Santa Cruz only to be stopped in our tracks by a check, and then another check, and another. Grrrr, I could have just stayed at the cafe, co-mingling sweat and a civilized summer gin and tonic while pretending to be suave and cosmopolitan.
But no, I was pulled in by group peer pressure to stay with the pack.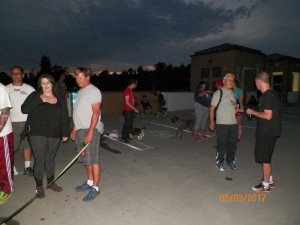 By the way, the hares, Pinky and Fap, left a big tattered brown bag of chalk at the cafe. On said brown bag was a little map of their planned route that Thump and Rat Pussy so cleverly discovered. It was marked with stars and strange notations, however Thump deciphered it and knew exactly where beer check was going to be……….NOT!!!
Nevertheless we obediently followed all the wonderful marks and false trails which lead us to Neary Lagoon.
For those who need to know – from the santa cruz city's website…a few fun facts about Neary Lagoon:
"Abundant wildlife viewing. Peaceful place for a walk. Interpretative signage and information available on site. No dogs allowed in wildlife refuge area. ( Guess we missed that memo)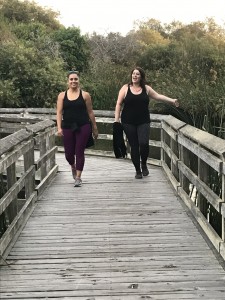 Neary Lagoon is an important part of the urban watershed for the City of Santa Cruz. A drainage area of approximately 850 acres empties into the lagoon, and from there, out to the ocean. 
Wildlife inhabiting or visiting the refuge include mallard and wood ducks, pied billed grebes, a multitude of coots, the world's meanest geese, several varieties of fish and the occasional great blue heron or hawk.
A wooden pontoon walkway and trail system was recently added to the refuge, allowing a complete circuit around and through the refuge. The walk is under 1 mile, and is very popular with families with children. "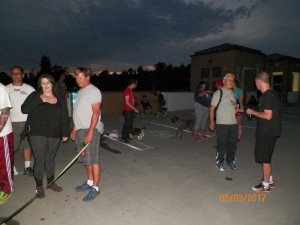 That being said…..it is also quite popular with Hashers….as we have visited this site many times this past year. It is a wonderful 1 mile circuit for some lunatics with beer bellies to gaze upon the resident wildlife, to help little kiddies feed the ducks, despite the signage saying otherwise, and to try to run so fast so they don't smell the stench coming from the adjacent water treatment plant!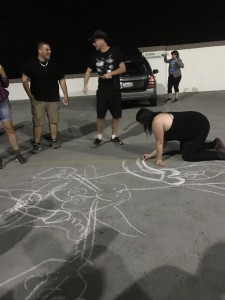 Seems that little tidbit is missing from the city's literature!
Anyways, after the requisite wildlife viewing we headed back into the seedy city…..the eagles were treated to some outrageously steep up hill climb and then some, while the turkeys merely sauntered to the upper deck of the parking garage for beer check.
the eagles came in late….just in time to head to the final parking garage for religion.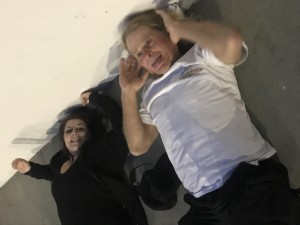 Pinky put on here RA hat AND her teachers hat in an attempt to exert some control on this rowdy bunch.
We believe that most of this trail was a pre-lay….go figure. Who the hell was going to go running in 100 percent humidity? For sure it wasn't going to be our hares.
As to the pre-laid trail and the map left behind as evidence there was some confusion regarding marks on trail. Bacon Queef and How much dick do you need were overheard bantering on and on that there was a mark on the trail, and it was the official mark, not be be confused with the OBVIOUS mark of a trail. HUH?? WTF?? SMOKE WHAT???
Yep confusing to us too.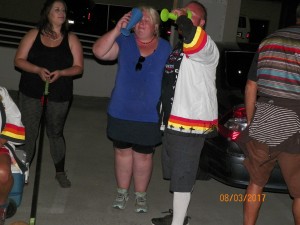 Teacher…..we need another lesson in chalk talk please.
So, once again, for those not in the know……our group tries not to use flour in downtown Santa Cruz, on school grounds and near Capitola Mall. We try to use chalk marks instead. WHY you ask? Because it is often confused with a deadly white substance whereby the SWAT and HAZMAT teams are called in to investigate.
We break many rules while hashing and so tonight I heard from a hasher that his friend, a defense lawyer, says that we should not break more than 1 rule at a time while intoxicated.  Pretty good free advice if you ask me.
So, I'll stick with drunk in public, rather than being arrested for terrorist activities.
We did find Jesus on trail tonight…..and Timmy reminded us, in chalk, in front of Progressive Missionary (a not so popular sexual position) Baptist Church, that "Jesus saves but he can't go hashing". It's a catchy song…we'll sing it for you someday soon.
Moving on we had poop on trail – thanks to Vag for picking it up, we had backsliders: Human Pube, CuntJungle, Occasional Rapist and Twat did you say. We had a analversary of 25 runs for Real Boring bitch…get a life. And a whopping 100 for CumFartZone who wants you to put a ring on it….the C word.
We had a runaway dog on trail….just jenny the dog….who also left us a deposit on trail.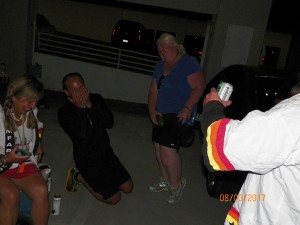 And then we had a memorable naming of Just Pat….who despite being a street artist, a triathlete and a connoisseur of fresh produce, body hair and fine wine, and who french kisses his dog, he can't differentiate behind apple juice and human urine. Thus he will be forever known as "UrineCider".
After religion, an art work extravaganza ensued. Bodies were outlined in chalk, folks were spread eagle on the pavement, sexual positions were pondered. What the hell was in that beer tonight?
The party continued at Woodstock pizza, late into the night with trivia and fat raindrops.
On On On,
Wet Kisses you all,
CumFartZone