Why are we so stupid?
Why do we believe the crap that Twisted Fister spews?
Why were we lulled into a false sense of security with his promise of NO WATER CROSSING for his annual Beerthday hash.
Why are my $200 barely used, almost new trail shoes soaking wet and stinking up my car?
Why?
Good question.
We were all taken for a ride yet once again by this scoundrel.
He marched us along a dangerously dark and winding road only to find a huge FALSE. A big FU.  A bold face LIE. He is one devious MoFo.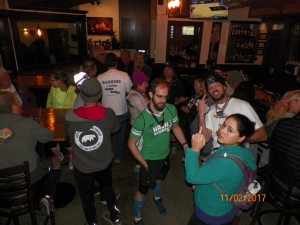 And to make matters worse….he laid the same trail last year and had us fall for it again. Well, let me back up…..we actually had 2 brilliant hashers who deviated from the pack and ended up at Burger!! A place known for a plethora of beers on tap. Banana Basher and Princess Di made a hasty retreat away from the trail and right into a warm and toasty pub. As they were slinking away we were trying not to get run over by cars whizzing by as if they were at Laguna Seca. Thanks for looking out for our safety.
The mangled pack soldiered on and descended into the depths of the dark forest.
Yet once again we lost 2 hashers who are afraid of the dark. Waxi Pad and Occasional Rapist bailed at the entrance of Nisene Marks. They said a prayer for our safety, burned some sage and hoped that the mountain lions already had an early dinner. Not wanting to show any fear, we marched on with our trusty flashlights and headlamps ablaze. Remarkably it was a rather pleasant evening, with the cotton balls clouds playing hide and seek with the almost full moon. The trail was very straightforward….meaning we went directly into the stream, no get out of jail free card. No way out except to get WET.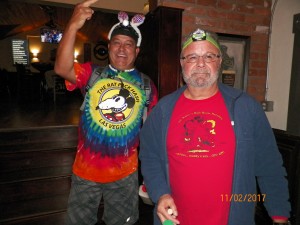 A few souls miscalculated the route and ended up rather moist….CumYouWillNot fessed up to being slightly impaired and thus took her water route on the cuff.  Which means she got completely soaked. Others slithered along a log in order to avoid damp tootsies. And the rest bravely walked right into the cold stream and crossed without incident. There was a good deal of chivalry on trail as the ever helpful Just Foot Pussy took his post as a crossing guard very seriously. TestaCoil was also the perfect gentleman in guiding CumFartZone over the slippery bits and offering to hold her backpack. Bakers also offered his chivalry to Jizziki, who simply can't see shit anymore due to an eye condition and to the blazing fast Virgin Sean who initially was a FRB at the YBF but got knocked off his butt on Knob Creek.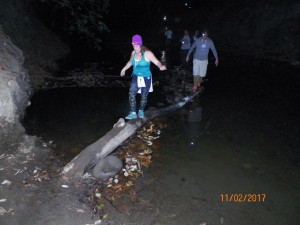 And since we are talking about shit, we had to endure hearing about Waxi Pad's sudden and urgent need to defecate on trail. WTF, is nothing sacred in this group? Folks here continue to wax poetic about menstrual cycles, semen, piss, sex toys, infectious hashing crud and now the dreaded #2. Well poo poo to you all. Carry some TP with ya on trail and zip it.
Moving on we also admonished Jizz for losing his light saber with all it's fancy features. It telescopes in and out…a shower not a grower. It has many setting including a hallucinogenic strobe light that will make you throw up.  Thankfully CuntJungle found it and returned it to its rightful owner.  
Pinky had blood on trail after a run in with a mailbox. Next time she should try UPS….they are kinder and gentler.
There was talk of the old man log and thus Timmy!!! and Banana had to do a down down. I think it is an inside joke.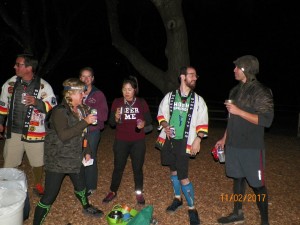 Puff got a down down for being the Dog Whisperer and always having enough "Pupperoni/Pufferoni" to go around.
Cheek and Dong was our lone visitor from the frigid north land of CA and pitched an upcoming Spring 2018 snowshoe event. Sounds like fun….especially the naked hot tub apple bobbing contest.
More down downs for the guys who missed the package checks. TestaCoil and Jizziki complained that is was too cold to bare the balls and uncoil the snakes. Thankfully our resident stunt dick, JFP, took one for the team.
Wish our Virgin(Sean) would have taken the hint but he choose to tell us a crappy joke about an 80 yr old pirate. Lame to say the least. But at least he paid attention to chalk talk. 
Our analversares go to JFP/JustFootPussy and Bacon Queef for 100 hashes each. 
And Thump Thump really needs to get a life after logging in a staggering 300 hashes! Talk about commitment.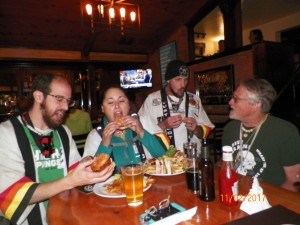 Accuprick presided as RA  and we are hoping he will continue providing quips, punishments and terse Boston admonishments for the upcoming new hashing year. 
And step up to the plate and volunteer for a position in this zany club.
It's been a fun year….well at least I thought it was fun. Perhaps I already have early Alzheimers and I'm forgetting most of the hashes that included dastardly uphill routes and dangerously steep downhills through poison oak infested woodlands.
So in true Academy Award Style I have to mention a few "thank yous".
Thank you for allowing me to do some of this past years scribing. 
I really do enjoy the creative challenge of attempting to document some of our most poignant and intimate moments each and every week.

Thanks to Pussy Wood for her support and maintenance of the hash trash journals and for pushing me into this perfunctory and perilous position.
Thanks to Puff for his additional reports and incredibly damming hash Flash. I can no longer pass a background check and my security clearance has been revoked.
Thank for for helping me overcome my shyness by encouraging me to show my boobs to complete strangers and dress up in ridiculous costumes. I suppose I can  no longer label myself a wallflower.
Thank you for allowing me to become more comfortable taking a wizz in public.
I paid close attention to Occasional. She is a wonderful mentor.
Thank you for increasing my alcohol tolerance. I can now manage 3 or 4 beers an evening verses the measly one beer a night when I started. This is not including  the special jello shots or the nasty LC checks I have learned to tolerate.
And thank you for allowing me to make jello shots for the Hawaiian themed party. 
58 years old and I finally concocted my first ever jello shot. Resume worthy.
Thank you all for pushing me out of my "comfort zone" and into the wilds of hashing.
Thank you to Vaginal Repair Kit for putting up with my antics and showing up on nights even when you were pooped and not in the mood. And for finally putting on that red dress!
Thank you to all our officers past and present for their faithful and zealous adherence to hashings great traditions and rules.  Thanks for being pillars of this community….the community with no standards. Role models for the forlorn, misfits and disenfranchised…oh wait…that's a different group. (Not!)
Thanks to everyone who shows up every week looking forward to spending a couple of hours with friends, getting some fresh air and exercise, being silly, being themselves, being authentic and being part of the fabric of life.  We've certainly gotten to know each other – the good – the bad – and the ugly.  And we continue to love and accept each other. We all come from different lifestyles and yet what I have noticed is that we all get along. And some of you have formed very close friendships and consider your hashing friends as family. Others are simply weekly acquaintances with whom you share a brew and few laughs. 
 As we say in Santa Cruz. "It's all good".
And it is good indeed.
It has been good for me to be a part of this group/this family/this zany club.
Thank you again for accepting me and it has been a pleasure getting to know all of you.