Surf City Anal Red Dress Run

Wankers and Wankerettes!
The Surf City Last Call Norm Memorial Red Dress Run is Fast Approaching!
When: Saturday May 13th 2017 at 12:30 pm
Where: Callahan's Bar (507 Water St, Santa Cruz, CA 95060)
What You Get:  An amazing trail!  Beer!  Food!  Beer!  A raffle!  Beer!  A kickass patch!  Beer!
Hares: Shallow Hole, New Kids and Twisted Fister
Red Dress R*n Facebook Event
Surf City H3 Facebook Group
Price: $10 if you fill out our form by Monday, May 8th.  Please pay in cash on the day, but fill out the form so that we can get a head count. First 50 regos get a patch! Callahan's Bar provides (delicious) food for a very low price because they love us and they support our cause.  That means that 100% of the hash cash collected will go towards Women Care.  In order to do that we need to give them an accurate head count, please fill out the form.  If you don't fill out the rego form the price goes up to $15 on the day. Also bring cash and ID on trail.
Fill out the form!
Who's cumming?
No host Pretty in Pink Pub Crawl on Friday, May 12th at 6:33pm. Starting at One Double Oh Seven Club (1007 Soquel Ave., Santa Cruz). Wear something pink and shoes you can walk in. There will be a trail with several bar stops. Bring cash and ID.
Pretty in Pink Facebook Event

Raffle: Tickets will be available on the day.  $5 each or 5 for $20.  100% goes to WomenCARE.  Real Prizes this year.  Do you have anything you can donate?  Good and/or services?  Gift Certificates?  Please contact pinkcherrylicker@yahoo.com
What is WomenCARE?
Here's a description blatantly ripped off of their web site:
A  safe haven where women with any type of cancer find mutual support, shared experiences, and open hearts.
We provide cancer advocacy, resources, education, and support to women, their families and friends, and healthcare practitioners at each stage of the journey: diagnosis, healing, surviving, or dying.
WomenCARE is directed and led primarily by women with cancer or a cancer history. We respect and depend upon the wisdom that comes from a diversity of cultures, economic backgrounds, ages, sexual orientations, and physical ability levels. We acknowledge cancer as a complicated disease that strikes at random, as a disease that can weave innumerable changes into women's lives. We believe that no woman is to blame for getting cancer; and we honor the unique relationship each individual has to the disease.
Why do we give to WomenCARE?
Cancer fucking sucks.  WomenCARE was chosen as our Red Dress Charity by one of Surf City's OG hashers, Last Call Norm.  She lost her battle with cancer shortly after the 2015 Red Dress Run.  Fuck Cancer.  Over the years we have raised thousands of dollars for WomenCARE.  They have used that money to help women and their families in our community.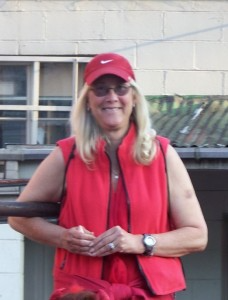 ON ON,
Pink Cherry Licker and Fap Jack