orginally posted December 2009
Why SCH3 does Charity Hashes
I have been asked by a few why does SCH3 do charity events like this week's Toys for Tots, and the Red Dress (Women's Charity) and Beat Your Meat (Food Bank).  This is a good question and one worthy of me putting down my morning beer to write up a little explanation.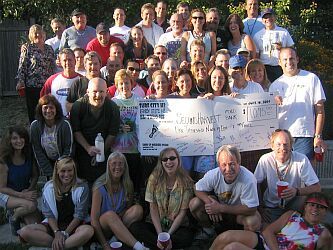 The reason we started doing the charity hash events was based upon two reasons; affirmative defense and giving back to the community.  Now I am not a lawyer, so I am sure I will be corrected, but basically affirmative defense is a new fact or set of facts that operates to defeat a claim even if the facts supporting that claim are true. How it is being applied by Surf City H3 is that eventually we are going to run afoul of the law for our various stupid acts, so by having a "record" of good deeds, we can at least put some positive spin on our activities.  I have been told that being able to demonstrate that we (SCH3) are more than a bunch of drunks might be valuable when appearing in front of a powerful judge.
Reason #2 is simple, we are giving back to our community that allows SCH3 to be the half minds that we love being.  The charities we pick are local Santa Cruz county charities that do good work.  The community being the local citizens that put up with our flour and chalk.  The community that puts up with our bad singing – yes I said it, we are not good singers!  Maybe by us doing a little good, then we can do more half mind activity!  Plus it is freaking good press.
So hopefully that helps explain our reasoning.
On ON
Banana Basher (GME SCH3)
For the record, we have done the following charity hashes:
2014
Hash #775 – Dec 11 – Toys for Tots Charity Hash
Hash #742 – May 10 – Red Dress Run – WomenCARE – We raised $800

2013
Hash #686 – May 11 – Red Dress Run – WomenCARE
Hash #703 – Aug 15 – Beat Your Meat – Second Harvest Food Bank
Hash #720 – Dec 12 – Toys for Tots Charity Hash


2012
Hash #630 – May 3 – Red Dress Run – WomenCARE
Hash #646 – Aug 9 – Beat Your Meat – Second Harvest Food Bank – We raised $1,000
Hash #663 – Dec 6 – Toys for Tots Charity Hash


2011
Hash #575 – May 12 – Red Dress – WomenCARE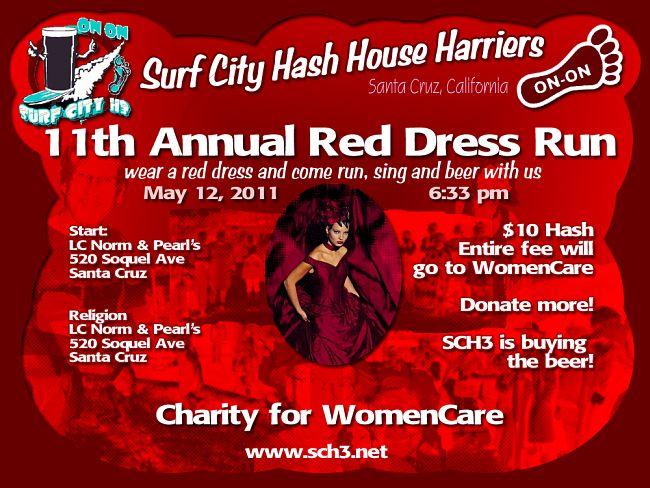 Hash #592 – Aug 18 – Beat Your Meat – Second Harvest Food Bank – We raised $1,275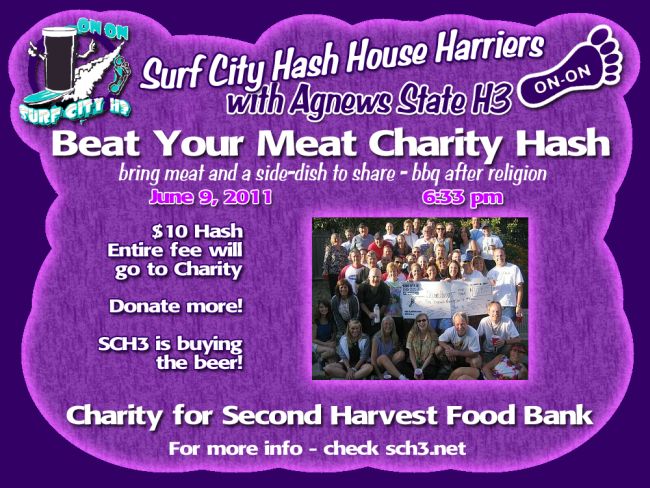 Hash #608 – Dec 8  – Toys for Tots Charity Hash
2010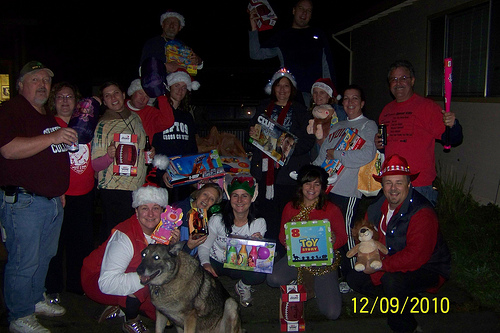 Hash #520 – May 6 – Red Dress (WomenCare) – We raised nearly $1K
Hash #536 – Aug 12 – We raised over $2K for sick hashers (Piss 'N Booths)
Hash #533 – Dec 9 – Toys for Tots – Over 300 gifts was donated by Surf City H3 to Toys for Tots
2009
Hash #464 – May 7 – Red Dress (Women's Charity)
Hash #469 – June 11 – Beat Your Meat 10 – Food Drive Charity Hash
Hash #498 – Dec 10 – Toys for Tots Charity Hash
2008
Hash #409 – May 1 – Red Dress (Women's Charity)
Hash #414 – June 5 – Beat Your Meat 9 – Food Drive Charity Hash
Hash #442 – Dec 11 – Toys for Tots Charity Hash
2007
Hash #355 – May 3 – Red Dress (Women's Charity)
Hash #360 – June 7 – Beat Your Meat 8 – Food Drive Charity Hash
Hash #387 – Dec 6 – Toys for Tots Charity Hash
2006
Hash #306 – June 8 – Beat Your Meat 7 – Food Drive Charity Hash
Hash #333 – Dec 7 – Toys for Tots Charity Hash
2005
Hash #244 – April 14 – Tsunami Charity Hash
Hash #254 – June 23 – Beat Your Meat 6 – Food Drive Charity Hash
Hash #279 – December – Toys For Tots Hash Charity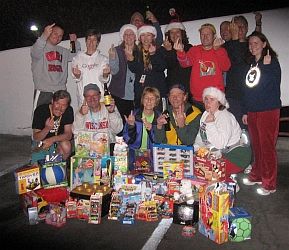 2004
Hash #186 – March 25  –  Blood Donation Charity Hash
Hash #198 – June 10 – Beat Your Meat 5 – Food Drive Charity Hash
Hash #224 – December 2 – Toys For Tots Hash Charity