Wharf to Barf 2017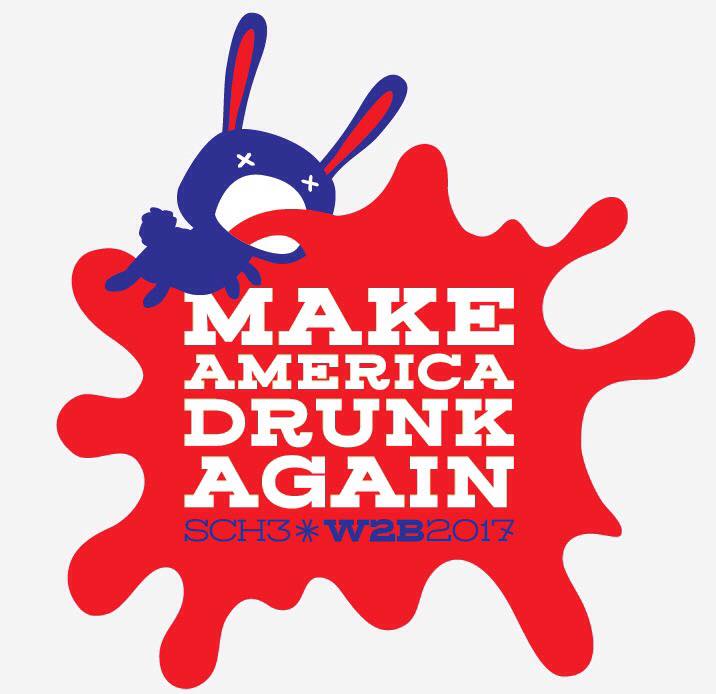 W2B is Surf City's Anal Hash Weekend Event. It coincides with the Wharf to Wharf R*ce that will be taking place in Santa Cruz on July 23rd. Come join us for a pub crawl, Saturday Trail and Picnic, and events before and after Sunday's r*ce.
Thursday, July 20th 6:33pm – W2B Pre-lube Hash #920:
When:  Thursday July 20, 2017 @ 6:33 PM
Start Location:  Blue Lounge
Address:  529 Seabright Ave, Santa Cruz, CA 95062
Hares:  Shallow Hole, Ho to Housewife and Cock Throbbin
Trail Type:  A to A-
Trail Description (Let the lies begin….):  This year, we will begin our 4 day drinking bender fondly known as Wharf to Barf at the Blue Lounge.  There will be Turkey and Eagle trails with crappy scenery, no poison oak, and lots of BEER!   BYOBB (Bring your own barf bag).  You will need to bring ID (even if you are old), cash and a get out of jail free card.  Trail is not 100% dog friendly. 
Religion:  Seabright Beach
On On On:  Seabright Brewery or Engfer's pizza. 
Please note this is a regular Surf City Hash and is not part of the Wharf to Barf Rego.  Price is $8 bucks.
On On,
Shallow Hole

Friday, July 21st 8:30 pm – W2B Pub Crawl Hash #921
Pub Crawl starts at Callahan's Bar (507 Water St.) and will wind through Downtown Santa Cruz
Clothing Optional Hot Tubbing and Sauna: Midnight – 1:45am at Kiva Retreat House (702 Water St). Don't forget to bring a towel! Naked Time!
Cost: Included in your W2B Rego. Walk up Price $18 This includes some drinks and entry to Kiva, bring cash and ID
Saturday, July 22nd n00n W2B Hash and Picnic #922
Details: Meet at Upper Glen Picnic Area in Harvey West Park (Located behind the pool area, near the Pogonip trails. Park on Harvey West Blvd near Dubious St. )
There will be kegs, trail, food, religion, games, giveaways. There are picnic tables with benches, but feel free to bring comfy chairs. Dogs are allowed in the park as long as they are on leashes.
Harvey West Park is easily accessible by bus. Just take route 4 from the SC Metro and it will drop you off in front of the pool. You can also walk to the park from downtown Santa Cruz in about 20 min.
Hares: dBASED and Dog Breath (Hares off around 12:30)
Cost: Included in your W2B Rego. Walk up Price $60
Sunday, July 23rd 8:00 am – Bloody Sunday/Wharf to Wharf R*ce/Finish Line Party/W2B Honorary MBH3 Hangover Hash #923
Racists: 7:30 am – Bloody Sunday – Prelube for the W2W with donuts and Breakfast shots!
Norm and Pearl's Mansion, Villa Perla, 520 Soquel Ave., Santa Cruz, CA 95065
8:3o am – Wharf to Wharf R*ce – Start is at the Boardwalk
Everyone: 9:30 am – Brunch Pool Party Chez Cumfart Zone (101 Grand Ave, Capitola)
Have a drink and a nosh with the r*cists as they arrive. Give them a ride back. Bring your suit and go for a dip in the pool
Hash 1:00 pm – Hangover Hash Norm and Pearl's Mansion 520 Soquel Ave., Santa Cruz
Hares: Princess Diarrhea & Thmp-Thmp (hares off around 1:30)
Price: Included in your rego, walk up $8
Early Rego – Postmark by June 17th ! $69
Second Round – June 18th-July 18th $80
After July 18th – $80 (no guarantee of cool swag). We will cap the event at 75 people
R*cists: Prices above do NOT include the $40 race fee. You can register at http://www.wharftowharf.com/registration, but it will sell out fast! If you miss out, you can often find them for sale on craigslist. If you don't have a bib, they will probably kick you off the course.
Crash Space: There's no official hash hotel and all Santa Cruz area hotels fill up early because of the race. But….we have crash space. Email pinkcherrylicker@yahoo.com if you want some help to connect or post in the event facebook page.
Shirts: W2B event t-shirts are available at www.zazzle.com/surfcityh3 for you to customize and order directly from Zazzle. More info will be sent to those who register.
Questions: Email pinkcherrylicker@yahoo.com
To Register:
Option 1: Go to goo.gl/forms/zYNb6V5C9c7actBI3 (case sensitive) and fill out the form. Send your payment via Paypal to pinkcherrylicker@yahoo.com. Please use the "friends and family" option to avoid fees.
Option 2: Detach the bottom of this form and mail it with a check.
https://docs.google.com/document/d/1Dz7UDCrhm5hAx9FjSFLhUL4-kffwLffHHB3yWVTz3Fw/pub
Facebook event page:
https://www.facebook.com/events/819312154905458/
Surf City H3 Facebook page:
https://www.facebook.com/groups/SurfCityH3/