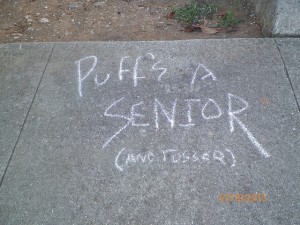 Puff's 65th Beerthday Hash
This week the Hares Puff the Magic Drag Queen and Dung Fu Grip summoned the pack to Bocci's Cellar. It was a very special hash this week to celebrate Puff's 65th birthday! Puff may be eligible for Medicare, but I don't think he's retiring from the hash any time soon. In fact he seems to be going strong!  According to the hash count, Puff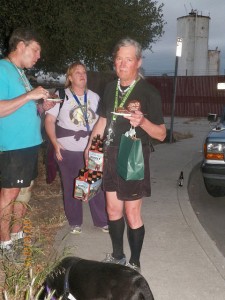 has 793 Surf City Hashes under his belt. He's currently at 732 consecutive hashes. The last time he missed a hash was 3/14/02. What's his secret to staying young? You'll have to ask him. He's vegetarian, collects dragon figurines, drinks a lot of beer, and loves wearing his stylish OP corduroy shorts. Here's to brother hasher, brother hasher, brother hasher……
We had a virgin this week. Virgin Laree said Rod Lover told her about the hash. She seemed to fit right in. Six of Nine saw her and immediately started hitting on her. But then again, he hits on everybody.  Hash Flash this week is courtesy of Ho to Housewife. I have a sneaking suspicion that Puff didn't post all the pictures she took.
Puff's heart must still be in good shape. According to my GPS, it was a challenging, hilly 4.21 mile trail. But then again, he could've paid off his co-hare Dung Fu Grip to lay most of it. We did not tour heroin hill, but we did the indigenous people of Harvey West Park.  Trail headed down Coral Street past Costco. There was a check on Evergreen Street. All the FRB's got caught by the YBF up the bike path that leads to High Street. They came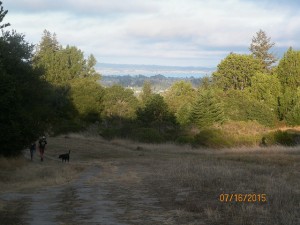 back down the hill, cursing the Hares the whole way. We passed the cemetery. Someone found flour in Wagoner Grove, so we went up the trail to the steps. There was a liquor check on the trail. It was some kind of nasty flavored vodka, that I kept tasting over and over the rest of the trail. We exited the park and went out Meadow Road, went right on Spring, left on Rockridge Lane, through a little trail and around a townhouse complex and eventually up to Pogonip. There were some lovely views from the top of the hill. Thankfully, there was only one way to go but down! We descended down and out of the park on to Encinal Street. Beer check was at the end of Pioneer Street by the Goodwill.  Cock Throbbin didn't do trail but made an appearance at beer check after 2 months to prove she's still alive. She's been traveling and has been nursing a foot injury.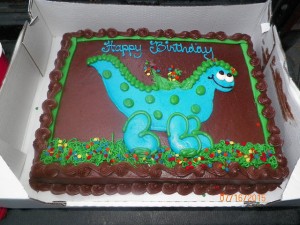 Religion was at the other end of Pioneer Street. Accuprick was RA and appointed Suck Cockran as Beer Fairy. We started out with birthday cake and a song for Puff. Suck Cockran drank for "not seeing" liquor check. Cock Throbbin, Tits and Game and Hooker on Kronix, Bitch drank for being backsliders. A bunch of hashers, Hugh Heifer, Six of Nine, Fap Jack, Pink Cherry Licker, Twat Did You Say? and Princess Di (arrhea)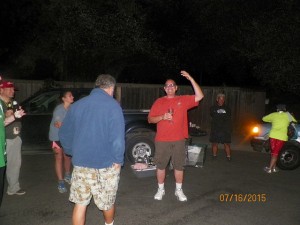 drank for not going up the big hill. Dog Breath drank for showing up late to the hash. Virgin Laree told a joke and was welcomed to the hash. We had a naming. Just Tom is a kinky chef and was named Jizziki. Welcome to the hash! Groucho Cocks showed up late and drank for being a backslider. Twat Did You Say? was called up to tell a story about how the puppy she was watching ate her vibrator! Puff was given a book about Santa Cruz (in case he forgets), and Dung Fu Grip got a patch for Haring 25 trails. And last but not least the Hares…………….
Next up is the infamous Wharf to Barf Weekend!  It's your chance to go on a 4 day bender with your best drinking buddies!
It all starts this Thursday 7/23/15 for Hash # 808, Prelude in FU-Major.  Ho to Housewife, Dung Fu Grip and Yours Truly will be Haring a most excellent trail starting at Uncommon Brewers in the Sash Mill.  They're in # 40 towards the back next to Pacific Cookie.  They don't have a regular tasting room, but will be open just for us!  Alec will be pouring $5 pints (cash only).  Some of their beers have a high alcohol content, so you'll get your money's worth for sure!
On On,
Shallow Hole