Hash # 948:  Dark and Stormy, Hot N Ready Hash on January 11, 2018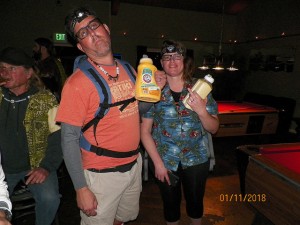 Despite the name of this hash, the weather was actually clear and very pleasant on the east side of Santa Cruz.  Princess Di (arrhea) and Thmp Thmp summoned the pack to Castaways on Portola.  A bunch of backsliders came out of the woodwork for this hash.  Honeymooners Rat Pussy and Deadliest Snatch left their bedroom for once.  Speaking of honeymooners, Fucked Over Fest has been reclusive since he got married.  Somehow he got a pass to come out to the hash.  My Little Bony left his bar stool at the Double O for the evening.  Occasional Rapist came back from vacationing in Cuba and Twat Did You Say? Was able to get a babysitter for the evening.   Six of Nine showed up and tried to lure Virgin Tia into taking a ride with him.  She declined.
Trail started out he back door (of course), but circled around the front to Portola.  It took a while to get started.  We had to solve a tricky back check on Portola, but we finally found our way.  We toured a lovely trailer court, then ended up going left on 38th.  There was a long trek down the nasty railroad tracks, only to find a YBF and a boob check.  After that nastiness, we then headed towards Opal Cliffs.  We circled back to 41st ave and were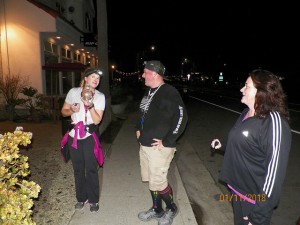 treated to a circle jerk around Frenchies parking lot.  There was a liquor check on 41st ave with the best coconut rum I've ever had.  I just read that coconut oil helps improve brain function in patients with Alzheimer's.  I wonder if the same is true for coconut rum?  It's worth a shot, right?  Trail then continued down 41st Ave to East Cliff Drive.  But instead of going straight along the ocean, we got detoured inland a couple times before finding beer check at the end of Rockview Drive.  The Hares treated is with Dark and Stormy cocktails and of course beer!  I got 3.58 miles on my GPS.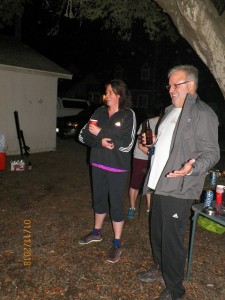 Religion was back at Wicked Retahted's house where a bonfire and hot and ready pizza awaited us.  Courtesy Flush was super excited to find Zima in the cooler.  Pink Cherry Licker was also on the Zima bandwagon.  We had a couple Analversaries.  Dog breath celebrated his 325th and Courtesy Flush celebrated his 75th Surf City Hash.  Get a life!  Virgin Tia told a lame joke.  Welcome to the hash!  The back slider list was too big to count.  Achy Breaky Snatch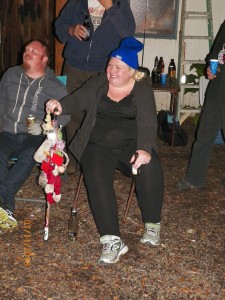 and yours truly got some free save the horses shirts that no one else wanted.  Pink Cherry Licker tried to get rid of the Hash Shit, but no luck.  It's all yours baby!  And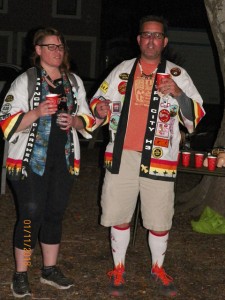 last but not least, the Hares…..
On On,
Shallow Hole