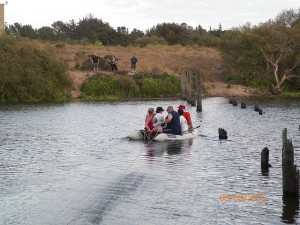 Sinking Ship of Fools
Our Hares this week were Ho to Housewife and Dung Fu Grip. The pack met up at Santa Cruz Mountain Brewery.  They expanded their patio area and now the place is even cooler than before.   We were promised "a surprise" which in the hash world could or could not be a good thing. We were on the west side. We've been to the beach. We've been through the nasty tunnels of terror. What the hell kind of surprise were we in for? Courtesy Flush showed up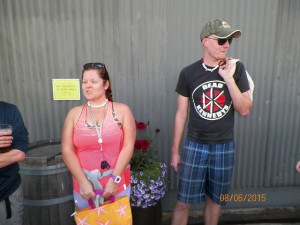 at the start and then drove away to apparently do his laundry.
My GPS measured trail at 3 miles. Trail started by going out the back of the building down the Mission Street Extension. There was a check on the corner of Western. Dbased went straight down the Mission Street Extension and found true trail. I checked across Mission and just after the third mark, I found the first YBF. By that time, most of the pack caught up to us. So yes, we followed dBASED and he was on trail! Across the street from the new PCS school construction, there was flour on a little trail to the left. We went through an apartment complex, across the tracks to Antonelli Pond,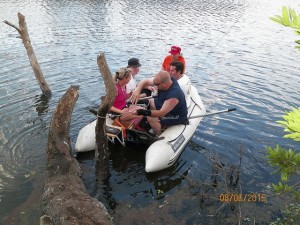 where we found liquor check of sake bombs hosted by Cock Throbbin. It was then that we saw our "surprise". It was an inflatable boat! They secured rope across the pond to the other side so hashers could move the boat across the pond. I was one of the FRB's on the first boat. I'm not sure how many trips back and forth the boat made, but it had a hole in it and started to sink by the end. Several hashers had soggy bottoms, but no one drowned. Non seaworthy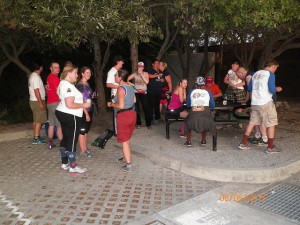 hashers just walked around the pond. Trail connected to natural bridges lagoon trail to the beach and up to the parking lot. There was a check in the parking lot. dBASED found a YBF on the butterfly path. True trail went down the hill, out the park exit on to West Cliff. We meandered inland a bit before finding beer check in a parking lot on Delaware.
Religion was at the Habitat Restore where Dung Fu Grip works. Hashers circled up on a bunch of toilets (and some chairs). Accuprick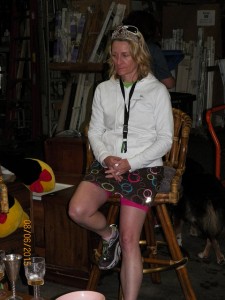 was RA and Cumcerto was Beer fairy. Most hashers would consider it an honor to be beer fairy. But from the look on her face, Cumcerto was not thrilled about it. Courtesy Flush was called up for not doing trail. I guess her really was doing laundry and was afraid the homeless folks would steal his shit so he stayed there and waited for it for it to be done. Broke bench Mountain was called up for dog abuse. Poor Porter is getting old and he had to stay in the car while we were on trail. Just Evan was called out for trading stocks or more likely surfing for porn on his cell phone during circle.  A bunch of hashers were called up for not going on the boat. Just Evan was called up again for being a backslider. He warned the pack that the porn sites never charge just a dollar. Good to know. There were 2 Analversaries. Ho to Housewife celebrated her 50th and Banana Basher celebrated his 650th SCH3 hash! Get a life! There was the tail of deflate gate. Shady Curtains was on the boat with 3 Harriettes when the boat was sinking.  They were going down, and butts got wet!  Hopefully no one got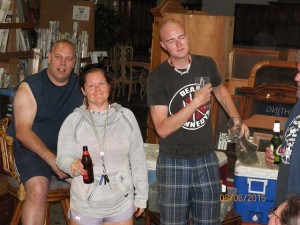 a yeast infection. dBASED got called out for shoving a beer in Pink Cherry Licker's teeth. Cumberto got mauled by a big Minnie Mouse courtesy of Broke Bench Mountain. And last but not least, the Hares……………….
On On,
Shallow Hole