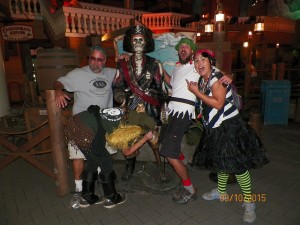 Pirate Hash II: Electric Labia Land's Birthday
Surf City H3 has had some pretty memorable Pirate hashes.  It's quite a sight to see a bunch of drunken pirates running around town causing mayhem and debauchery.  I take 1/3 of the responsibility for the shit show last year that included too much rum, lost hashers, water balloons, and a visit from the cops during religion.  This year, Electric Labia Land wanted redemption.  She teamed up with Fap Jack and summoned the pack to Ideal Bar and Grill on Beach Street.  The bar was packed with football fans, watching the first game of the season.  They were somewhat amused by the pirates.  We had a virgin this week- Virgin Brooks.  Shameless Butt Plug made him come!
Trail measured 2.61 miles on my GPS.  The first liquor check was 10 steps away from the bar on the sand. There was flour all the way across the beach to the boardwalk.  The FRB's lost trail momentarily and ran through Neptune's Kingdom and the boardwalk.  There was another liquor check outside in front of the boardwalk.  Trail went up through Beach Hill, down the steps to Laurel Street Extension and through downtown.  The FRB's ran into Pink Cherry Licker on Pacific Avenue.  She had to deal with whack job parents at back to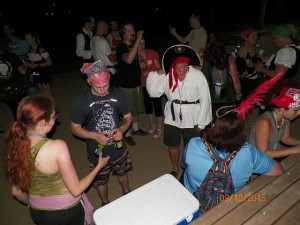 school night and desperately needed hard liquor.   She was not disappointed.  There was a third liquor check on top of Oswald's parking garage.  We got rum (and coke)!   Trail continued down the steps of the parking garage, through Marini's candy store, across Pacific and down Walnut Street several blocks to the High School.  We went left on Lincoln Street, and several blocks down Chestnut along the railroad tracks. Beer check was in the little park near the entrance to Neary Lagoon.
Religion was held in the party room at the bowling alley. Hashers started getting restless until the pitchers of beer started coming out. Hashers were feeling the effects of 3 liquor checks! Peddifiddler consumed her fair share of liquor. She was in front of the windows flashing guys on the street. Broke Bench Mountain started walking across the tables.  Waxi Pad showed up after the football game.
Dung Fu Grip was RA and Fingernips was beer Fairy. First down down went to hashers that survived Interam Portland (Yours Truly, Waxi Pad, Thmp-Thmp, Princess Di(arrhea), Fingernips, Broke Bench Mountain, Cums Out My Nose).  Hugh Heifer and Thmp-Thmp drank for wearing white Happi Coats. All the hashers who did not dress up in pirate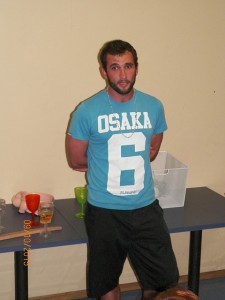 costumes (Thmp-Thmp, Waxi Pad, Shameless Butt Plug, Drink N Squirt, Accuprick, Virgin Brooks and Today is Monday) were punished.  Virgin Brooks told a dumb joke.  Broke Bench Mountain got a down down for tagging Princess Di(arrhea) at a strip club in Portland. At least her relatives "liked" it. Peddifiddler drank for flashing guys on the street (and the rest of the room).  Thmp-Thmp accused Ho to Housewife of parking too close to his car. I was there! There was plenty of room! Rat Pussy drank for agitating the bums on the railroad tracks. They were quite friendly to us Harriettes. Visitors Today is Monday and Drink N Squirt were welcomed to the hash.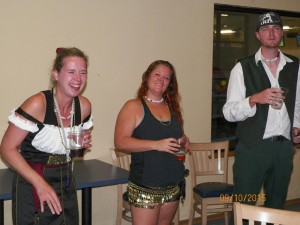 Ho to Housewife and Yours Truly, were accused of neglecting our scribe duties.  Check out the timeliness of this trash bitches!  I just got behind because I was partying in Portland.  Cock Throbbin has been on the DL for months due to plantar fasciitis.  Ho to Housewife has been busy rescuing birds and bottle feeding baby squirrels.  Pink Cherry Licker drank for showing up late to the hash because of work.  She tried to sneak in with the pack with the FRB's. Cumfartzone and Just Justin told a story about how someone stole their pirate flag, but they got it back.  The pack sung a  lovely rendition of Happy Birthday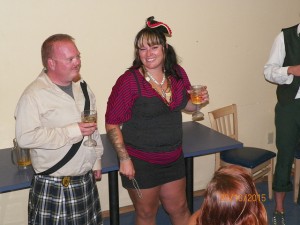 to Electric Labia Land and early birthday (9/15) for Waxi Pad.
And the Hares…………….
On On,
Shallow Hole
I am now caught up with my scribe duties:)