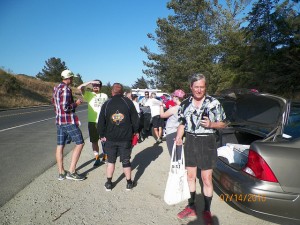 How old is Puff? He's old enough to be a member of AARP, to collect Medicare, but still young enough to still set a trail (with the help of Dung Fu Grip's young speedy legs).   He's old enough to have survived 849 (and 787 consecutive) Surf City hashes since 12/28/2000.  Get a life!  So is running and drinking beer the secret to a long healthy life?  Who knows, but it seems to be working for Puff.  His complexion is not yellow, so his liver must be holding up pretty well.  I don't see him retiring from hashing any time soon.
The pack met on the side of HWY 1 at Wilder Ranch State Park. It was a foggy evening and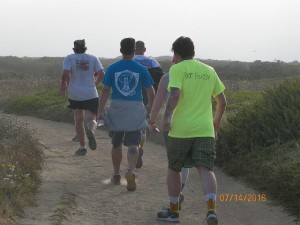 there was a pretty strong head wind (who said head?) on the coastal bluff trail. There was a turkey and eagle trail.  Both trails were a loop around the coastal bluff trail.  The turkey trail was 2.8 miles and was the shorter loop.  There was a cool liquor check in the fern grotto.  Thmp-Thmp and Rat Pussy explored the cave a bit because there was flour in there.  But they turned around when they hit a dead end and used condoms.  Turkeys passed the farm house, crossed the tracks and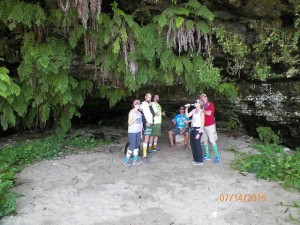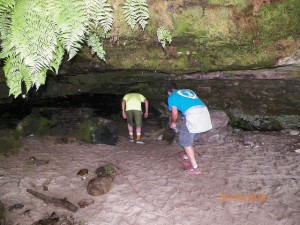 headed to beer check on the outskirts of the parking lot.  The eagle trail was a larger loop, around 6 miles, crossed the beach, continued down the trail and came back around through a farm along the railroad tracks.  Only 4 hashers did the eagle (dBASED, Dog Breath, Steamy Baahnorrhea and yours truly).   There was another liquor check on the edge of a cliff.  I tried the shit and it was nasty!  I was lucky enough to carry Puff's very large and bulky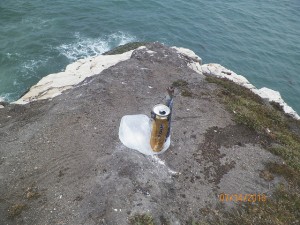 camera, and felt obligated to take numerous pictures of birds, tractors and other scenery.  Dear Puff, you really need to get a new hash camera.  I'm sure there are nice, pocket sized, point and shoot cameras at a reasonable price.  I was so busy taking pictures, the rest of the eagles took off and I was the official DFL.
Religion already started by the time I got there. Accuprick and Butt Balls were RA's.  Just Foot Pussy was called up for making loud mating calls along trail.  A couple of Harriettes (including his wife) recognized the mating calls from a distance.  How's that for animal magnetism?  In honor of Puff's birthday, we heard stories of the olden days of Surf City.  Puff apparently had his own Circle of Jealousy and group called the Friends of Puff.  When Puff was Hash Scribe, he used to post a trivia question and if someone got it right, they would get a free hash.  These were the days of no google, so I'm sure it wasn't easy to find the answers.  dBASED said he would try to solve the trivia questions to get free hashes.  I got a down down for being DFL and drank with the other 3 brave eagles who ran the 10K.  Just Dee was called up for having strep throat.  We met Virgin Daniel.  Taco Tramp made him cum!  He choked and told the worst joke ever.  Other hashers had to tell a joke for him.  Courtesy Flush and Bareback Unicrack were called up for wearing cute matching jackets.   Accuprick drank for not showing up at the hash the week before.  He claimed to be driving around and unable to find the start location on Graham Hill Road. And last but not least, the Hares…………………..
On On,
Shallow Hole