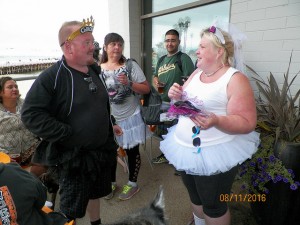 Pink Cherry Licker and Fap Jack brought the pack to the swanky Jack Oneill Lounge at the Dream Inn for their White Dress Hash celebrating their upcoming wedding. A large pack assembled for the occasion dawning white dresses and tu-tu's.   Ho to Housewife, Cock Throbbin and I met earlier to get a quick run on West Cliff.  We quickly spotted the pre-laid flour trail and followed it all the way out to the lighthouse.  Then we saw a back check 23 (I think.  It was definitely over 20).  So we turned around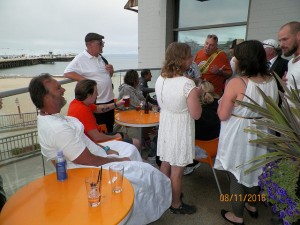 and counted the marks.  They went almost back to the start.  Then posed the dilemma.  What do we do?  After some discussion, we decided to keep silent.  We did not sabotage the Hares and we kept our mouths shut.   dBASED also ran before the hash, but that's another story.  He decided to run 8 miles from his house in Soquel to the Dream Inn.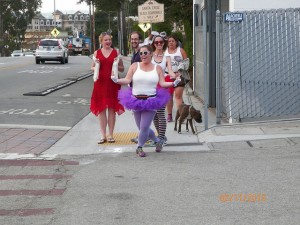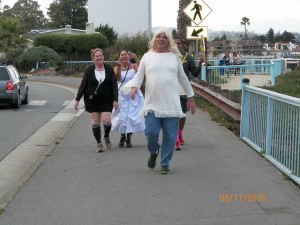 I ended up getting 3.83 miles on the Eagle trail. I was accompanied by Poon Doggie.  Yes, I ran an extra 2 miles by following trail to the back check at the lighthouse and back.  It's not bad scenery. Ho to Housewife and Cock Throbbin decided to "dBASED it" and do their own version of trail. The back check lead to Gharkey Street, and out to Bay Street.  There was a fish hook mark. The FRB's Dung Fu Grip, Achy Breaky Snatch and Just Foot Pussy found it first.   When Deadliest Snatch and I approached, Dung Fu Grip was laying on the ground acting like he was poisoned by the evil liquor check.  We passed by and they followed directions and brought it back to the DFL's.  Trail went down California Street, Right on Laurel.  Poon Doggie took a big shit, but his leash was equipped with bags and I properly disposed of it in the trash can.  Trail continued right on Chestnut and ended up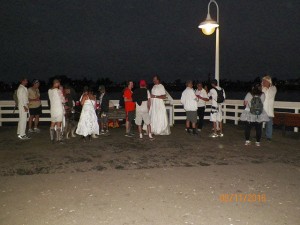 at beer check on the Wharf.  I did not see the "no dogs" sign and took Poon Doggie on the wharf.  A security guard passed us and didn't say a word because we looked so bad ass!  A bunch of hashers with dogs did not go on the wharf and were in the little parking lot across from the Dream Inn.
Religion was under the bridge. The cleaned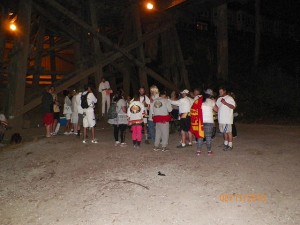 it up and put lights down there so the usual degenerates were not present.  Dung Fu was RA.  Cock Throbbin, Ho to Housewife and dBASED were called out for running before the hash and short cutting trail.  Dog Breath ran past the beer check and had to be apprehended by the Hares of the wharf.  Occasional Rapist, Vaginal Repair Kit, Hugh Heifer drank because their dogs pooped on trail.  Courtesy Flush, Giant Asexual, Hugh Heifer, Occasional Rapist and Bareback Unicrack drank for making a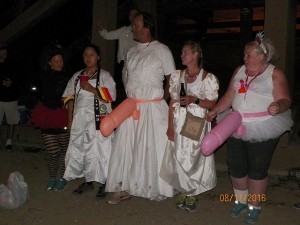 burrito stop on trail.  Vaginal Repair Kit was called up for picking a fight with a car who almost ran him over.  Giant Asexual drank for being a backslider.  Best costume nominees were Bacon Queef, New Kids on my Cock, Shallow Hole and Pink Cherry Licker.  Pink Cherry Licker and New Kids on my Cock had a blow up strap on cock fight for the award, and New Kids emerged as the winner.  Fucked Over Fest tried out his act for America's Got Talent and tried to stack 2 beer bottles on Cock Throbbin's head.  He did not succeed.  I hear beer is good for your hair.  Dung Fu celebrated his 169th Surf City Hash!  Get a life!  And last but not least,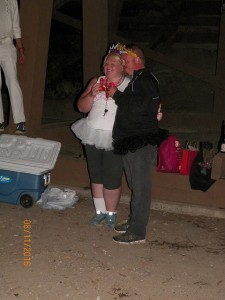 the Hares…………..
Congratulations Pinky and Fap! You guys make such a cute couple.  Wishing you many years of love and happy trails!  xoxo
On On,
Shallow Hole