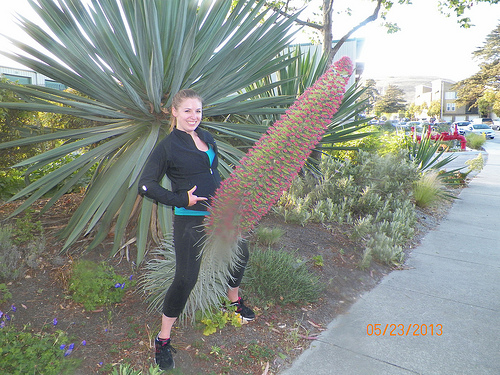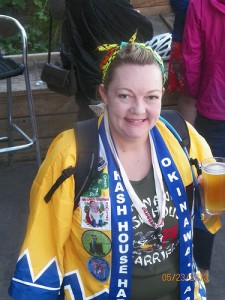 This week we all schlepped it on over to Santa Cruz Mountain Brewing to rev up the old livers. We had a big pack this week, with visitors from overseas, even! Ralph U. Crammed-In somehow returned to show his face which is now blue, green, black, and red. Poor guy. Shiny Snail Trail made a re-appearance after dealing with way too many sober Thursdays. This was a great place to make a comeback because SCMB has a ginormous beer selection now. Our pals from Okinawa–SCOUT (She Cums On Ur Tits) and Fuck My Face, I'm Bored–got sampler platters of beers that practically came with more flavors than Baskin-Robbins. We all hoped hare TIMMY!!! would lay a shorter trail than usual because one of the few things this brewery wasn't serving tonight was his usual martini go-go juice.
Accuprick busted out a new hashit at the circle-up. It was some kind of floppy foam noodle that was a failed physical therapy device. Looked more like a failed marital aid. Not only did Accuprick bring the flaccid hashit, he also brought his spawn, No Pole. Are we starting to see a pattern of limpness here? Maybe they can have some of TIMMY!!!'s Viagra because he brags that he only uses it to jack up his car. Rod Lover was the lucky wiener who was chosen to fondle the hashit throughout the evening's trail.
Speaking of trail, Cum Lord was off like a shot, taking us up Swift St. and across Mission. We passed along the border of a little park on Grandview and into a wooded arroyo. Well, we found the first YBF there and then spent a very long time looking for the terribly, horribly, just barely marked trail that led right back to Grandview. The next stretch took us across speeding Hwy. 1 traffic (DANGER!). After we busted ass dodging cars, Deep Stroke said that if she'd seen us get hit by a car, she would've been sad…at most for a few minutes. Trail went down Shaffer Rd. then into the land of ankle-wrenching gopher holes around Antonelli Pond. We were all kind of surprised to find a picturesque Fireball liquor check there instead of a heroin check in the bushes.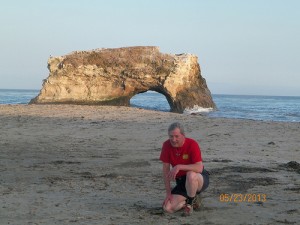 We kept on heading beach-wards and into the lagoon of Natural Bridges. When we hit the sand, Dung Fu Grip and Virgin Travis took a quick sunset skinny dip in the ocean. Hippies! Have I mentioned yet that Virgin Travis did trail barefoot with a bloody toe? Dirty hippie!! After our moment with nature, trail markings got very sketchy again. We ended up on West Cliff for about a minute and turned down Swanton Blvd. back to the railroad tracks.
Beer check was behind the Santa Cruz Naturals/Threshold building. Way back in the day, it used to be the Lipton building where they packed teabags and those envelope packets of crappy instant chicken noodle soup. Across the tracks was Wrigley's. Kids used to dumpster dive for the gum rejects. There was always a whole lotta sketchy black market Hubba Bubba getting passed around our schoolyard. Abundance was not happening tonight, though. The beer went fast, leaving Smirnoff Ice consolation prizes for walkers The Human Pube and Just Laura.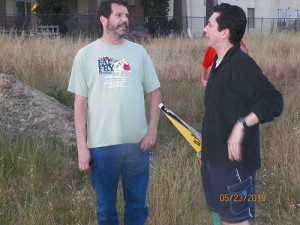 Cumcerto got the good stuff because she beat Deep Stroke and was being all braggadocious about it. Thmp-Thmp found a piece of cardboard that was once a sheath for a saw and stuck it on Rod Lover's hashit dong like a boner cozy. As Ghetto Man was attending to his massive sweat situation, I attended to my massive wedgie situation. I think I may be due for a re-naming because Ghetto Man called my ass a lablancadonk.
We went back to trail's start behind the brewery for religion. Accu RA'd and Shiny Snail Trail was beer fairy. Backsliders stepped up with their excuses: Just Sara was busy fucking, No Pole was busy taking over the world and Just Laura was in China eating pizza (true story). We all hailed and flailed our visitors from CAN'd and Okinawa. I was very distracted at this time because I was swatting 6 mosquitoes off my red ON-ON sox. Those bastards were biting right through our clothes. They did not give a fuck whatsoever. Virgin Travis exposed his bunz and I was hoping the mosquitoes would take to his tender virgin butt bait and leave us alone. There was a special down-down for the stoners. Reefer and beer, man! I swatted some XL mosquitoes off TIMMY!!!'s back. Just Jane told a joke that almost got her named Ass Rammer right on the spot. Cumcerto was blown away by the fact that Wicked Retahted passed her on trail. He was indeed hauling tonight. I thought I saw a light blood stain from mosquito squashing on the page of my Princess Diarrhea, but thankfully it was just a smudge of cheesy poof dust. Cuff My Muff claimed she "won the hash", but Deep Stroke protested that we're all wieners. Speaking of wieners, we all realized that Rod Lover bailed out of religion. I was awarded a 75 r*ns patch AND 15 mosquito bites! SCOUT and Fuck Face showed some real class by bringing some hash swag to share. The guys had to race for it. No Pole came up the rear to win it! Harriettes had to show skin to win. Yes, we saw Hugh Heifer's ta-ta tattoo AGAIN.
On on on was at burger. where Deep Stroke tried the Marky Mark–a hot dog with strawberry jam and swiss cheese. Not too bad. Hey, pretty much anything will do after a hash, am I right? Rod Lover came back for on on on after getting busted for sneaking out of religion. We dedicate this song from Okinawa to Rod Lover because, "Rod Lover is a fucking wanker because he snuck back like a back door bitch."
This is my hashit
My only hashit
For being stupid
On trail today
I will hold it
Until I pass it
Someone take my hashit away…
Who will take the hashit this week? Cum to dBASED's house on Lindsay Lane in Soquel to find out!
On on,
Princess Di(arrhea)