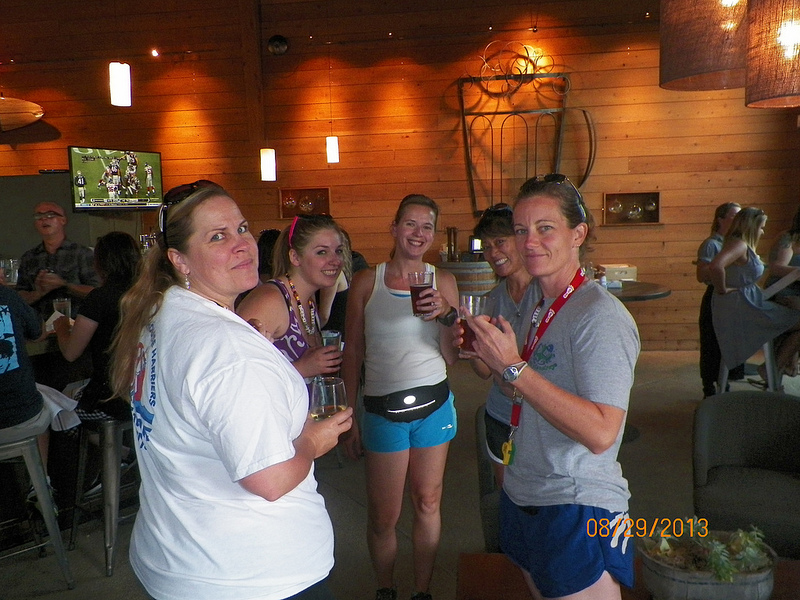 This week's meet up was at the brand new West End Tap & Kitchen. We all know Puff the Magic Drag Queen is a man of habit (630 consecutive hashes—get a life!!!), so when Thmp-Thmp and I rolled up, we saw Puff lurking outside Santa Cruz Mountain Brewing across the driveway instead of popping right into the new joint. Considering his other routine of 99 Bottles, I could understand his trepidation of trying the new brewer in town. West End's got some competition. Hugh Heifer agreed to hare at the last minute and said she would pull together a SHORT 2 miler. Maybe that's why Cum Lord came in his jeans. (Pun intended!) Maybe Monthly Friend also heard that trail would be short and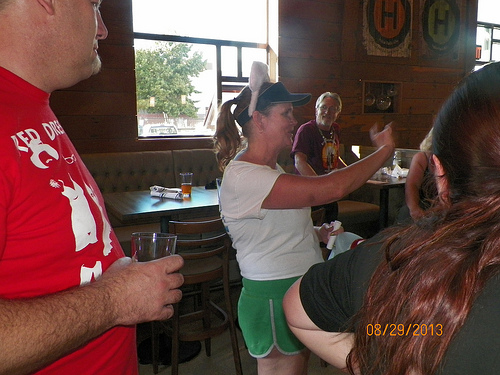 figured it was a great time for her regular monthly visit along with The Human Pube. It was a nice surprise to see Deep Stroke made it back home safely after taking a bit of a walkabout…or driveabout. While Hairy Fuck 2.5 and I were fawning over the pooch cuteness of Porter and Janis hanging out together tethered to the bike racks, Pussy Galore told us to get our asses to circle-up out back.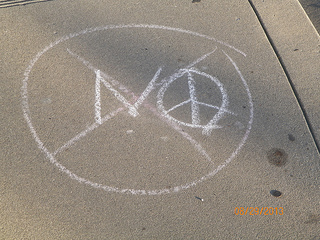 It was a quick introduction around the circle then a pack scatter. We found the trail down Swift St. to the ocean…barely. When we got to West Cliff Dr., there was no check, just a little splotch of blue flour. I followed Puff because he was all I had. I won't bore you with the details of this trail, but it was a lot longer than 2 miles. I shit you not. Trail took us through areas we've been to twice recently so we were haunted by trail markings of hashes past. At least our hare made a tiny effort to help us along with some of her trail markings, like "N☮" (translation: trail marking is an old one—plus I'm a hippie) and "FELLOW STONERS BE CAREFUL…LOW HANGIN CHAIN" (there is an obstacle—plus I'm a hippie). We went through Natural Bridges, Antonelli Pond and then to Mission St. A left turn at Miramar took us to beer check at Timmy!!!'s house.
At beer check, I realized the reason why I rarely have any hash stories to share about scribemate Shallow Hole. She usually gets to pre-lube later than I do and then she hauls ass on trail, so by the time I get to beer check, she's done with her beer and ready to on-in. Life in the fast lane! In Timmy!!!'s backyard, the recycle bin was more than arm's length away, so I "planted a beer seed" (i.e. buried a bottlecap) in his planter box. I also poured a splash of beer on it, so let's see if it grows! 😉 Speaking of Timmy!!!, he has a FREE piano to force on you so let him know if you're interested. But he's gone for now to Tuscany for a month to drink the fine wine and to mangia, mama mia! Mental note: if we let him hare when he gets back, he's going to send us on a death march to work off those carbs. 🙁 Timmy!!! and Pink Cherry Licker wisely didn't follow us to religion this night because there was a 4am trip to the airport in their very near future.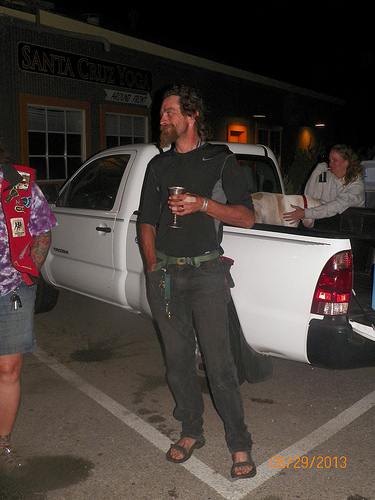 Religion was back to the start parking lot, but behind Kelly's where it smelled all warm and yeasty. Just the right (g-)spot for Pussy Galore to RA. Deep Stroke was beer fairy. Just Anne and Just Sara have impending namings so they fielded profane questions from the peanut gallery. Visitors from CAN'd, Just Bobby and Ghettoman, were equally welcomed (by hasher brethren) and repelled (by crap warm beer). Virgin Jeff told a blowjob joke. Shiny Snail Trail called my attention to the metal ball swinging from his belt right into his junk region. WTF?? The hare was hounded for being a dirty liar and a dirty hippie. Shiny Snail Trail, Dung-Fu Grip and I were toasted for being August birthday babies. Six called out a most shameful crime on trail. He claimed Pinky and Twat Did You Say? were confused because a true trail mark looked like an arrow AND a false combined. Is that the most half-minded thing you ever heard??? Backsliders Monthly Friend and Deep Stroke intertwined arms and drank to their infrequency. Six was chided for making a shameless plug for his HashFish Indiegogo campaign. I heard your order comes with a bonus gift…which may or not be a Vegas hooker.
May the Hash get a piece,
Princess Di(arrhea)