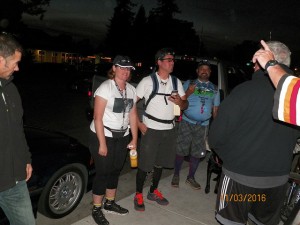 Happy Beerthday Twisted Fister!
This week's hash started at Aptos Street BBQ.   The place was pretty hopping for a Thursday night and even had a band of promising young musicians.  I was stuck in the usual HWY 1 rush hour traffic jam, so I didn't get to hear them.  They have a good beer selection there, but only one bartender so I waited in line for a bit to get a beverage.
The Hares were Twisted Fister, Princess Di (arrhea) and Thmp-Thmp.   Trail was 2.98 miles according to my GPS.  There was a Turkey/Eagle split as promised.  The Eagles went into the darkness of Nisene Marks State Park.  It was a bit spooky, but I did not fear.  I had a bright flashlight and was accompanied by Poon Doggie.   There was a liquor check of some kind of bloody Mary shit that I did not try.  Trail went off the fire road on one of the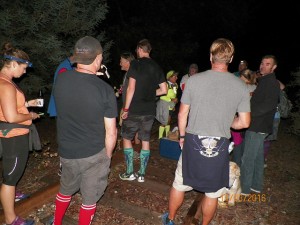 single track trails to the left.  We were almost a mile in when the FRB's yelled "YBF!!!!".  Those bastards!  So everyone turned around and went back to the T/E split and followed the Turkey trail down Spreckles Drive into Rio del Mar.  There was another liquor check under a bridge but the Turkeys drank it all, so the Eagles were out of luck.  Trail turned onto Moosehead Drive and went all the way up to the railroad tracks.  Railroad tracks are extra fun at night!  Poon Doggie was not digging the tracks.  Beer check was a LONG way down the tracks.
Religion was at the humble abode of Princess and Thmp-Thmp, just a short walk down the tracks. They live on a golf course so I assumed we were on the proverbial right side of the tracks.  Dung Fu Grip and Accuprick were RA and Beer Dick Fairy.  The Hares were called up first to do penis shots for Twisted Fister's birthday.  They all got sufficiently creamed.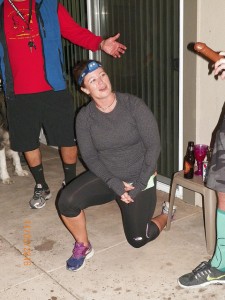 There were 2 Analversaries:  Broke Bench Mountain for his 269th and Cock Throbbin for her 50th SCH3 hash.   Broke Bench Mountain accused Hangs Loose of being obnoxiously yelling "On On" every few minutes, which is a great way of pissing off the neighbors.  Way to go!  We had a naming!  It was Just Kassie's 5th hash.   She's a physical Therapist and made some comment about patients getting erections on a previous hash, so she was named Errection Derailer.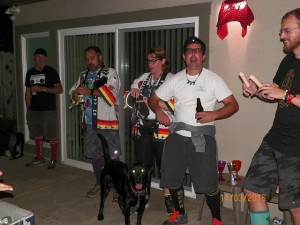 Welcome to the hash!  And last but not least, the Hares……………………………
On On,
Shallow Hole