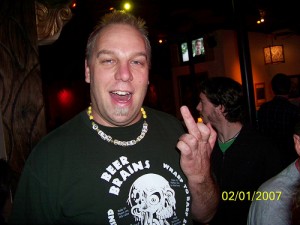 For the first hash of 2012, the pack headed to downtown Santa Cruz.  Our Hare, Broke Bench Mountain, chose Hula's Island Grill and Tiki Room as the meet up spot.  He brought a co-hare this week, Just Bennett, instead of his trusty dog Porter.   Speaking of dogs, our Prunetucky resident, Dog Breath resurfaced after 4 months!  He ordered himself a blue girlie drink at the bar and claimed he'd been traveling to Europe and Asia for work and picking up trash on the side of the highway (just for fun).  Banana Basher returned from his "hash free" holiday with his liver rested and ready to make up for lost time.  Six of Nine "officially" hashed this week.   Puff took a photo to prove he actually paid his 8 bucks (and as evidence, if his $ was counterfeit).  Deep Stroke brought a virgin with her.  Virgin Kim teaches deaf children, so naturally she fit right in with our pack of half minds.  After circle up in front of Hula's, the pack followed a hare arrow left on Cathcart St and after a bit of trouble solving the first check on Cedar, someone yelled "on on" and everyone headed left down Lincoln, to Chestnut, and left on Walnut, and found ourselves at Santa Cruz High School.  The trail lead out to California St, into the depths of Neary Lagoon.  It was dark and a bit freaky when the pontoon walkway started moving under our feet.  No creatures were spotted, but we did scare a bunch of stoned teenagers who were back there partying.  The trail went through the parking lot of an apartment complex and out to Laurel St.   Beer check was in Just Bennett's backyard.  Hugh Heifer, Canadian Penny Slut, Six of Nine and Virgin Kim mysteriously got there first by "getting lost" and short cutting trail.  Luckily, they left a few beers for the rest of the pack.  Hairy Potter impressed Virgin Kim with his knowledge how to say curse words in sign language.
Religion was at the Front St. parking garage.  Banana, Vince Lamblowme and Choka- cola
skipped the beer check (and most of trail), and were already there drinking when the rest of the pack arrived.  Vince Lamblowme took over his Co-Religious Advisor position, and appointed the lovely Choka- cola as his Beer Fairy.  Hugh Heifer was congratulated for her 200 th hash with Surf City (someone owes her a patch by the way).  Banana Basher, Dog
Breath, Vince Lamblowme were punished for being backsliders.  Virgin Kim disappointed the pack by telling a lame joke and "her sponsor" Deep Stroke did her down down with her.   Banana Basher, Hugh Heifer, Canadian Penny Slut, and Six of Nine were chastised for short cutting trail.    And the hares…………….Broke Bench Mountain (The Creature from Neary Lagoon) and Just Bennett for laying a shitty trail.
On On,
Shallow Hole