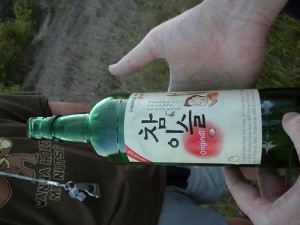 Self-Proclaimed "Hare-Pair of the Century", TIMMY and Puff the Magic Drag Queen, summoned the pack to Britannia Arms in Aptos for this week's hash.  In their direct solicitation for votes for the Trail of the Year Award, they pulled out all the stops.  We were promised a longer than usual A to B (to A again) trail, free food, free beer and free transportation back to the start.   It was a lovely warm and sunny evening.  No fog in sight.  A sizable group showed up.  The Hares arrived dressed in matching kilts.  I don't think anyone else got the memo about the dress code.   I had foolishly agreed to be Hash Cash, Flash AND Trash for the evening.   Does Puff REALLY think I'm THAT trustworthy?  LOL.  Despite rumors, I did not volunteer to relieve him of his hash cash and flash duties next year.  How could anyone replace Puff?
Shortly after the hares left, Just Rosie strolled in the bar with 3 virgins!  The pack was delighted to meet Virgin Gabriella, Virgin Kristina, and Virgin Tony.  They probably had no idea of what they were getting themselves into.  As the fear of a "longer than usual trail" set in, several non-runners, conspired to do their own chicken trail.  The rest of us were up for the challenge.  After all, how difficult could it be with 2 old guys in skirts setting trail?  We started out going through Aptos neighborhoods and headed toward the railroad tracks.  Just Shane found a swing, and took a little rest stop.  Just Rosie kept a watchful eye on her Virgins.  We followed the railroad tracks until the flour lead us to a path through a field where we were treated to a bottle of Korean rice wine.  Next, we went through New Brighton State Beach campground.  By then we were getting pretty thirsty.  The BBQ from a near by campsite smelled pretty good too.    No one invited us to dinner though.  Deep Stroke stopped to play a little hop scotch.  Next, we went down the path to the beach, through the parking lot and back up to Park Ave in Capitola.  Despite hearing hashers yelling "on on", Just Shane decided to go the opposite direction.  He finally figured out that there was no flour that way, turned around and came back down the hill and followed the rest of the pack.  Next, we came upon a particularly tricky check next to a mud bog.  Did the hares want to encourage mud wrestling?  Dog Breath said he checked all 4 directions but couldn't find trail.  He forgot to check by the apartment buildings where flour was spotted on a small trail through the woods.  We headed left towards the ocean in the direction of Capitola Village.  The sunset view was gorgeous!  Beer Near was at the top of the steps, we proceeded down the steps to Britannia Arms, where we spotted our non-runner contingent and the hares with ample pitchers and appetizers for all.  Virgin Gabriella was so hungry; she grabbed some food from a non-hasher's table!
Finally, DFL's Occasional Rapist, Nipple Butt (who is now nipple-less since he had his nipples removed), Hugh Heifer and Wicked Retahted.  Wicked Retahted was really pissed off that the trail was so long.  He stormed off and did not return. Hope he got a cab!  The hares brought a big cargo van to transport everyone back in.  Unruley hashers piled in the back like a paddy wagon, and we all got back to Aptos alive.
Religion was held on the railroad tracks in back of the Britt.  There were a few homeless folks who got a good show.  My Little Bony was RA and appointed our Vixen Just Rosie as his Beer Fairy.  Just Rosie kept stripping off layers of clothing and was down to her shorts and tank top.  A few male hashers could not resist slapping her butt.  She seems like the type who wouldn't mind a good spanking.  The auto-hashers, My Little Bony, Banana Basher and Waxi Pad were punished with a down down.  We had a naming this week.  It wasn't long before Just Shane was named, and forever be known as:  Dude, Where's my Trail?  Next, the virgins were called to the alter.  Just Tony did a lame salsa dance.  Virgin Gabriella showed her butt and Virgin Kristina was too embarrassed to do anything.  We did have an injury.  There was some blood on trail.  dBASED knocked over a beer glass, cut his finger and blamed it on his son Hot Wheels.  Hot Wheels was congratulated on his 225th Surf City Hash.  And he's not even 16 yet!  Deep Stroke was called up for wearing a shirt advertising her Personal Training services.  She confirmed that Banana Basher is indeed a hopeless case and the only exercise he is destined to do is lift his beer glass.   And last but not least, The Hares!  According to Just Rosie, anyone who thinks this trail was too long, is a pussy!   Thanks TIMMY and Puff!  I had fun.  Great trail or death march.  You decide.
On On,
Shallow Hole
PS.  Don't forget that Thursday May 3rd will be our Anal Red Dress Run!
Hares:  Hugh Heifer, Occasional Rapist and Shallow Hole
Meet at 6:30 pm at The Rush Inn, 113 Knight St., Santa Cruz
Just $10.  Price Includes Pasta, Pizza Beer.
All Proceeds to Benefit WomenCARE.  An organization that provides free support services to women with all types of cancer.