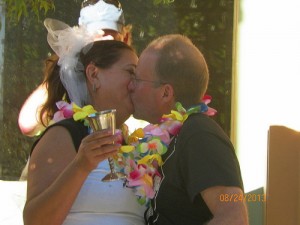 Congratulations dBASED and Occasional Rapist!  Wishing you shiggy- free marital bliss!  May your livers stay strong and your trail go on forever!   It was a hell of a party!  Here's a recap of the weekend events.
Friday Night:  Bachelorette Pub Crawl
The festivities started the night before with a Harriette bachelorette pub crawl.  Occasional Rapist was adorned in a lighted pink penis ensemble.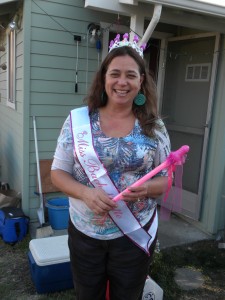 Dirty Dolmas, Hugh Heifer, Princess Di (arrhea), Wet Feral Pussy, Pink Cherry Licker, Just Ciarra and yours truly had a great night!  We met at Dirty Dolma's house and started with wine, champagne and Hugh Heifer's famous Jell-O shots.   The bride practiced for her wedding night with pink penis cupcakes.   Once warmed up, the pack headed to the Red Room for blow Job shots.  Thmp-Thmp and TIMMY!! were there to witness this.  Only Princess Di (arrhea) was able to fit the extra-large shot glass around her mouth to drink the shot with no hands.  TIMMY!!! Looked on, horrified that his daughter was part of the entourage.  We picked up Wicked Retahted there too.  He didn't mind being one of the girls.  The rowdy gals took the beach trolley down to the boardwalk and stopped in Coasters for another drink, before the boardwalk concert.   The bride used one of her Bachelorette game cards to get some guy to buy her a drink.  I had the band talked into being a part of a cute butt contest, but we had to leave to get to the concert.  Glad we didn't miss the concert.  Eddie Money was great!  Afterwards, the drunken Harreittes stumbled on back downtown and went to Tampico for pitchers of margaritas and food.  Thanks to the husbands for making sure all the lovely ladies got home safely!
Saturday:  The M Word Hash
Hashers were instructed to wear white and arrived at Pearl Necklace and Last Call Norm's house at 2:30.  The back yard looked awesome!  Shiny Snail Trail and Diddler on the Roofie worked hard on all the decorations.   Waxi Pad and the band were setting up, the keg was tapped, and the party was underway.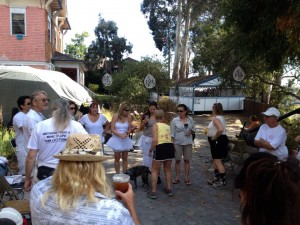 The hares left at 3:30.  There were 3 trails.  dBASED was the hare of the eagle trail (with help from Hot Wheels).  Occasional Rapist was the hare for the turkey trail, and Pink Cherry Licker was the hare for the chicken trail.  All 3 trails started out going in the same direction, through Seabright neighborhoods, and then split off.  I can't speak for hashers who did the chicken trail or the turkey trail, but I'm going to take a wild guess that they were drier and happier than the hashers who were stupid enough to do the dBASED eagle trail.  I was one of those stupid hashers.  The trail lead down to Seabright Beach along the sand then came to a water crossing.  This was no ordinary creek or stream.  This was the point where the San Lorenzo River went into the Ocean and the water was chest deep.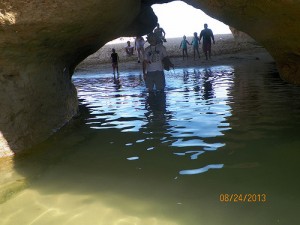 The families on the beach got a real freak show when they saw a guy in a white dress (Virgin bobby from Can'd Hash), me in my tutu, Just Ciarra in her rainbow undies and Shiny Snail Trail coming out of the water with a big penis drawn on her shirt, and "on in" written on her butt.  Diddler on the Roofie found out that his Lifeproof iPhone case was REALLY waterproof and survived the journey!  I'm so glad I spent the 80 bucks on that case!  I was smart enough to not take any valuables on this trail.  Hashers had to wander around the crowded boardwalk looking for trail.  There were no marks, so some of us left the boardwalk and started looking for trail outside the gates.  Luckily we found flour and the rest of the eagles at a check in front of Ideal Bar.  Some hashers got stuck running all the way down the Wharf to find an YBF!  It seemed like the hare was more concerned with leaving the YBF than making any more marks at the check near Ideal Bar.  No one could find any flour going in any other direction.  Someone saw an arrow for the turkey trail across the street, and everyone decided to follow that down Pacific Avenue.  We totally lost trail around the circle.  Wet and disgusted, the pack started heading in the direction of downtown.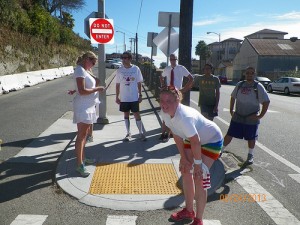 Just by chance, a couple of hashers ran up the Front Street hill and found flour on 3rd Street.  Halla-fucking-lujah!  The trail continued along 3rd Street, and turned left on Cliff Street and went down the steps, along the river levee, across the Riverside Bridge, to San Lorenzo Boulevard, up Broadway, to beer check at an apartment complex.
Hashers returned to food and more beer, before Religion.  Pearl Necklace was RA and Hugh Heifer was his Beer Fairy.  Pearl called up all the virgins.  There was virgin Mike and Virgin Robin from NY, Virgin Cindy, the Maid of Dishonor, Virgin Bobby from Can'd Hash, and Virgin Janet.  Next, all the visitors.  E=MC Fucked, Vote for Pedro, Just Jonathan, and Mr Wiggley.   Several hashers were punished for Racism.  Diddler on the Roofie claimed "to win" when he arrived at beer check.  TIMMY!! wore a Wharf to Wharf shirt, and Virgin Bobby changed into a Team in Training shirt.
There was a brief change in RA to Stickless from Silicone Valley to celebrate some Analversaries.  Drinks Like a Bitch for #90, Terminator for #195, Shit Faced for #370, and Wet Hairs for #500!  Get a life!
Then the RA changed to Mr. Wiggley from Can'd Hash who brought up all the Monterey hashers, Boner Malfunction, Virgin Bobby and Just Jonathan.
Then Pearl Necklace took over again.  He brought up Puff the Magic Drag Queen for doing 626 of Surf City's 700 hashes.  Get a life!  Occasional rapist was called up.  TIMMY!!! begged her not to do it!  Next were some words about dBASED.  Pearl brought up the fact that he's always brought his kids to the hash, and that's considered either a good thing, or child abuse, depending on who you ask.  Last Call Norm brought up the time when Hot Wheels was still in his stroller and dBASED dumped him down a hill.  Luckily he was strapped in!  Stickless mentioned the fact that dBASED lost his GPS and Stickless found it at a geocache.  dBASED also lost his other kid, Little Spit at a Monterey hash.  The kid had to knock on a stranger's door to get help.  Fingernips was supposed to watch her.  So never ask Fingernips to watch your kids!  Shiny Snail Trail told how she despised dBASED for snaring her the first time she hared with Accuprick.  She changed her mind 3 weeks ago, when she hared again with yours truly and dBASED was DFL!  What a great birthday present for her birthday hash!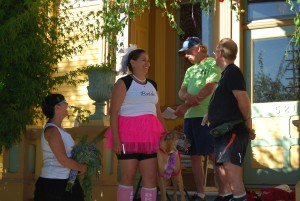 Then the wedding!  Pearl Necklace presided over the ceremony.  Occasional Rapist and dBASED exchanged a really hilarious set of vows.  I heard dBASED promise to not bust Occasional Rapist's beer checks when she hares.  I'm not sure if he agreed to the vow about following trail.  Pink Cherry Licker caught the bouquet.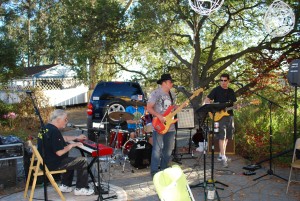 The rest of the afternoon was spent dancing up a storm to music from Waxi's band, Premature E-Jamulation.
Thanks to our hosts, Pearl Necklace and Last Call Norm for welcoming us to their home!  Thanks to dBASED and Occasional Rapist for a great time!  You succeeded in making our panties wet.  May the hash get a piece!
On On,
Shallow Hole