We all knew it was gonna be one of the first cold nights of autumn. Some of us B to A shuttlers parked up on the hill at Shallow Hole and Waxi Pad's house (point B), all prepared to do a warm-up trek downhill to the Next Door Bar (point A). Instead, Thmp-Thmp and I crammed into Beer Mop's seat in the Waxi Taxi and freeloaded a ride down to the bar. On the way, co-hares Shallow Hole and Cum Pumper made us promises of hot soup, bread, cupcakes, and brownies if we survived their cold shitty trail. It was pretty clear we would be paying dearly for those goodies by the end of the road tonight. When two racist marathoners are your hares, no doubt we were going to need some re-fueling afterwards.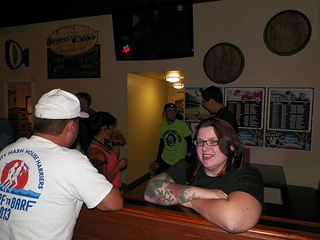 The bar was showing both the Sharks game and the World Series. Boston was playing in both, so Accuprick was one happy bastard. Slownad, Thmp-Thmp and Twisted Fister were catching the jock spirit because they busted out a 3-way fisting to greet each other. Just Eddie must have caught some too because he was bragging about how ripped his abs got from working the lemonade pump at Hot Dog on a Stick. Speaking of weenies, I asked Accu what he was going to dress as for Halloweenie next week. He said he'll be "dressing like a jerk." Of course this means he'll be dressing as himself. Timmy!!! was outside giving Virgin Daniel the chalk talk. There is no one better to give the chalk talk than a retired special ed teacher, right?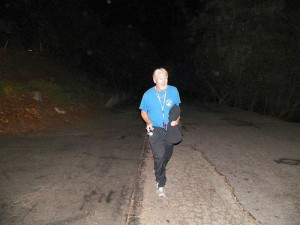 The pack finally coagulated and hit the road. Trail went on-right over the freeway overpass and across Granite Creek Rd. We wound through my old Sunday school parking lot (ha!), crossed Borland's meadow and ended up in the ruins of Santa's Village. There we found a booze check of Barefoot Bubbly to keep the sparkle in our steps and cinnamon schnapps to warm our bits. It was hella dark and Ralph R.U. Crammed-In , Just Eddie, and Virgin Daniel were all flashlight-less and glommed onto anybody with a torch. They ditched us as soon as we got back to streetlights in the neighborhood, where every road went uphill. Timmy!!! and Puff were still suffering from night blindness even with streetlights and flashlights. They were convinced that every big house we passed must be a church. I know Scotts Valley is full of bored cops, but that's not because there are, like, 10 churches on every street. There was one enormous endless hill that I managed to charge up because I knew cupcakes were just on the other side.
Finally we made it to our point B. Beer check! As we tricked in, everybody was watching for Accuprick. Nobody had seen him for a while and wondered if he'd stayed at the bar to cheer for beantown. Turns out Dung-Fu Grip was a latecummer on his bike. He'd caught up with Accu and escorted him in. What a frigging gentleman.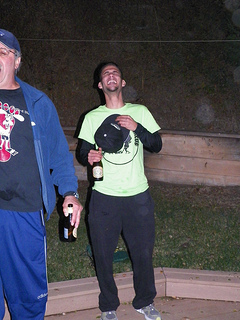 The beer and junk food began to flow hard. Accuprick RA'd and Reverse Cowgirlz was beer fairy. Hugh Heifer, dBASED, Just Christina, and Dung-Fu were hailed for acts of chivalry on trail. As if! Nobody cared enough to ask backsliders Just Eddie, Ralphie, Accu, and Waxi for excuses why they'd been slacking. Twisted Fister was outed for assuming a racist is someone who's prejudiced. Duh! Dog Breath accused Cum Pumper of bragging about her upcoming marathon and the racists all drank. Accu and Dung-Fu were our poor little DFLs. Just Eddie and Shiny Snail Trail made Virgin Daniel cum. Shiny couldn't make it to the hash and is likely in jail or otherwise had to leave the country. Virgin Daniel told a very lame joke about munching bushes or grass or something, so he showed one butt cheek in a feeble attempt to recover his dignity. Timmy!!! is a jerk for stealing the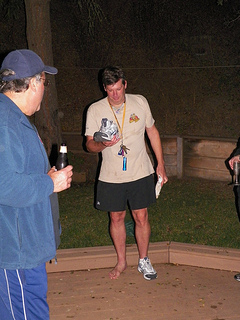 money we raised for hungry homeless orphans and blowing it all on chianti in Italy. Waxi did not make it to beer check…even though it was simply at the end of his driveway. Thmp-Thmp called out Dog Breath for his new shoes. Twisted Fister was really eager to give his shoes the sniff test. Pervert! It only took Slownad 3 years, but he finally hit his 25th analversary. I don't think he likes us very much. Timmy!!! had a birthday. So did Just Eddie. He calls this month Edtoberfest and celebrates all month long. And the hares…hooray for Cum Pumper's virgin lay! On-on-on was in the toasty dining room where hot veggie soup was ladled out defrost to the pathetic pack before they got kicked back out into the cold. Thanks for the hashpitality, Shallow, Waxi and Cum Pumper!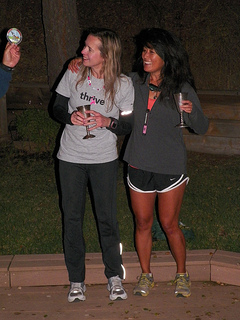 This week is Halloweenie! So you better cum wearing a costume. The start is at Red, upstairs. Trail will be on the short side so there will be time for us to cruise the downtown freakfest!
On-on,
Princess Di(arrhea)