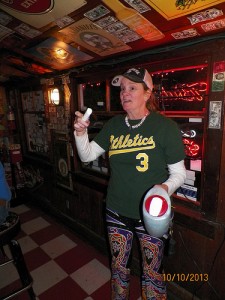 Chicken Toss Strike Out!
Hugh Heifer was coerced into haring this week because no one signed up, and made the pack come to Henflings in Ben Lomond.  This was a HUGE sacrifice considering the A's game was on TV at the bar.  She doesn't even have a smartphone to get game alerts on!  She promised a short trail and warned "racists" not to show up.   Ya right!  The Boulder Creek Hashers Pussy Galore, Too Drunk to Fuck and Get Up and Run Bitch came down from the hills.  Hairy Fuck 2.5 brought Just Sarah for her 8th hash in hopes she would FINALLY be named.  Just Anne also showed up for her 7th hash and was also nameless.  Extreme backslider New Kids on My cock showed up with his stepdaughter Just Christina.   According to the hash count, last time he was seen was 12/29/06.  We had 2 Virgins!  Pussy galore made Virgin Kristin come and Hugh Heifer brought Virgin Reto.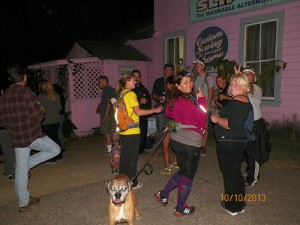 Trail was pretty damn short, < 2 miles.  The beer check was on the busy corner of Mill Street and HWY 9.  Hugh said it was cool to drink there because her daughter lived there and it was private property.  No cops showed up.  The walk to religion at Hugh's house on HWY 9 was probably longer than the trail.  TIMMY!!!! was RA and proclaimed that we would name Just Sarah and Just Anne "No matter how long it takes!"  Damn!  He actually sounded serious!  Dung Fu Grip was honorary Beer Fairy and traded his unicorn headpiece for a tiara.  First order of business was the namings.  Just Sarah was first.  After a few questions from the pack, Hugh took her away while the pack deliberated.  Pussy Galore came prepared with a list of names she came up with one night when she was drunk.   The themes were her love of big snakes, her big tits and her favorite sexual position.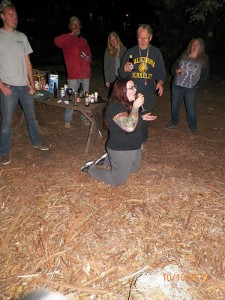 The pack finally settled on Reverse Cowgirlz, inspired by her favorite sexual position "reverse cowgirl" and tendency for swinging both ways.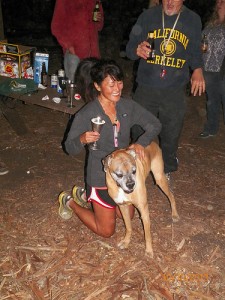 Next was Just Anne's turn.  Hugh took her away while the pack deliberated names with themes around her being a racist, her love of wine, pissing on trail and her job as an engineer for a company who makes heart pumps.   The pack finally settled on Cum Pumper!  Congratulations ladies and welcome to the hash!
Next, TIMMY!!! called up Backsliders Goldie Coxxx, Too drunk to Fuck and Get Up and Run Bitch.  Occasional Rapist drank too even though she only missed 2 weeks.  She was busy honeymooning and used the excuse of being on her back!  Virgins Reto and Kristin both told jokes.  dBASED was called up for continuing to hash despite having pneumonia.  Chicken soup is sometimes referred to as "Jewish penicillin."  dBASED proved beer to be "hasher's penicillin."  I can also attest to the healing powers of alcohol.  I caught a nasty cold during Jazzfest this year.  After a few beers and some good music, I forgot about being sick.
There was one analversary.  Dung Fu Grip celebrated his 25th Surf City Hash, as well as 25 consecutive hashes!  Get a life!  Broke Bench Mountain made some bizarre accusation about Hugh Heifer biting someone's nipple.  Broke Bench Mountain drank.  What a whiner!  Goat Blower showed up at the end for a down down.
And last but not least, The Hare………………………..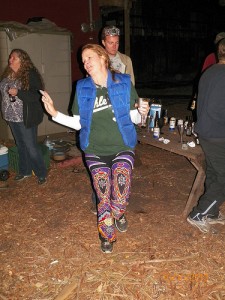 Sorry Hugh, the A's lost.  Probably better you chose drinking and didn't watch it.
See all you wankers tomorrow at Carl's Corner Pocket at 3102 Portola Drive, Santa Cruz for another trail of epic magnitude!  We are at the mercy of Occasional Rapist and dBASED and Wicked Retahted.
On On,
Shallow Hole
P.S.  Get your costumes out!  I'm sure Princess Di (arrhea) and Thmp-Thmp have something evil in mind for Halloween.  October 31st is actually a Thursday this year!  All hell is going to break loose!