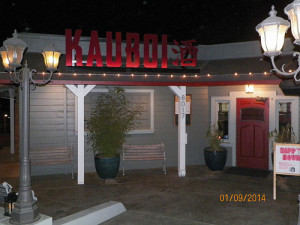 This week, Twisted Fister, New Kids on my Cock and Achy Breaky Snatch summoned the pack to Kouboi in Aptos.   Hashers know this place as the old Britannia Arms, which closed and reopened as a sushi place.  Note to self.  Next time order the $3 Japanese beer instead of the 8 ounce glass of Belgian beer for $8.30.  I knew it was a bad sign when I heard that the last time New Kids on my Cock hared a trail was in 2006.  Achy Breaky Snatch was probably sill in elementary school.  Now she's all growed up and haring her first trail!  Her family must be so proud!   The last time Twisted Fister hared a trail he was stoned.   The Hares said there would be a beer, liquor and a turkey eagle split.
Second Cuming showed up.  Pink Cherry Licker and Just Shane brought Virgin Adam.  He fit in pretty well sporting a moose antler cap.  Despite sightings of Justin Bieber and Selena Gomez in Aptos this week, they did not show up at the hash.  I heard the idiot got arrested for throwing eggs at his neighbor's house.   We used to throw eggs and toilet paper the neighbor's house and never got caught.  The best part is he got caught by his own security cameras.  More proof that you don't need brains to be in the music business.
The pack was reluctant to leave the bar, but set out looking for flour.   The trail went through the parking lot, past Aptos BBQ, and then the pack found themselves on the railroad tracks.  There was a pretty long stretch of tracks, but we were rewarded with the first liquor check at Princess and Thmp-Thmp's house.  The Hares left a large bottle of tequila, bag of limes and salt.  After a shot or two, we continued on trail through the golf course.  We ran through some nice neighborhoods, then down to the beach.  Trail continued on the beach, along the sea wall to Rio Del Mar.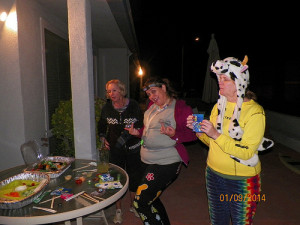 The pack was treated to a second check, sushi/liquor at Achy Breaky's house.   Trail continued through Rio del Mar and up Rio del Mar Boulevard to the final check, a beer check under a bridge.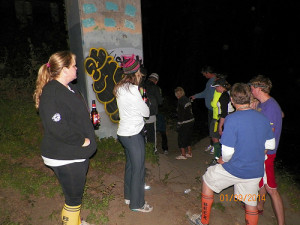 It was a long one!  Occasional Rapist's GPS said the turkey trail was 4.72 miles!  The Eagle was about 5 1/2 – 6 miles.  I'm not sure, because I was having technical difficulties with my GPS watch.   Some whiners (Puff) complained about getting sand in their shoes.  Let's have a pity party!   I can think of a lot worse things like getting sand in your privates, stepping in dog shit, or sewer water.  I had a drunk girl throw up on my shoe at a Dead show once.   That really sucked!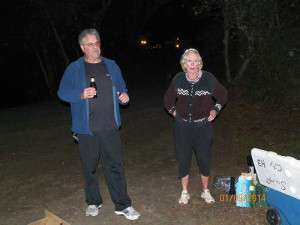 Religion was in back of Kaoboi.  Accuprick was RA and named Second Cuming as Beer Fairy.  She said she is back from a 13 year stent in Africa.  A few hashers were called up for bitching and whining about the length of the trail.  Pink Cherry Licker was given a down down for proclaiming she was FRB and "won the hash."   Cumcerto was called up for saying that "absinthe makes her horny."  DFL's Just Shane and Virgin Adam finally showed up in classic hasher fashion, stumbling down the hill each carrying a bottle of liquor.  They got lost and ended up on the eagle trail.  Just Shane made Virgin Adam cum, and he told a lame joke.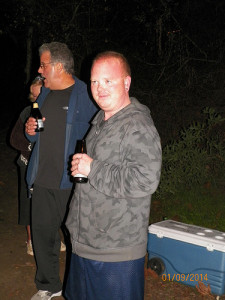 It was Just Shane's 5th Surf City Hash and he was up for naming.  He used to flip pancakes for a living.  Dung Fu Grip came up with the name Fap Jack.  Fapping is a new term that means the sound made when jerking off.   It's in the Urban Dictionary.  I checked.  We actually had a second naming.  I'm not sure if this ever happened in Surf City history, but the pack named a Virgin!  Virgin Adam was named Moose Turd Pie.  He was wearing moose antlers and mouthing off too much.  Welcome to the hash!  We'll see if he ever shows his face again.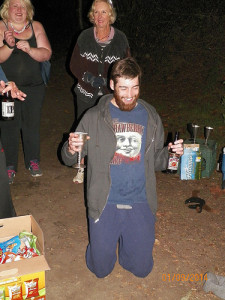 If that wasn't enough excitement for the night, New Kids on my Cock celebrated his 100th Surf City hash!  It only took him 11 fucking years!  Yours truly celebrated her 125th hash.  It only took me 3 years.  My first hash was January 20, 2011.  Memories……  Get a life, get a life, get a life, life, life!
And last but not least, the Hares……………………………………….
On On,
Shallow Hole