Hash #738
This week we started of at Tacos Moreno in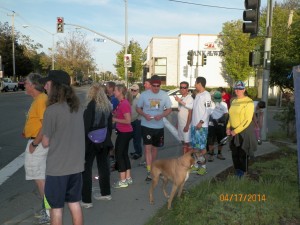 Crapitola. There was a special on pitchers, $10 and that includes chips and salsa, if you're willing to wait half an hour to get a glass. We had a few visitors from the south, Scalded Squirrel and Bromancing the Mangina. The got to enjoy another beautiful spring evening here in Surf City.
The trail started of with a check that took us over to the mall, where we searched in vain, finding only dead ends and old shopping carts. Finally someone dodged traffic back across Capitola Road to find trial going that way. Did it make sense? Not really, but we found it. From there trail wound around the neighborhood. There were a bunch of "Amanda Jackson-Miller for school board" signs on people's lawns. Fuckedoverfest dubbed her "Amanda Action Jackson). (But on a serious note please vote for her if you live in the Soquel School district. She likes schools and kids and learning and she'd running against a crazy-tea-party-nut-bag who doesn't believe in public education and pushes her dog around the neighborhood in a stroller).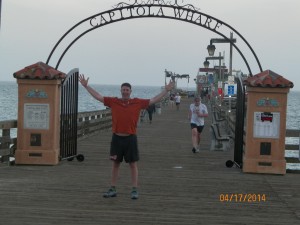 From there we headed down into Capitola Village. There was a false down at the end of the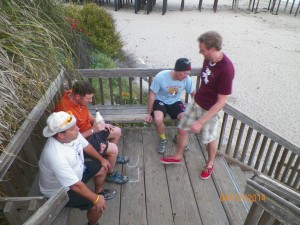 pier and even though they knew there was nowhere that trail could go, Dog Breath urged Twisted Fister to keep going down to the end. Maybe there was a liquor check. Maybe they were supposed to jump off the end and swim. Nope. It was a false. The liquor check turned out to be on the stairs going up from the beach. It was Malibu rum. Mmmmmm….tastes like sin screen and hangover.
We went up the stairs, across the railroad tracks, and into the jewel box for a bit, before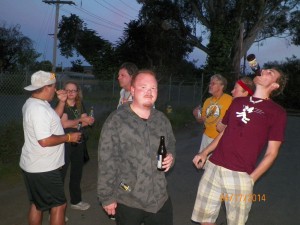 ending up at beer check. As I strolled up with the rest of the DFLs (and found that Fap Jack had squirreled me away a Mike's, yay) everyone kept asking, "Where's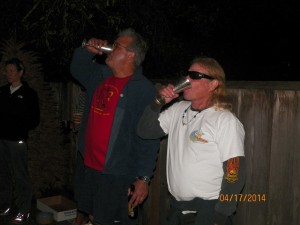 Acuprick?" We hadn't seen him since the beginning of trail. Wicked Retahted was missing too, but that was no surprise. I said that Accu was probably hanging out with his BFF, but others were skeptical until we arrived at beer check and there they were. All of Surf City should know by now that Accuprick and Wicked Rethated are thick as thieves. Accu's story goes that he wanted to give Wicked a chance to be a leader and read the marks. That went about as well as you'd think it might and they wandered around lost for a bit before heading over to beer check.
Religion was held at the house of a friend of Occasional Rapist. Thmp Thmp passed out our new happicoats! They are awesome. We had two analversaries, Cumcerto at 50 and Thmp Thmp at 125. We had a naming, a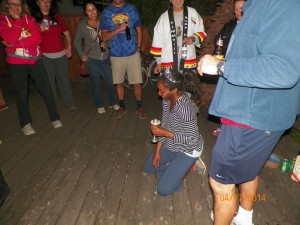 nd Just Janna will forever be known as Hooker on Kronix, Bitch. dBASED totally fucked it up in the Hash Count, but it's still a very cool name. He left out the most important part, the comma! We decided early in the naming, that whatever the name it would be followed by, bitch. Dung Fu Grip decided to reward our host with a song "Her, her. Thank her," and DogBreath rewarded him with a full beer dumped over the head. Then Dung Fu shivered. And the Hares! dBASED and Occasional Rapist were brought up for their shitty trail.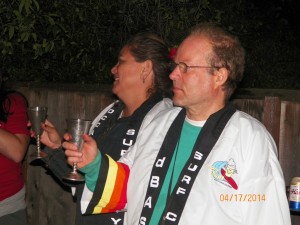 On, on, on was back at Taco's Morenos.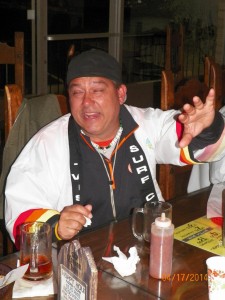 On on,
PCL