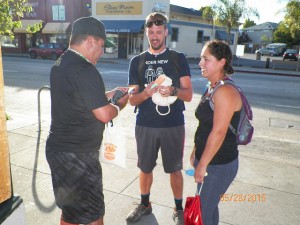 Bacon Queef and Just Foot Pussy just got married and Just Foot Pussy lost his hareginity.  Twisted Fister acted as hare chaperone for these two newlyweds out to celebrate their recent nuptials with a shitty trail.  Bacon Queef had a run in with the cops on her first haring experience last year, and it was about time she got back in the saddle and give haring another try.  She also got the honor of breaking new hubby Just Foot Pussy's hare cherry!  The pack met at the Crepe Place.  Hugh Heifer was a no show this week.  Apparently she got drunk and fell down 3 steps (not 3 flights of steps) as the rumor originally stated.  Luckily she is ok.  Diddler on the Roofie made a rare appearance this week.  Blamed work for not hashing.  Dung Fu Grip showed up in a white rockin 70's looking pantsuit right out of Saturday Night Fever.  I think the hares wanted people to wear white this week, but no one else got the memo.  Pussy Wood told us this was her last hash for 2 months. She was all packed and ready to go to France.  What for you ask?  To study lizards of course.   Whatever floats your boat sister!  I would rather drink French wine and go shopping!  We had 2 Virgins this week.  Virgin Nate and Virgin Stephanie.   Twat Did You Say?  just got back from getting root canal at the dentist and decided to stop by the bar and numb her pain.  Some guy brought a bulldog puppy into the bar.  The puppy was immediately swarmed by a bunch of dog loving ladies.  The puppy loved all the attention.  It was really cute!  The guy handed Twat the leash for a few minutes and I thought she was going to bolt out the door with the dog.  So now we know.  Guys, if you want to attract the ladies, get a puppy.  LOL
Trail was 3 miles according to my GPS.  There was an Asian wine check, 3 fishhook checks and a candy ring check in front of the Hitching Post.  The hares put a number next to the fishhook checks to tell how many FRB's that need to go back and give the "treat" to the DFL's.  Cumcerto, dBASED and I got the second one.  dBASED was pissed off and refused to go all the way back to the DFL's.  I ended up following his hare arrows and missed the ring check.  Beer check was in someone's yard.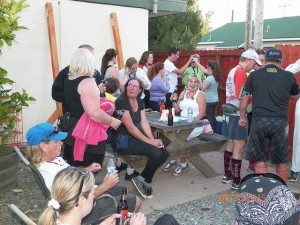 Religion was  at Puff's house.  Dung Fu Grip was RA and Dog Breath was Beer Fairy.  dBASED got called out for saying "fuck the fishhook BS" and refused to go all the way back to the DFL's.  A bunch of other hashers accidently shortcutted trail and missed the ring check because we were all following dBASED's marks.  Wicked Retahted got called up for passing by the boob check before any harriettes arrived.  Twisted Fister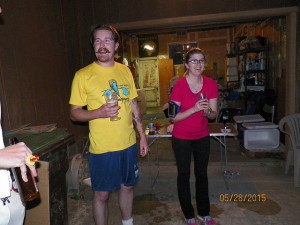 drank because he wasn't paying attention and told the same story about dBASED and the fishhook.  When one hare drinks, they all drink!  dBASED drank again for telling sexually inappropriate stories at Norm's family memorial.  So if anyone dies, PLEASE DO NOT ask dBASED to say the obituary.  The hares were in the process of drawing a big penis on the sidewalk when a cop pulled up at the stop sign.  They told the cop they were on a "treasure hunt".  Luckily they were not carted off in handcuffs.  I got a lovely rendition of the happy birthday song.  Fuck you too!  There were several analversaries this week.   Tits and Game celebrated her 25th,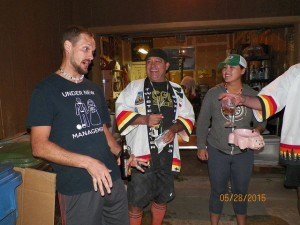 Cumcerto celebrated her 69th, Fap Jack celebrated his 75th, and Puff celebrated his 725th surf City Hash.  Get a life!  Virgin Nate told a really long joke about VD and dead frogs.  Occasional Rapist couldn't wait for the punchline, so she pulled down is pants.  Fuck Ya!  Virgin Stephanie also told a joke, but it was short.  And last but not least, the hares……………….
Congratulations you two!
On On,
Shallow Hole