It was billed as his farewell hash, it was set in a cemetery and the hype was real. The trailer promised an over the top event. The enthusiasm to give Dung Fu a proper send off was unprecedented. It far exceeded the Jack O'Neill memorial paddle out. We had the press (Steamy B), we had cake, flowers, cards, banners, skywriters, balloons and a lovely parting gift.
But alas, he was a NO SHOW.
We got some last minute sob story via FB about tourists, plane tickets and bears in Yosemite.
The crowd was dejected. They did not think they could go on. They sat on crumbling gravestones and wept. They popped the balloons, shot RPGs at the sky, tore up the cards and ate all the cake……………..and then they got up off their sorry asses and marched along following the shittiest, lamest excuse for a trail ever because Timmy and Puff decided they could be a viable replacement for Dung Fu. I think not!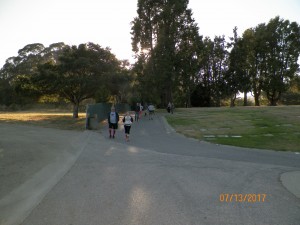 Because of them –  F*CK THEM –  I have poison oak on my ass. Seriously I have poison oak ON my ass…Just let that sink in…..I also have poison oak IN my ass crack and its creeping to other nether regions. I will NEVER forgive them. Plus they owe me $27.69 for the new bottle of Technu and the soothing Calamine lotion. And they owe Vag Repair Kit a few psycho therapy sessions cause he is the one who has been applying the anti itch lotion to my bu tac al hemisphere. He is scarred for life now. He saw things in there that no one should ever see. And now he can't sleep at night.
But at least I got my favorite butt plug back.
🙂
So we did some sort of a trail with our fake hares.
We ran through a big green playground with lots of little balls scattered about. Someone did not get the lesson about picking up their toys.
After endless rounds of foraging in the woods and bathing in copious amounts of poison oak we managed a Gorilla Beer check at the newly opened outdoor bar. Pitchers of golden nectar were ordered, $20 bills were flying faster than at a lousy strip joint, and birthday boy managed to get in a few top shelf shots.
The bartender, aka THE golf pro, seemed a bit dazed and confused as to how these untidy and unruly ruffians all showed up at his bar at the same time….and where did they come from………..and they certainly were not his average golf patrons. Maybe they were disc golf players…….NOT!!  In between keeping the pitchers topped off we filled him in on the inner workings of our group. Now he gets it…………and he wants more. He takes our picture and asks for autographs. He even invites us back! And Thump Thump wants to hold AGM there. A match made in heaven……….or in DeLaVeaga.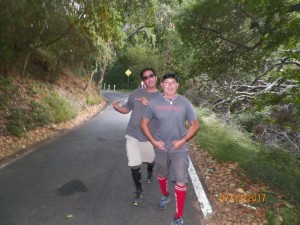 Stay tuned for upcoming details.
And now back to trail……….which ended in a hilarious van ride back to the start. Mr Toads wild ride with drunk ass, half naked sweaty poison oak infested wankers. Lots of fondling going on and some confusion as to fingers and toes and orifices.
Vag was the big winner as he dove on top of unsuspecting van mates and became the instant boy toy for the ladies.
Religion was a sad affair back in the cemetery hosted by Accu.
Twat did you say got a patch for 100 hashes…..she said some poignant words about commitment and marriage and all…..break out the tissues.
We had some virgins…..one who has an aversion to beer but brought her own vodka….good thinkin missy.
Real Boring Bitch and Just Foot Pussy had no idea what the symbols mean and had a hard time with the simple circle.
Cold Smega Kamikazi preferred the company of the homeless encampment rather than stay on the perfectly marked trail and wander aimlessly with his friends.
Vag still has no idea what a wallaby is….despite our efforts to educate him about marsupials.
Dog Breath had many down downs for the usual stuff….and Six O Nine made an appearance at the end….he gets the annual NON RUNNER award.
Puff forgot his flashlight and there should get down downs next time.
Speaking of next time………..next time will be just in time for WHARF TO BARF….the greatest event of the ages. Four days of debauchery, four days of trails, four days of beer and Tito's – which spells tits without the "o" and the apostrophe.
And only 9 more days till CumFarts Birthday…
July 25th
 if you all want to know! Which will be celebrated during the 4 days of WTB. Shameless plug by the venerated scribe.
Maybe my butt will be healed enough by then for the requisite birthday spank tunnel.
ON ON ON,
in love and PO.
CumFartZone