We had a decidedly delightful trail….for a change. Great weather despite a "heatwave" supposedly taking place all over the state and beyond.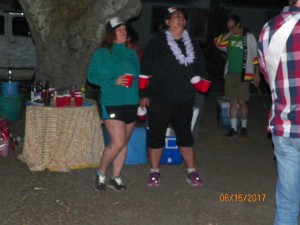 This was a Bodacious Birthday Bash disguised as a Hash! We also took full advantage of the Beachy/Hawaiian theme as the Hawaiian shirts and leis were out in full force! Even the dogs got into the theme.
Our Beguiling Beerthday hares were Occasional Rapist and Ho To Housewife.
We began and ended trail at Wicked lovely abode. He had surf songs skipping on the old CD player, chairs carefully arranged around the fire pit and festive food was waiting in the wings. I especially enjoyed his photos of his Mom and Dad that were displayed in honor of their meeting in Hawaii so many moons ago.
At the "pre lube" most folks dived into the keg, only to have a puzzled look on their faces as lowly wine filled their red solo cups.
WTF??
I thought we were a BEER crowd?
And speaking of beer….apparently some folks got into the beer intended for religion or beer check. We got a serious lecture on that one. Something about troughs.
I am still unclear about the particulars and the rules.  Perhaps we need a written missive to clear up the confusion. And another lecture please.
Grrrrrr….but back to the trail adventures.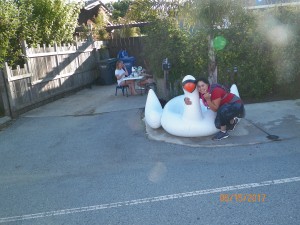 Luckily it was short. Most likely due to our newest aging hares who didn't want to fire up their motorized wheelchairs for this hash. So they took it easy on us. Perhaps it was a mere 2 miles….just enough time to marvel at the views of the ocean and to gloat about living with the cool ocean breeze….despite it being 100 degrees inland.
We had a poignant beer check in the shadow of Jack O'Neil's iconic green house perched above a famous surf spot.
It was so poignant that you couldn't tell if folks were crying or just covered in salt water. A slew of hashers dashed into the ocean to cool off….so pets and people were descending upon the hillside dripping wet.
Nevertheless it was a delightful pit stop along a easy meandering trail…which eventually led back to Wicked's for some serious eats…along with CumFartZone's now famous Pineapple Upside Cake Jell-O shots!
People gorged themselves on delicious Kaluha Pork and rice, some spam creation and cupcakes.
Religion started off with Accupricks excuse of being late in because he had to attend a retirement party.
We had all the folks who jumped or put a toe in the ocean come up for down downs – this may be a partial list….the virgin dude, Dog Breath, Dung Fu, Rat Pussy, Ska, C*unt Jungle, Pinky….and maybe a few more I may have missed.
There was talk about the hash shit.
??**&&?? whatever!
And we called out Real Boring Bitch for some whistle infraction….I can relate…had the same thing happen to me 2 years ago at Wharf to Barf saturday picnic hash when I stupidly followed Dog Breath or dBased and got lost…which led me to frantic blowing of the whistle in order to get found.
In Real Boring Bitch's case he was merely LONELY….not lost…although I think he really is lost… a lost soul. Ya know, there are support groups for that.
Dbased was called up for calling "ON ON" after seeing only 2 marks…but it really was a false…So we talked about fake news and a conspiracy theory. Go figure. Thanks Dog Breath.
As a reminder the first and probably only rule
(after the trough rule thing) is NEVER FOLLOW dBASED!!
Some people need to get this tattooed on their arms as a reminder, cause they just don't learn.
"NFdB".
We had some visitors from Hawaii….go figure…what are the odds that at our "Hawaii" themed hash we have "Hawaiian" visitors – Master Blaster is in the house. Smells like a conspiracy to me……..but don't get me started.
We also have some righteous analversaries.
The most auspicious one was for Puff…with a whopping NINE HUNDRED – 900 –  SCH3 Hashes!!
Close behind was dBased with 750. Get a life.
Ska is becoming quite the regular with our group in addition to her other travels and has racked up 25 hashes with us as well.

Three terrified virgins showed up and thought that they were on American Idol. Never heard so much singing in my life….and one was quite good. Simon would be proud.
After all the festivities and birthday wishes….we did get that "lecture"/reminder about BYOB when we don't start at a bar. This is where the trough term comes in….again clarification and repetition would be helpful….especially when we are told at the END of the evening….after some illicit imbibing…..when we won't remember what was being said.
I might need a note to take home to my parents.
There was also some confusion regarding dogs at the start and end location.
let's try to resolve this for future events so that we can all get along.
Other than that it was a fantastic evening.
Aloha everyone
On On On
CumFartZone.
PS – Just about a month – give or take – for Wharf to Barf weekend….and my birthday (
July 25
).
So get your regos in so that we can have a kick ass event.