Hash Trail 937
Another beerthday hash and another pathetic excuse to dress up and scare the locals. Six days before Halloween but no one blinked an eye. This is normal for Santa Cruz….where you can be a weirdo 365 days a year.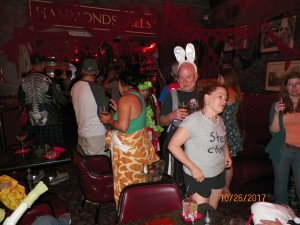 This extravaganza started with the blaring trail announcement from Just Foot Pussy who could not contain his excitement at his impending monumental birthday event. To make matters worse he drags poor Tits and Game out of retirement and out of her comfy temperpedic bed to assist him. She should have stayed home in her PJ's and slippers. But then we would have been deprived of her luscious boobies and mischievous and devious trail.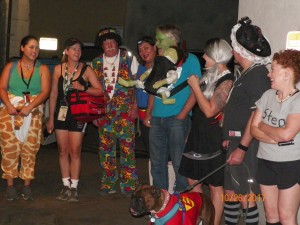 So with all the hoopla and hype we gathered at the Red Room….perfect venue for start of a Halloween hash with its clandestine lighting and regular odd characters. We blended right in like Navy Seals in full camo on a stealthy mission.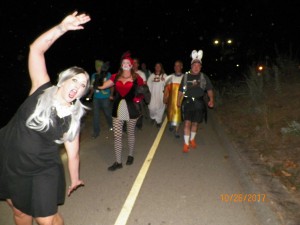 Well most of us blended in except for some huge pimple like creature with probing tentacles. Not really sure what that thing was but it certainly was the most creative costume I've seen in a long time. The "thing" as I will call it from now on made a valiant effort to keep up with the pack. It's handler, a gregarious yet firm German lad who seems to have wandered away from the Beer Garten, barked out instructions like a drill Sargent each time a menacing curb loomed ahead….or a nasty maze of train tracks, trash and jagged fence holes presented a violent trip hazard.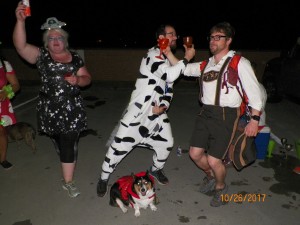 The "thing" turned out to be very adept at navigating the city streets and the off trail detours, swigging copious amounts of brown liquid along the way. It remained upright the entire trail.
We encountered many checks….which confounded a few. Some got hopelessly lost but thankfully found refuge at Boccis Cellar. Once they recovered from their ordeal and replenished their "electrolytes" they managed to reunite with the rest of the pack at Religion.
They missed an awesome Liquor Check of festive jello shots in the cemetery. They missed beer check at the top of a lovely knoll. They missed snacks and chips and dip. They missed the giant dildo!!
And they missed us enough to venture out again just to be given a down down. Those rascals may have been Taco Tramp, Summers Yeast and possible Wicked, before he Ubered home to avoid prosecution.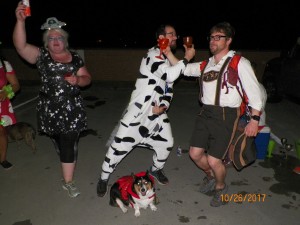 Maybe he, Wicked, kidnapped Cunt Jungle and violated her in the cemetery. You never know what really goes on underneath that Darth Vadar cape and mask. And no one is ever safe from his tongue!
We had an emergency rescue on trail. Bakers took a nasty fall on a slick slice of sidewalk and luckily the ski patrol was nearby and able to revive him with a generous glug of hot amber swill. No stitches, no crutches needed. Thanks Thump Thump and Princess. Gotta love those Saint Bernards.
As all of our festive participants gathered for the Halloween costume contest, also known as Religion, we noticed that the lovely 99 cent plastic glasses had morphed into unrecognizable shapes. Apparently DBased put said party glasses into the bottom rack of the dishwasher. We will probably need to raise your hash cash next week to cover the cost of replacing our expensive stemware. Blame him.
Speaking of blame and shame we now have a true defector in our midst. Cunt Jungle escaped from her over the hill captors and has been brainwashed into thinking SCH3 now her mother kennel. She is keeping her name to protect the guilty.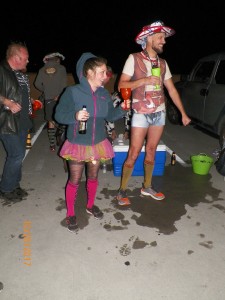 Our analversaries were BakersDoesn't and Curtesy Flush each at 69. Kinda weird eh? We all got treated to an interactive 69 demo. Another Halloween treat I suppose?!
We had some backsliders…..Taco Tramp, Tits and Game, and JFP who was traveling to satisfy insatiable needs.
And finally we had the much touted costume contest…..all who turned up were worthy of a prize, including Hugh as the Queen of Hearts, JFP as the raunchy cowboy, Timmy and his best friend Psycho Baby minus some important limbs, along with a sexy giraffe, Gorilla with a huge hat ( perhaps making up for other lack) Taco as an American Horror Story persona and CumYouWillNot in a festive Hawaiian themed dress. Steamy was styling in his matching paisley 60's era attire. Dual Tools borrowed a banana that looked more like a giant yellow condom. We had bunnies, supermen and superwomen, skeletons, chicks with dicks and dogs with tutus. Meanwhile Puff went all out and rocked the orange OP shorts. Also Bakers dressed as a chef… which was a stretch and his dog morphed into a lobster dinner.
Obviously the strange vagina creature, the giant bed bug, the 8th grade gonorrhea scare tactic or simply the "Thing" won the coveted t-shirt prize. Well deserved. The grand prize goes to BareBackUniCrack!!!
Overall it was a fun night of costumes, birthdays and creepy crawlies.
Thanks to all who came out to celebrate Halloween almost one week early….but who cares? Any excuse for a party.
And don't forget the party of the year will be an awesome AGM on 
Nov 9th
.
Be there or be square.
On On On,
CumFartZone
VOTE FOR ME………..for something, anything!!!