Our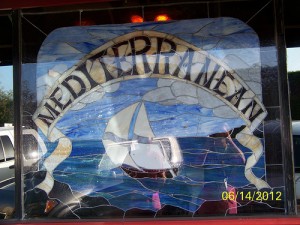 Hares, Occasional Rapist and Cuff my Muff, chose the Mediterranean in Aptos as the start for this week's hash.  Hairy Fuck 2.5 returned, after being on the DL with a broken foot.  Just Rosie showed up for her 5th hash.  We had 2 visitors join us all the way from the swamps of Savannah, Georgia H3!   Squat and Swallow, and Sleeping with the Enema.  Theirs is another hash love story.  They met online, hashed together in Savannah, and just got engaged in NYC.  Squat and Swallow was sporting his Hare T-shirt from Savannah's Americas Interhash 2011.  dBASED, Occasional Rapist and I were lucky enough to have been there.  After a few beers, we realized that the lovely lady in a white southern bell dress and parasol that escorted me to my car one night was Squat and Swallow!  LOL.
There was some confusion at the start.  The pack got split up and went in 2 different directions.  And then there was dBASED.  Who the hell knows where he went.  There was flour at the corner of State Park Drive, so Just Rosie, Dog Breath, Hugh Heifer and Nipple Butt, Puff the Magic Drag Queen, Deep Stroke and yours truly, went in that direction.  The trail went past the Snow White Drive In and turned left on Hillcrest Drive following the railroad tracks and meandered around Seacliff neighborhoods and ended up with beer check on a dead end street overlooking the ocean and the cement ship.    Along with beer, there was also wine, crackers and dip.  dBASED never showed up at beer check.  It was a short trail.  I barely broke a sweat.  Just Rosie ran back to Religion on the beach because she wasn't tired.  I have to agree with her.  We ARE a bunch of pussies in Surf City.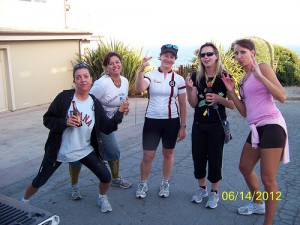 Religion was on the street in back of the Mediterranean.  Occasional Rapist served up a kick ass homemade red velvet cake with strawberries.  Yum!  Hairy Fuck 2.5 was RA, Dog Breath was his lovely Beer Fairy.  Apparently I, Shallow Hole, completed 69.69% of the hashes this year, and received a patch for completing my 50th Surf City Hash.   Down downs were dished out for back sliders, Dude where's my Trail? and Just Rosie.   Visitors, Squat and Swallow and Sleeping with the Enema were called up to the altar.  They thought the trail was boring.  They're used to monster shiggy in Savannah, like wading thigh high through swamps with alligators, swimming across intercostal waterways, running through picker bushes, and naked full moon hashes.  Sleeping with the Enema delighted the pack by flashing her boobs.  dBASED was chastised for getting lost on trail.  He claimed to be trying to catch the hares.  He guessed wrong!  Hugh Heifer was punished for an ancient crime on trail.  A long time ago, she brought NA beer for Religion.  The pack sang a lovely rendition of Happy Birthday to Occasional Rapist.  Just Rosie was up for naming.  A lot of dirt was dished out, and she was more than happy to keep incriminating herself.  After a bit of deliberation, Just Rosie will be forever known as Cum Rash!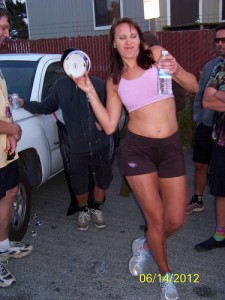 And last but not least, the hares……………
On On,
Shallow Hole