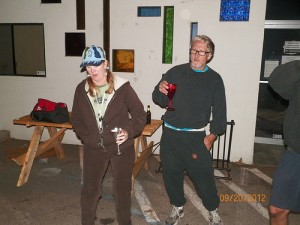 This week the Hare Pair team of Hugh Heifer and TIMMY!!! brought us to Don Quixote's in Felton.   Puff the Magic Drag Queen, Princess Di (arrhea) and Thmp-Thmp all survived their Santa Barbara hash weekend.  Twat Did You Say? was also there, but had better things to do on Thursday night.  Apparently the Princess had an exceptionally good time (as evidenced by her never ending hangover).  Boulder Creek Hashers, Pussy Galore, Cum Lord, Too Drunk to Fuck and Get Up and Run, Bitch made an appearance.  Cum Lord was fresh off his trip to Asia, where he hashed in Bangkok, Thailand.  There was some talk of $5 happy endings.   Just Trista was brave enough to come out for her second Surf City Hash.   I'm proud to have been her "sponsor".  You never know how some people will react to their first hash.  I figured either she would love it, or never talk to me again.  Fortunately, she enjoyed herself and a new hasher is born.  Deep Stroke has been on a heavy metal kick lately and showed up in a bad ass Iron Maiden T-shirt.  Tiny Whiny Bitch resurfaced after many months and rejoined the hash!  He told tales of his cross Atlantic cruise and romantic interlude with a fair maiden in England that had her own teeth, drove a BMW and owned her own house.  Unfortunately for him, he had to return, and is now succumbed to drowning his sorrows in cheap beer (but at least it's served cold in this country).  As an extreme backslider, he was chosen to wear the hash shit vest for the evening.  Get Up and Run, Bitch recruited a virgin (Virgin Jeff) to join the pack.  She somehow convinced HIM to do trail while she and Pussy Galore stayed at the bar, ordered food and more drinks.
Our Hares directed the pack to exit the bar via the back door.  The trail started out with a check on the road behind the bar.  The trail went right on Cooper St, left on Farmer and into the trails of Fall Creek State Park.  Darkness was approaching and there was a stench of skunk in the air.  It was getting dark and creepy, so we were happy when we saw the light at the end of the tunnel.  Luckily no wildlife was encountered.  We came out behind San Lorenzo Valley High School, went therough school grounds.  Trail went right on Highway 9 to a beer check in a parking lot on the left side of the road.
At beer check, we heard confessions from the drunken lips of Hugh Heifer.  She claimed to be the "mastermind" of the trail.  She somehow convinced TIMMY!!! to be her bitch and to lay the entire trail himself!  She was responsible for the first back check and that was it.  Then, she had time to kill, so she decided to go to shopping at Rite Aid, bought some "lotion" and went back to the bar.  My hunch is she was hoping to pick up one of the guys from the band that was playing there that night.
Religion was held in the parking lot behind the Mountain Community Resources Building.  They conveniently had a table there, so we used it for an altar.  Accuprick was RA and appointed newbie Just Trista to be his Beer Fairy.  She was awarded the first down down.  Backsliders, Tiny Whiny Bitch, Pussy Galore, Cum Lord, and Hairy Fuck 2.5 were all punished with a down down.  Virgin Jeff told a joke and was welcomed to the hash.  His "sponsor", Get Up and Run, Bitch also drank for picking up the virgin at the bar.  Tiny Whiny Bitch was called up for his altruism on trail.  Accuprick was limping, so he stayed back with him.  He's one tough bastard!  Despite his bum knee, he always does trail.  Next, Puff the Magic Drag Queen, Thmp-Thmp and Princess Di(arrhea) were called up for representing Surf City at the Santa Barbara Analversary hash weekend.  Princess was ridiculed for not being able to hold her liquor and for taking almost a week to recover.  They claimed to have balls of sweaty steel for being out hashing in 97 degree weather.  Cum Lord drank for representing the hash in Bangkok, where he hashed 3 times while in Thailand.  And last but not least, the Hares………………
See Y'all in Boulder Creek on Thursday!  Fall is upon us, so those of you who don't have headlamps, go out shopping for one!
On On,
Shallow Hole