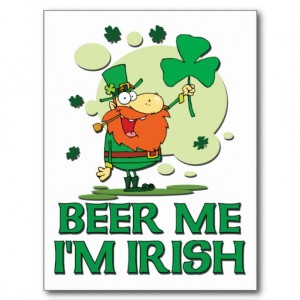 The Poet & Patriot Irish Pub was a fitting start location for this year's Green Dress Run.  Walking over to the bar in my very green outfit, I got some strange looks, and propositioned by a self-proclaimed leprechaun.  Maybe after a few drinks, I would've entertained the thought, but he was just another Santa Cruz bum.  When a lady asked, "Isn't it too early to celebrate St Patrick's Day?"  My response was "it is never too early to start drinking!"
Once at the bar, hashers started filtering in with all kinds of green attire.   The Hares,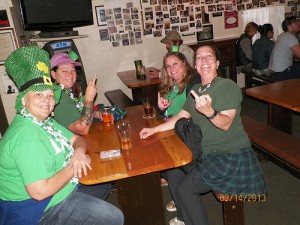 Princess O' Di (arrhea) and her partner in crime Thmp-Thmp, brought festive green "flare" for those not green enough.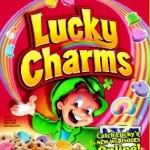 The Hares told the pack to "follow the rainbow", which turned out to be marshmallows from Lucky Charms cereal on all the checks.  Porter the dog was particularly happy about that.   I wonder how many cereal boxes they had to go through to pick out all those marshmallows.  And since that cereal contains 3 teaspoons of sugar per cup, I hope they made dentist appointments too!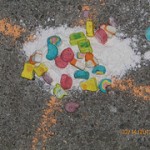 St Patrick may have driven all the snakes out of Ireland, but even HIS luck wouldn't have been enough to follow this trail without getting lost a few times!  I think the Hares lost a few extra brain cells at the Betty Ford Hash weekend.  They seemed a bit out of sorts.  So did Twat did you Say?, who also attended Betty Ford.  But her excuse was that she was just stoned.
The trail lead down the alley, to Pacific Avenue.  After solving a check on Pacific Avenue, the pack followed chalk and flour up to the campus of Santa Cruz High School.  Nice example for the teenage marching band members who saw a bunch of old drunken freaks in green dresses running around their campus yelling.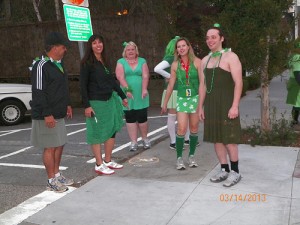 There was a check on California Street.  Plastic Pussy charged down the hill and quickly yelled "On, On".   However, he was stopped in his tracks by a YBF.  The pack trudged back up the damn hill and we headed towards Mission Street.   When we got to McDonalds, there was a mark that said "Shake Check".  Princess was in the back with a pitcher of whiskey spiked Shamrock Shakes!  Damn they were good!  But happiness soon turned to disgust when it started to get dark and we found ourselves at a difficult check on Bay Ave.  No flour to be found in any direction.  I had a shamrock hallucination and thought a white piece of paper was flour.   Then there was a check that lead to another check.   WTF?  The pack ended up on Mission St again, went in the wrong direction at first, turned back and Just Eyvand found flour on the other side of the street at the corner of Mission and Bay.  It was darker at that point and some hashers forgot to bring flashlights.  The darkness and lack of flour made it difficult to follow trail.  At another particularly difficult check, Cumcerto committed the mortal crime of not going far enough down the road in search of flour.  If she went a little farther, she would've found flour.  After about 15 minutes, someone figured that out and the pack made its way back to Mission St (again), and finally headed back downtown.  Beer check was located on the street in back of the Center St Grill restaurant.  Luckily the Hares had plenty of beer, and Irish Car Bomb Jello Shots.
Religion was on the top of Oswald parking garage.   Just Christine and Just Eyvand got lost on trail, so they stopped at a gas station for the bathroom and then went for pizza.  They showed up at Religion.  TIMMY!!! was RA, Schlong Division was Beer Fairy.  Backsliders Pussy Galore and Cum Lord got a down down.  Non-Runners Great Barrier Queef, My Little Bony, Cumz out my Nose, Pussy Galore left their bar stools long enough to join the festivities and drink some warm beer.  Cumcerto was punished for getting the directions left and right mixed up.  TIMMY!!! and Pink Cherry Licker had a tender father daughter moment.  She served as his stylist and gave him a dress to wear.  Awwww.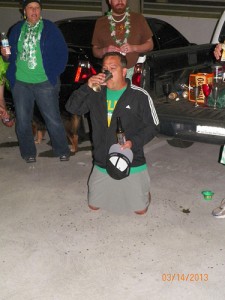 We had a naming.  Just Eyvand was christened into the hash with the name of Twisted Fister!  Welcome to the hash!  Deep Stroke was punished for her racism.  She won!  I think she short cutted.  And Slonad was also called out for wearing a running shirt.  And last but not least, the Hares………………………………………….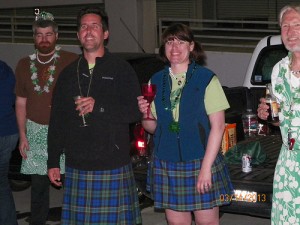 See you Thursday at the Rush Inn for another disasterous trail by TIMMY!!!
On On,
Shallow Hole