Black Friday Turkey Trot Hash and Prelube to North South Intercourse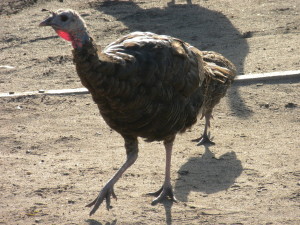 Since Puff didn't post any hash flash yet, this is a photo of a free range turkey spotted in a park on Staten Island, NY.  No turkeys were harmed in this hash trash.
Thanksgiving is supposed to be a time of giving thanks.  La di da!  Aren't we supposed to be thankful the rest of the year?  The PC story of Thanksgiving tells us how the pilgrims came to the New World, made friends with the Native Americans and had a big dinner to celebrate.  That's what Pink Cherry Licker teaches those innocent little children in school.  And what happened next?   Well they don't mention the nasty part of the story.  The pilgrims gave the Indians small pox, murdered a bunch of them and drove the rest off of their land.   Indian reservations were not set up to be like Disneyland!  Well at least the poor bastards now have casinos!
There's only one Thursday of the year that Surf City H3 does not hash, and that would be Thanksgiving.  Hashers make the sacrifice to be with their families on that day.  It's a holiday of eating like pigs and watching football.  Some hashers probably consume more alcohol than usual on Thanksgiving to help tolerate their dysfunctional families.   I like to think of the hash is like the dysfunctional family you CHOOSE to hang around with.
A sizable pack decided to forgo Black Friday shopping at the mall and headed straight to the Mediterranean in Aptos.   Beer is the breakfast of champions.  Some hashers opted for mimosas with el cheapo champagne.  We had 2 Virgins.  Pink Cherry Licker brought Virgin Shane.  Welcome to the family!  Virgin James showed up because he googled running groups and found us.  LOL.  Deep Stroke was in town and needed alcohol to get through her Mommy and Me time.  Banana Basher showed up with his lovely wife, Bailas con Burros.  Princess Di (arrhea) was our sacrificial turkey and agreed to lead the pack on a short pick up hash.  So she took off, we gave her a 5 minute head start.  Whoever was FRB and caught her would have to become the hare and continue the trail, following her map.
Dung Fu Grip caught Princess at the picnic area at Seacliff State Beach.  I'm not sure whether we gave him the full 5 minute head start or not.  The evil bastard headed up the 100+ stairs.  Deep Stroke and I spotted him when we reached the top of the stairs.  He took off running like Chariots of Fire across the field.  We were in hot pursuit, when Cuff my Muff and Banana Basher cut him off at the pass!  They shortcutted to avoid the stairs and caught the hare.   Cuff my Muff took over and was the third hare.  The pack seemed to lose trail at a check on Seacliff Drive.  Achy Breaky Snatch said she saw a road off to the right, and sure enough, trail continued on Sea Terrace Way to beer check at the end of the road.  Trail was < 2 miles.
Religion was in back of the Med.    Cuff my Muff was RA, and Banana Basher was appointed Beer Fairy.  Backsliders were called up first.  Bailas con Burros, Daddy War Bucks, Little Wrinkled Fanny, Little Anal Annie, Achy Breaky Snatch, Ralph-U-Crammed-In, and Deep Stroke were welcomed back to the hash. Deep Stroke exclaimed that the warm Hamms beer tasted just as nasty as she remembered.  Next were Analversaries.  Deep Stroke celebrated her 75th Surf City Hash and TIMMY!!! Celebrated his 400th hash!  Get a life!  There were a few crimes on trail.  Accuprick was punished for not doing trail.  Cuff my Muff and Banana Basher shortcutted trail to catch Dung Fu Grip.  Dung Fu also drank for his Chariots of Fire sprint across the field trying to avoid being caught.  The Human Pube drank for not knowing a hash song.  Virgin Shane said Pink Cherry Licker made him cum!  Lucky guy!  He told a lame joke.  Virgin James said Lady Ga Ga made him cum.  He found the hash on the internet.  He also told a lame joke.  Thmp-Thmp drank for posting porn on the internet that made him cum!
Hashers going to North South were called up for send off a down down.  Dung Fu Grip, Hugh Heifer, Puff the Magic Drag Queen, Pink cherry Licker, Princess di (arrhea), Thmp-Thmp, Twister Fister and twat did you say were headed to SLO for a weekend of debauchery.  The hash sang sad renditions of Happy Birthday to The Human Pube and Ralph-U-Crammed-In.  Just Ciarra showed up at religion.   Apparently she's been doing "public service" working at a local liquor store.   And last but not least, the Hares…………………………………………………….
This week's hash will be led by Cumcerto and will start at Burger on Mission Street.  Regretfully, I will not be present.  Waxi and I will be busy getting our groove on and drinking Abita beer in the Big Easy.   See ya'll next week for Toys for Tots!
On On,
Shallow Hole