Surf City H3's
WHARF TO BARF
July 24-27, 2014
We've got announcements for two kinds of wankers 'round here…wankers who have rego'd for Wharf to Barf and wankers who have not yet rego'd (they're wankier). Wanna see Who's Cumming?
Wankers who have rego'd:
1. Y'all are are true blue mofos, for real. Respect.
2. Send me your party jamz requests to add to the W2B playlist. We've got a boomin' soundsystem! And Spotify!
3. SAVE WATER Drink Beer! Here's the link where you can by your own shirt just the way you like it: http://www.zazzle.com/surfcityh3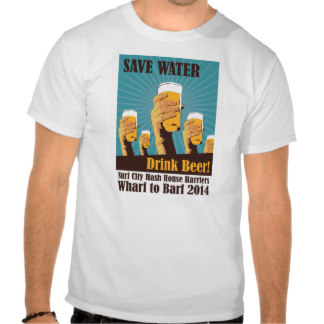 There are lots of different colors and styles to choose from. You can customize your shirt too, so rock your name on the back of that shit. Zazzle usually has some deal going on. Delivery is quick and usually takes less than a week, but you might want to order by July 17th to be on the safe side.

Wankers who have not rego'd:
1. WTF?? It's not too late to get on the W2B tip! There's still swag available if you rego soon for the Saturday picnic for $45. If you don't rego and wait to do the walk up thing on Saturday, you might miss out on the sweet giveaways. Don't be that wanker. Rego with details is here https://sch3.net/wharf-to-barf
Big THANK YOUs to all on the Get Shitty Committee and to Hogazm for designing another great W2B logo!
On-on,
Princess Di(arrhea) & Thmp-Thmp