The Bash (Bike-Hash) was exactly how everyone should have wanted to spend their Sunday Funday! We started at Brommer park, admiring each others sweet rides (creative cardboard cup holders, cheetah print accessories, and every other creative way to carry ones beverage through the bumpy ride that was the day).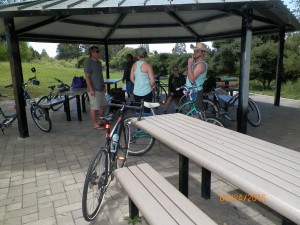 We hung out at Brommer park for a while, people tossing dollar bills to the bottom of dung-fu's backpack for his eclectic beer selection he brought for thirsty wankers. We took off what felt like hours after arriving because our hare had been gone for so long. We were led around over to the liquor store at the corner of 41st and Portola to pick up some booze. We had trouble finding trail from there and caused some traffic cluster fucks. Whatever. We then wandered through the neighborhoods before finding ourselves on the road that leads down to the capitola wharf and we stopped to enjoy our purchases and look at the surfers.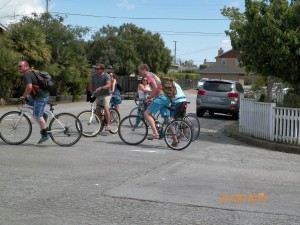 From there we went down opal and along east cliff for a while and through those neighborhoods, then going through a path (that one with the swing that leads along the swamp area, I don't know the name) where we had to put our bikes to the test (road bikes and beach cruisers being used as mountain bikes). We then had a surprise pause because it was pretty and continued our drinking. PCL's wine bag got some serious abuse throughout the day, getting slapped and sipped by everyone (read that as dirty as you like). We then picked up from there and headed to Kong's where everyone was obsessed with their egg rolls and apparently they were going to close soon (sad!) We obtained more booze and some of us were tired of waiting for egg rolls so we went on ahead.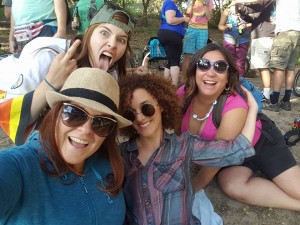 We arrived behind twin lakes, again putting the skills of our non-mountain bikes to the test. This was a beautiful scene. Some of us were quite tipsy by that point, mustaches were made, there was frolicking, and other weird shit.
Some of us were cold with the wind that picked up by the end of the day and starving due to only drinking all day so we ditched religion but based on the photographic evidence here is what happened: PCL got a down down for her tour de Franzia antics.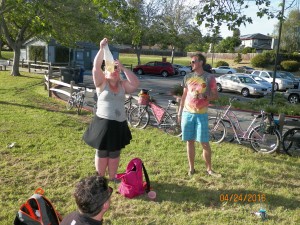 Apparently Courtesy Flush and Hugh Heifer used technology and trail and got down downs for that. Bareback Unicrack and Courtesy Flush got busted for showing up halfway through trail and doing some autohashing. And our awesome Bash hare dung-fu got his, thanks Dung-Fu for inspiring us to have more Bashes in the future (and in my case buy a bike!)!
On on,
Pussy Wood