PCL took another trip around the sun and thus the hash came out in force to celebrate!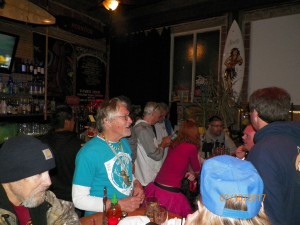 We started at Pono where in true PCL fashion I had a fruity pink-ish cocktail of sort and it tasted better the further I got into it. Trail went off some long amount of time later. We wandered downtown, there was a sake bomb check at that sushi place down pacific whose name escapes me. We wandered some more. There were YBF's, there were hills, there were plenty of checks that had the pack split in many directions and on the verge of giving up. But then, then there were dirty shirleys at "beer" check and all was forgiven.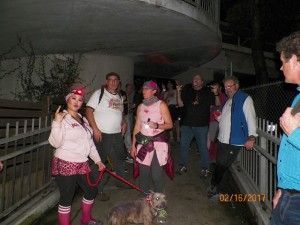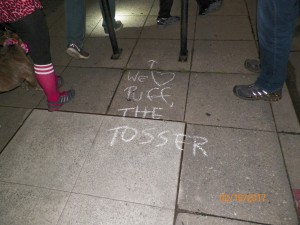 Religion was on the top of the locust garageTIMMY!! was busted for using technology during Religion. Today Is Monday's crime? His acronym, TIM. Therefore, guilt by association with TIMMY!! Analversaries: Jizziki at 69 hashes and Princess Di(arrhea) with an obscene 250 demonstrations of the fact she has no life. Dung-Fu Grip was selected as this evening's Beer Fairy. Religious Adviser Accuprick presents Virgin Andy with his options for Joke, Song or body Part. Sorry harriettes, Virgin Andy went the joke route for Joke, Song or Body Part. Even though Yellow Prick Load, Ska Skank Redemption and Today Is Monday have plagued our existence innumerable times, we still treat them as visitors. Busted as backsliders: Ho To Housewife, Cock Throbbin' and Moose Turd Pie were justifiably punished. Moose Turd Pie broke into a rambling, drunken discourse about something only he could fathom. Here we see Beer Fairy Dung-Fu Grip handing him a down-down in hopes it will assist him in passing out dead-drunk.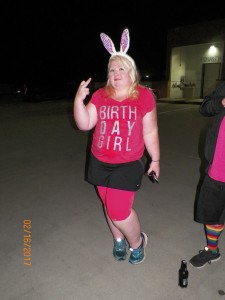 The ones lucky enough to get a saki bomb before the wait staff was overwhelmed: Cock Throbin', Cold Smegma Kamikaze, Yellow Prick Load, Fap Jack, Baker's Dozent, Dung-Fu Grip, Broke Bench Mountain, dBASED and Courtesy Flush. Dog Breath was mocked for complaining his bottle opener was worn out and no longer worked. It was then pointed out the bottle he was holding utilized a twist-off top! Speaking of 'twisted'…And the hare… Pink Cherry Licker. She was thanked for the 'party favors' at Liquor Check and we look forward to having her as hare again…in a year! Moose Turd Pie, soon to celebrate another year alive, most likely anyway, joins Birth Day Girl Pink Cherry Licker in a Happy Birthday down-down.
On on on was back at Pono where shenanigans continued!
On on,
Pussy Wood