Hash # 943- Anal Toys for Tots Hash on 12/7/17:  Will drink for the children's sake!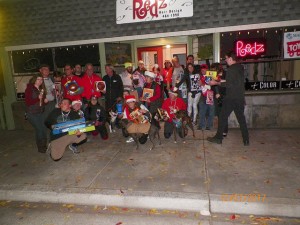 Hashers have few redeeming qualities, but once a year, they will cum out in droves to drink beer on a chilly night to collect toys for needy children.  Instead of 8 bucks, hashers needed to bring a toy to donate.  I remember Banana Basher telling us years ago that doing charity events makes the hash more socially acceptable in the community.  Ha ha!  We tried to tell that to the cops one year and they told us "We should be ashamed of ourselves for collecting toys for charity while drinking alcohol!"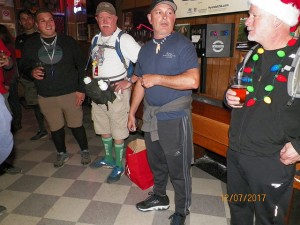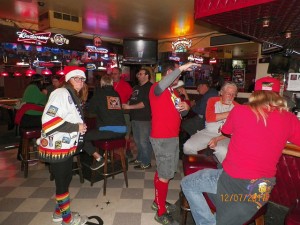 Our Hares were Stub Rub and Steamy Baanorrhea.  We gathered at JJ's saloon in Soquel dressed in festive holiday attire.  Summer's Yeast has a Toys for Tots collection box at her salon.  We were allowed inside the salon briefly to drop off the toys, but were ushered out quickly so we didn't destroy anything.  I guess she's learned her lesson from previous years.
Trail was a death march.  Not!  It was a whopping 2.23 miles according to my GPS.  We had a short shiggy section down a steep ravine and had to climb up the other side.  We passed through the Soquel High School grounds through the trails.  There was a liquor check.  It was a jug with some kind of white stuff in it, that tasted surprisingly not so bad.   We ended up going down the slide through Blue Balls Park and ended up at beer check at Lion's Park on Main Street.
Religion was in back of JJ's.  Accuprick was RA.  Deadliest Snatch was Beer Fairy.  Princess Diarrhea, Wicked Retahted, Rat Pussy and My Little Bony got called out for not doing trail.  There were a couple Analversaries.  Summer's Yeast celebrated her 50th and Baker's Dozen't celebrated his 75th Surf City hash!  Get a life!  A bunch of hashers drank for not carrying a bottle opener.  Hashers always need to be prepared folks!  Pussy Galore drank for being a back slider.  She's been hanging out in Bangkok these days.  Testicoil brought a goat's foot with him.  Not sure why.  Said he bought it at a flea market and his wife chases him around the house with it.  Nice foreplay.  Must turn him on since they are expecting.  Timmy got called out for not bringing the hash shit with him.  Give him a break.  He has dementia.  And last but not least, the Hares……………..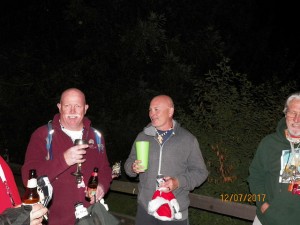 Once again, S H I- T T Y- T-R-A-I-L!
On On,
Shallow Hole