Greetings,
Let's delve deeply into Trail 1152…even though we shall dearly regret such.
This trail began pleasantly enough(even though Banana Basher was there) at Mission West or Ye Olde Watering Hole if you are old(like TIMMY!!).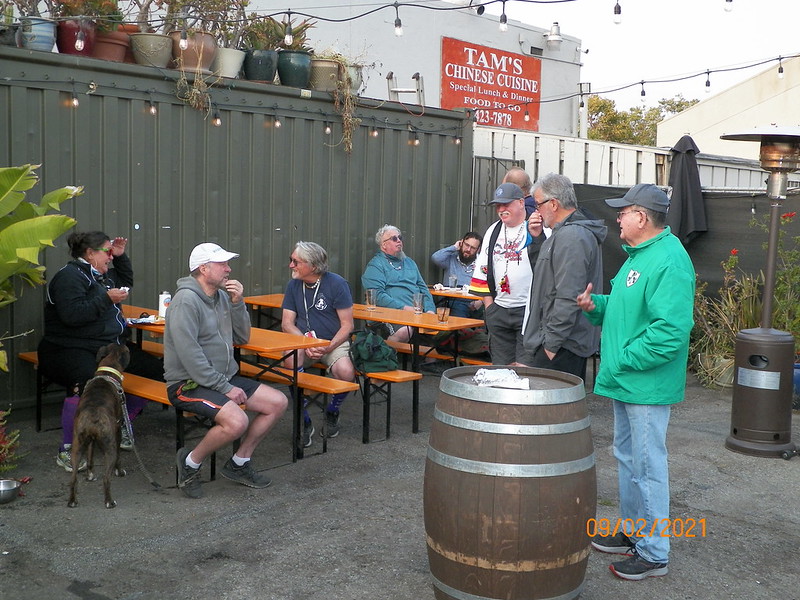 At the appropriate time, TIMMY!! delivered his usual disjointed Instructions of Trail. I would recount a portion of them, however, as did most of the pack, I did not listen as TIMMY!! seldom says anything that even could be remotely associated with events that are about to transpire.
After introductions, a check in the parking lot sent hounds scurrying in all directions like field mice. dBASED soon gave the on-on west on McPherson and across Swift Street. Not far past Swift and after the FIFTH mark, false trail markings were encountered. This shatters our tradition of no false trail markings after the second mark. In other words, once true trail is established with the third mark, you cannot have a 'false' true trail. This is a break with Surf City tradition TIMMY!! neglected to mention.
Once back to the start, marking was found leading east on McPherson but, once again, false markings were soon discovered. In keeping with the optimistic euphemism, Third time's the charm, hounds headed north to Mission Street and, after successfully completing the dangerous transition from the south side of Mission to the north, yet another true trail was discovered.
The troops traipsed north on King to Mesa Lane and then on-left onto Escalona Drive. This led the litter to a check at Arroyo Seco. There's a locals-only passageway beside a house that gives onto an entrance to Arroyo Seco Canyon. That's where dBASED headed and did not return. Over a quarter of a mile up this path, a numbered backcheck with a double-digit of marks was found. I detect the malodorous stench of pre-lay!
The gang backtracked the appropriate number of marks and found themselves back at the entrance to Arroyo Seco Canyon. The path leading to Grandview Street proved correct where an on-right was taken. We traveled the entire length of Grandview to it's culmination point past Western Drive.
Now began what we assumed would be the most dangerous section of trail: running along California Highway 1. Little did we know that the worst was yet to be encountered. TIMMY!! did not waste time and effort writing Don't Get Killed as we entered Highway 1 as it would have been a pointless gesture. We were merely moving targets for RV's piloted by people who normally drove nothing larger than a Prius or a Hyundai. They gyrated wildly along the highway at breakneck speeds trying to get to the next campground paying no attention to anything other than their gas gauge.

Remarkably, no one became a hood ornament and all safely reached Shaffer Road and then executed an on-left onto Mission Street. In the valley holding Moore Creek, a hare arrow pointed us on-up into a patch of woods normally associated with persons that are sleeping outdoors.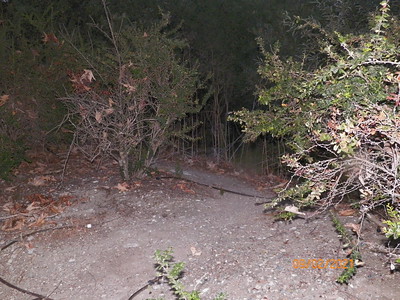 This would take us onto the private property of Pacific Shores Apartments. Eventually we'd wind our wicked way to the train trestle over Antonelli Pond. Trail proceeded south to Delaware. Here Scribe beheld a bizarre sight: co-hare Pink Cherry Licker playing ring-around-the-roses with dBASED. They alternately pursued each other circumnavigating a immense RV parked at the entrance to Antonelli Pond. It appeared to be the same one that barely missed taking out a group of hounds as they ran beside Highway 1 earlier on trail today. Mercifully, I was only subjected to this vision of insanity for a few minutes as late-cummer DungFu Grip pulled up beside me. We chose to ignore this, writing it off to an alcohol-induced hallucination. There was a strange marking here. It appeared to be an adulterated package check. So oddly shaped was it though that DungFu and Puff assumed it was intended only for circumcised males so we ignored it and proceeded west on Delaware and took the nice new path on-left towards Long Marine Lab. We were moving slowly, so slowing in fact Hugh Heifer was able to snare us. We three proceeded onto the grounds of Long Marine Lab and past the remains of two whales.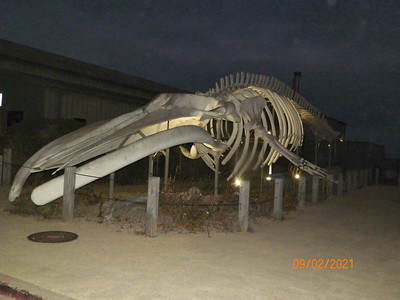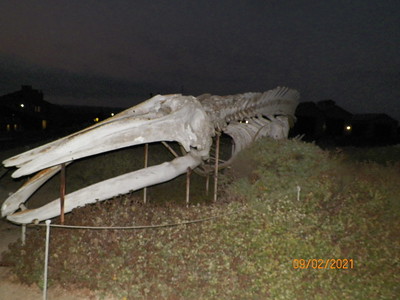 This trio rounded the horn and took off for De Anza Mobile Home Park. Mercifully, the gate into the park is not locked until 9PM so we transgressed through the entire width of the park and out the eastern side onto the escarpment overlooking Natural Bridges State Beach. Contrary to what we previously believed, trotting beside Highway 1 was NOT the most dangerous part of trail but the crossing of Death Valley proved our undoing. Hugh Heifer, DungFu Grip and Puff found trail most of the way across the beach but missed the on-left leading to the trail beside Moore Creek. We eventually discovered trail in the parking lot beside the welcoming center for the Monarch butterfly preserve. We were the lucky ones. The group behind us went directly across the beach to West Cliff Drive where the poor bastards intercepted the Eagle trail. Worse yet, they began to follow it in reverse further delegating themselves to a sad demise. Many of them soon surrendered and returned to the start, Accuprick among them who ran up a grand total of over 5 miles and STILL did not make Beer Check.
In the woods between Natural Bridges and Delaware, Hugh, DungFu and Puff tripped over the Turkey/Eagle split. While contemplating our next misstep, Hugh called Cum You Will Not who stated the Walkers were doing fine and were just exiting the the trailer park headed onto the beach. This is the last heard from those soon-to-be-lost-doggies for a very long time. Hugh and Puff opted for the Turkey and DungFu(of course) chose Eagle. His decision proved serendipitous for the Walkers as he was able to usher them into Beer Check after they, too, lost trail in Death Valley.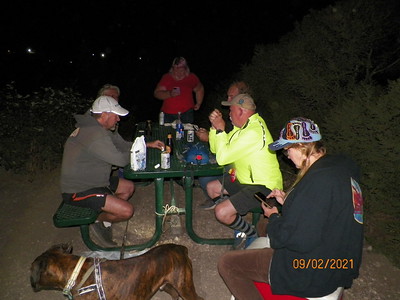 Soon the herd migrated to the parking lot of the former Texas Instruments building which has now been confiscated by UC where only those souls with Top Secret security clearances know what dastardly deeds are done.
Once Religion was convened, a number of down-downs were issued: DungFu as a trail angel for shepherding the walkers into Beer Check; dBASED as an angel(how rare!) for assisting the Turkey hare, Pink Cherry Licker, with repairing her section of trail; Broke Bench Mountain for auto-hashing a section of trail in a stolen vehicle; Steamy Baanorrhea, DungFu and Cum You Will Not for resorting to technology on trail; hare-pair TIMMY!! and (offspring) Pink Cherry Licker for placing 5 marks and THEN throwing the false trail marking; Pink Cherry Licker celebrated 69 harings; Occasional Rapist celebrated 450 hashes with us and lastly(deservedly so too I might add) the hares were chided for leading the litter into Death Valley.
That pretty much covers the disaster we now refer to as Hash 1152 or TIMMY!! and his Trail of Terror.
By appointment of His Royal Majesty 'G', this Hash Trash has been compiled and printed by permission of no one other than the author at Santa Cruz, Ca., or elsewhere if need be, on this, the fourteenth day of September in the year of our Hash Two-thousand twenty-one.
Puff
the
Magic Drag Queen
Acting Scribe
Surf City H3