The promise of another golden Summer,
Almost destroyed by this trail. Banana Basher and Steamy Baanorrhea chose the Crepe Place for our start…again. Their last attempt at starting here was foiled by a burst water pipe. This time it was our hope for a good trail that was ruptured. Clarification below.
The pack began haphazardly assembling at the Crepe Place, the Creepy Place in hash parlance, and soon discovered we were taking turf from a band that was to perform later. I do not know how many musical members there were but there were certainly a lot of people connected with this group. We were treated to a few lurid tales of Hash Springs by Clearly Not A Hooker whom of course denied any participation in the depravity that Hash Springs has become known for. I DO, however, recall seeing a picture indicating the monetary sum that would be required to get Clearly Not A Hooker to delete the word 'Not' from her Hash handle. Banana Basher regaled us with stories of his slothfulness…again. Steamy Baanorrhea arrived just late enough to convince us he had prelaid the Turkey Trail for Banana's convenience. Circle Gherkin' found himself coerced into making excuses (again) for Just Megan's absence. There were other infractions of Hash protocol but Scribe has embarrassed enough of his kennel mates for this week. Movin' on.
Not long past the advertised time the hare-pair strode near the door and delivered Instructions of Trail. There were promises made which turned out to be more like possibilities than truths. Then again, this is par for the course when these two jokers are our hares. Hares out.
The next fifteen minutes passed as usual, clearing up bar tabs, but this time in addition to that was avoiding the burgeoning band that began to setup on the stage. After the fifteen passed, co-GMs Cumz Out My Nose and Broke Bench Mountain pushed the pack out the door and onto the street for Circleup for Introductions which resulted in their hearing from: Thmp-Thmp, Princess Di(arrhea), Clearly Not A Hooker, Flours For Anal Bum, dBASED, TIMMY!!, Circle Gherkin', Snake Me Anywhere, Cum,U Will Not!, Bacon Queef and Puff the Magic Drag Queen. Joining us (very) late on trail would be Dung-Fu Grip. Pack out.
A check directly in front of the restaurant was solved and it was west on Soquel Avenue to a check at Cayuga. This one took a little time but was solved and we continued along Soquel to the next check at Pine Street. Soon solved, it was on-left onto Pine and then on-right at the next street, Hanover. Just prior to South Branciforte Avenue we tripped over what is undoubtedly the most poorly hidden Liquor Check in Surf City history. Right there, sitting on the sidewalk with large while letters pointing towards it, was a bottle of Four Roses Whisky. It's nothing shy of amazing it was still there by the time the FRBs arrived. Everyone stopped to stare, NO ONE stopped to partake. We moved on.
It was on-left on South Branciforte to Broadway and across where the Turkey/Eagle split was viewed. Scribe, having seen hounds turn on-left, was unaware of this and short-cutted across Broadway and followed the Turkeys. That was probably a wise decision though anyway considering how mean Steamy is as an Eagle hare. One block later, Turkeys turned on-right onto Caledonia Street followed a number of blocks later by an on-left onto Pleasant Street. Pleasant is one block long and then it was on-right onto Pine Street. Pine Street brings you to the used-and-abused 5 way intersection of Buena Vista, Pine and Cayuga. Clinton Street is but a half block away as well. Trail was located directly across and continuing on Pine and then on-left onto Seabright Avenue. Seabright was utilized until Windsor Street where it was on-left one block to Cayuga where our highly favored BN mark was observed. An on-right onto Cayuga yielded a Beer Check at the home of Bailas Con Burros, whom joined us, and her (current) husband Banana Basher.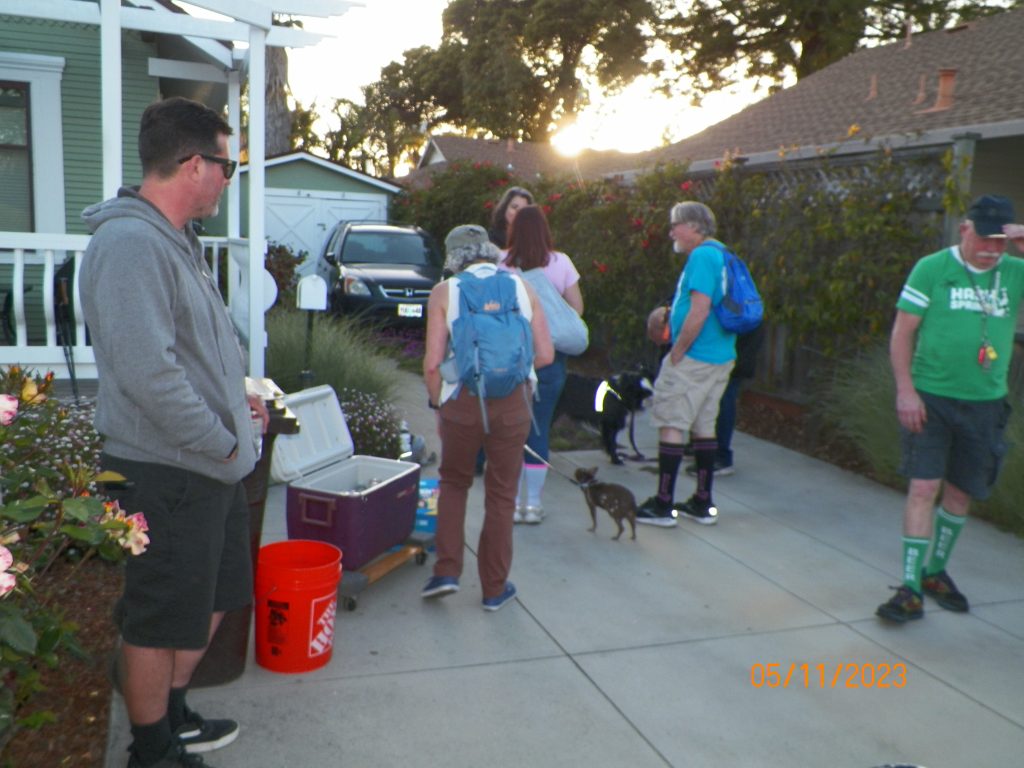 Here we see the pack coagulating in the driveway of Bailas Con Burros and Banana Basher. This was done mainly because it's relatively safe and the hares are too cheap to fund an authentic Beer Check. At least the flowers were beautiful. From here it was on-in to the parking lot behind Lillian's Italian Kitchen where Religion has been staged multiple times prior. Just as we neared the parking lot, Dung-Fu Grip pedaled up on his bike. He was either working in his bar or wise enough to completely avoid this trail.
Once reassembled in the parking lot, dBASED fired up his Religion machine. Here's a sample of what transpired during this Religion session: TIMMY!! whom completely missed Liquor Check prominently displayed on a public sidewalk; those that missed Beer Check; Snake Me Anywhere for enjoying FRB status for once; Circle Gherkin' for demonstrating chivalry on trail; those that did not attend Red Dress and auto-hashers were punished. Scribe must now relate one of the rudest namings we have held in a number of years. For reasons Scribe will leave to your sordid little half-minds, Clearly Not a Hooker's dog Marissa will henceforth be known as Bukkake Dog. 'Nuff said THERE! Oh, yeah, the hare-pair. Everyone agreed it was nice to visit with Bailas Con Burros but no compliments were given pertaining to trail. This Hash is over.
On-on-on was at Taqueria Santa Cruz and Dung-Fu Grip, dBASED, TIMMY!! and Broke Bench Mountain attended.
The preceding was a factual accounting of actual events though possibly not as they actually occurred. One should never allow the facts to stand in the way of a good story. Don not allow the profound to become the enemy of the interesting.
A Scribe's sole purpose is to provide entertainment to their kennel mates. Whether or not they are successful in this endeavor is still a subject open to debate.
I chose not to complicate this Hash Trash with facts thereby allowing me to extract almost any end I desired. It was with this motive in mind that i recounted the events that comprised Hash Twelve-45.
By Special Appointment of His Royal Majesty 'G', this Hash Trash has been compiled and printed by permission of no one other than the author at Santa Cruz, Ca., or elsewhere if need be, on this, the sixteenth day of May in the year of our Hash two-thousand twenty-three.
Submitted with al respect due,
Puff
the
Magic Drag Queen
Surf City H3 Scribe