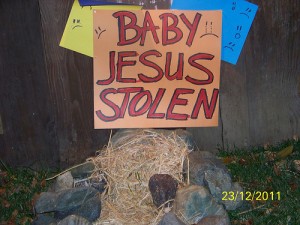 Hash # 610
Christmas Picture Hash 12/22/11
This week, the pack congregated at the home of dBASED in Soquel.  dBASED gave instructions.  This was a picture hash.  There was no chalk or flour.  One hasher would be given a picture of the location the pack had to go.  When they arrive at the location, a hare would be there to give a hasher another picture of the next location, and so on.  Our hares, dBASED, Occasional Rapist, Hot Wheels and Cuff My Muff drove around in warm cars.  A smart decision on a cold winter night.
The hares weren't out the door 2 minutes, when Hugh Heifer broke into dBASED's liquor cabinet and started passing around a bottle of peppermint schnapps.  We met Buoy Boobs, who was visiting from Phoenix, AZ.  It was obvious how she got her name.  She said she was originally from Santa Cruz, visiting for the holidays.  We were also visited by Deep Stroke, a previously hard core harriette, who had not hashed for the past 15 years!  Bet she's sorry she decided to come out of hashing retirement on the night of a dBASED trail!  She said her home hash was Orlando, Florida, but lives in Santa Cruz now.
This was the SECOND week on a row that Banana Basher didn't show up.  Rumors started flying re: his whereabouts.  Did he retire from hashing?  Puff said that he drove past his house, and his car was there and the lights were on.  Was he home baking Christmas cookies, or sitting on the couch drinking beer and watching football?  The pack was toasty warm with plenty of beer and liquor and seriously considered not leaving the house.
Reluctantly, the pack headed out, first to Willowbrook Park, then to Cabrillo Gym, the Sesnon House, Temple Beth El, the Horticultural Center and a parking garage at Cabrillo College, Twin Lakes Church, Crocker Theater, Soccer Stadium, Bangkok West Restaurant, and FINALLY beer check at Mt Calvary Lutheran Church.
Religion was held in dBASED back yard.  Hairy Fuck 2.5 served as RA.  Cuff my Muff was appointed beer Fairy.  Our visitor, Buoy Boobs received the first down down.   Just Scruffy (Shallow Hole and Waxi Pad's dog) was named.  After a few minutes of deliberation, the pack welcomed another furry hasher to the pack, forever to be known as Beer Mop!  Shallow Hole was punished for lack of cultural sensitivity for referring to the Jewish
Temple as "the Jew place".   Occasional Rapist, Cuff My Muff, Buoy Boobs, Deep Shaft, Princess Diarrhea, Shallow Hole and Waxi Pad were given a down down for not bringing a bottle opener or whistle.  Deep Stroke received a down down for being an extreme backslider.  15 years!  But once a hasher, always a hasher.  Hugh Heifer snuck away and went into the house.  But she was caught in an act of bestiality, with Nipple Butt on her lap.  Hairy Fuck 2.5 received a down down for forgetting Deep Stroke's name.  And last but not least, the hares, who did trail by car, instead of on foot.
Those who stayed home didn't miss much.  This trail was a tour of churches and Cabrillo College.  We did not find the stolen baby Jesus.  At least the cops didn't come this week. And for once, NO ONE got lost on a dBASED trail!  Waxi Pad was relieved there was no water crossing.  Maybe he should stick to picture trails!  Thanks to Occasional Rapist for the yummy homemade soup and Princess Diarrhea for the scrumptious cookies!
Happy Hashing and have a Shiggy New Year!
On, On…………
Shallow Hole