The Anal dBASED Family Christmas Picture Hash
When dBASED made the trail announcement for this week, the cold hearted bastard told everybody to come to his house and meet in the back yard.  Occasional Rapist has a heart, and sent out a second trail announcement inviting everyone inside the house where it was nice and warm.   Thank you Occasional!  Once a year, instead of the Hares laying a trail of flour and chalk, Surf City H3 does a picture hash.  The Hares give the pack a picture of a location, and the pack has to go to that location, find a Hare to get another picture of where they have to go next.  dBASED, Occasional Rapist, Hot Wheels and Cuff my Muff were the Hares.  Little Spit declined to participate this year.  Hot Wheels now has a driver's license, but still has 4 years to go until he reaches drinking age.   However, he can now be a designated driver!   Whoo Hoo!  Maybe to help pay for college he could start a little taxi service to shuttle around drunken hashers.
The first picture was across the street at Women Care, the organization that the hash supports for Red Dress.  The trail lead the pack on a 3 mile trail that visited a couple of Quickie Marts, churches, Caress Day Spa, a couple of Trailer Courts and had a great beer check at Sante Adairius Rustic Ales Brewery.   The second beer check was at the dentist's office parking lot near the start.   I was trying to ponder if there was a theme to this year's picture hash.  The only thing I could come up with since the hares are newlyweds, one possible theme could be:  Take care of your woman, throw in a few quickies, sensual massage, drink lots of beer, repent in church and go to the dentist so you don't have rotten teeth.  Who the fuck wants to kiss someone with rotten teeth?
Religion was held back at the ranch in the back yard and presided by Accuprick.  He nominated Achy Breaky Snatch his lovely Beer Fairy.  First down down went to everyone who wore stripes.  Canadian Penny Slut, Pink Cherry Licker, Princess Di(arrhea), Thmp-Thmp, Occasional Rapist, and yours truly.  I got the next down down for bringing Christmas cookies to the hash.  Hugh Heifer drank for being involved in a dog fight.  She is pet sitting another hasher's dog, Zoe, who picked a fight with the sheriff's dog!  Way to go for "slowing down the man".  Nippless Butt was also hashing, but he was a good boy and didn't get into any trouble.   Pink Cherry Licker accused dBASED for screwing up the rhythm of the song Face down, ass up, etc.  She schooled him on how to sing the word "cousin".  She was then commended on her kick ass poetic hash trash last week.  See, there was a reason we chose her to be part of our threesome!  Fucked Over Fest was punished for using his phone in the circle.  He was bragging how he ran 2.5 miles to the hash, but was on the phone trying to get a ride home form some ho bag.  Accuprick was trying to probe him about the chick.  He described her hair as "brown like a fence" and her carpet matches her drapes.  Wow, now that's a romantic guy!  No wonder the bastard is single!  Hugh Heifer was punished for auto hashing.  She bummed a ride off dBASED.  dBASED also drank for almost forgetting to pay the tab at the brewery.  And last but not least, the Hares……………………
The pack was then treated to some yummy warm chili afterwards!  Thank you Occasional Rapist!
Next week's hash will be at the Nasty Asti.  Dung Fu Grip came up with a nasty theme of Krampus.  I googled it.  Here he is.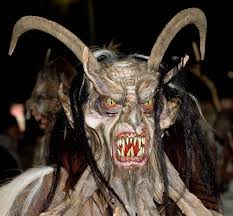 He's a scary mother fucker!
In German folklore, Krampus is like bad Santa.  It's a beast-like demon creature that punishes all the bad children who were naughty and carries them away in his sack to the underworld.    So now we know why German children are so well behaved.  Their scared shitless of getting a whipping for being naughty by Krampus.  Anyway, dress in something nasty, mean or ugly and the hash is supposed to go through town scaring people.  Sorry I'm going to miss out!
Merry Hashmus and have a Drunken New Year!
I'm from Scranton, Pennsylvania.  Scranton is known for coal mining, The Office, Joe Biden and Jason Miller (That Championship Season).  People talk with what's called a "coal cracker accent".    So Jeeze God!  For Christ sake!   Drink a couple, two, tree beers and have a great holiday.  I'll be eating Mom's ravioli and drinking $2 Yuengling Lager at the corner bar.
On On,
Shallow Hole