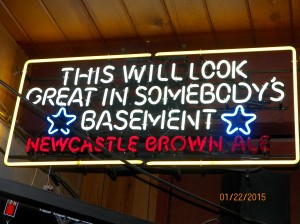 Surf City trail started out at JJ's in Soquel, which many of you may remember from early December when it was pouring outside and the hares took us on a short trail which ended at Summer Yeast's salon, Redz on Porter St. The pack showed up in hippie attire, in honor of the supreme hippie, Hugh Heifer (although she was nowhere to be seen). I heard someone say they saw her talking to a man with an eye dropper and some sugar cubes out back and got into his van. I'm not one to gamble but I bet she had a better time that us.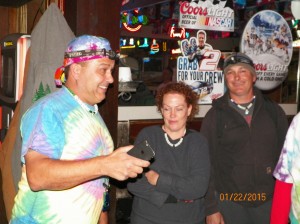 After a little drinksy at the bar, hares Twisted Fister, Stub Rub and Summer's Yeast took off….. as we looked at our watches we saw it was already approaching the 7 o'clock hour as they left. I guess when you're drinking and having a good time you forget you have a job to do.
Pack circled up not long after the hares left and quickly took off on our hunt for the hares (and their liquor)! A quick false was set on Porter right before we got to Summer's Yeast Salon, I think after our last visit she wants to make it clear that we're not invited back there again. Up the hill we went towards 41st. As we followed trail up we all heard TIMMY yelling at us all to come back from the other side of the street. TIMMY had excitedly found the boob check, but since we were all already up the hill I didn't see one hariette who was game to run down, flash and run back up again. Rumor has it Bacon Queef and Just Foot Pussy stumbled across this later and she showed him her boobs. Poor guy only gets to see he future (first) wive's boobs during boob check. Wait until marriage JFP, it doesn't get much better!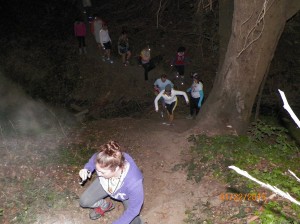 The hares took us down into some shiggy and as we went down the path, almost every single person slid down on the eucalyptus pods that had fallen on trail. It was like walking on marble. Pink Cherry Liquor has pod shaped bruises on her legs and some poison oak she got from rubbing up against Fap Jack, who I hear has poison oak so bad he decided to pour gasoline on himself for relief. That's pretty bad! I think this trail may have been scouted at night (or maybe not at all!)
After a edging the boundaries of the school, there was a turkey/eagle split that I think the hares laid backwards. The turkey hill was a straight up climb while the eagles had a nice, slower incline. Nice one hares, nice one 🙂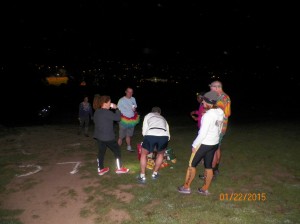 On top of the hill, was a nice little feast with bread, fruit, cheese, wine and Jack Daniels. After a bite to eat and a swig of the old JD we made our way down a deer trail into a more residential area where trail went through a little park then wrapped us back downtown Soquel where we found beer check in a parking lot behind Senor Frogs.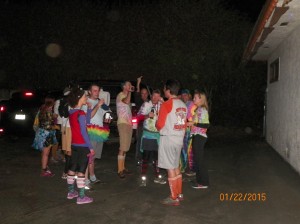 As I was getting a beer out of the cooler, I heard a man telling Puff the Magic Drag Queen how we shouldn't be drinking in the parking lot. I'm thinking we are definitely going to get kicked out, so of course I walk away and start to quickly drink my beer in case my fears come true. The next time I look over I see Puff handing him a beer out of the cooler. Now. what did we learn here? Everyone has their price! And for this guy, it was just a beer and some sweet talking from Puff. I know folks, Puff was being nice! I wouldn't have believed it either except that I saw it with my own two, squinty eyes.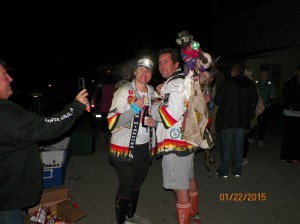 Once the pack collected themselves, we headed over to religion which was held a bit off to the side from the back of JJ's. As we walked over I saw Thmp-Thmp joining us with his hiking pack on. Now I know him and Princess are into camping but I thought this guy might be over-doing it. Turns out, it's the SLO Hash Shit. Surf City has had this thing for quite a while and still, no one has come to claim it. What a shame, there's some good looking collector's items on there. Perhaps we could raffle it away at our Red Dress? You know, for charity and all!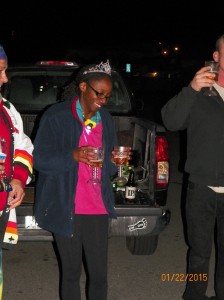 Hooker on Kronix, Bitch was elected Beer Fairy and we quickly got into our first order of business; BackSliders!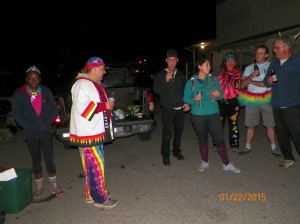 Twisted Fister was first to explain his case and although I didn't hear everything I think he said he was running from some young porn charges the police were trying to charge him with. I guess they must have detained him for weeks since we hadn't seen him since maybe before Christmas!
Diddler on the Roofie was the next backslider to plead his case, who really didn't make any excuses for not wanting to hang out with us but I heard he was on some 007 top secret James Bond mission. Next time we want to see the pen that turns into a parachute.
Bacon Queef was the last to beg us for mercy in shaming her for her backsliding, who thinks planning her wedding is somehow more important that Hash Night. Geez….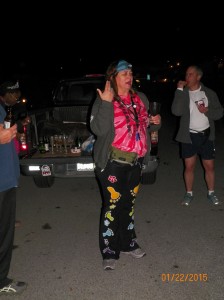 Occasional Rapist was the first one called up for crimes on trail, every 20 feet or so, she was calling out "RU" at the pack.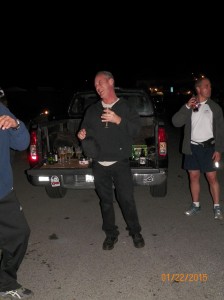 Diddler got a little frisky with Accuprick on trail and while he was pushing his butt going up the hill, Accuprick claims Diddler's had slipped and he got a little surprise! I guess Diddler really does miss and love us!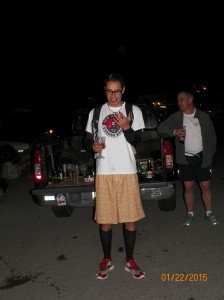 Fucked Over Fest had a story to tell us about his run down to JJ's to meet for the hash. We all know Fucked Over Fest is secretly a gang banger and as he was running down to JJ's he passed one of his rivals, a 16 year old high school kid who caught FOF on his territory. FOF didn't have his fellow gang members with him, so he put on his Clark Kent glasses and tried to pretend to be someone else. I wonder how his run home went?
Tits N Game was brought up to explain the spam she sent out earlier in the week. I hear she gets $100 for every person she gets to sign up for www.fuckbuddy.com, so she posted some enticing article about nudists which quickly turned into a fuck buddy site. I think she made $800 that week.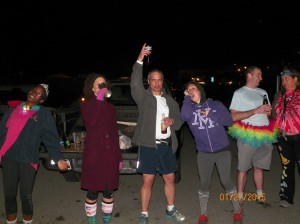 When Accuprick asked if there was any other business we needed to take care of, newly named Shartickle Physics was adamant in knowing the "policy" on nudity. The "formal policy" is that we love it! We'd like to see more of it! Cock Throbbin made a joke about not being able to see any of it when it's out and was given a down-down with Shartickle for his need for policy.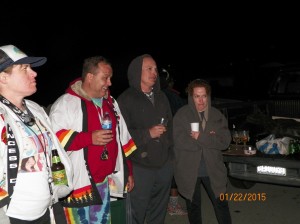 And the hares! Let's not forget these half-minds who tried to make trail and tried to have us plummeting to our death via eucalyptus pods. Look at Summer's face! She is obviously bummed their plan didn't work and is devising a way to kill us on the next trail. If you need any pointers, that seems something I excel in (although Summer's Yeast was still so disgusted by my trail the week before she threw her wine on me during religion).
For all who will be attending the Stupor Bowl this coming weekend at Shallow Hole and Waxi Pad's place, remember that it is a BYOB event. If you haven't RSVP's yet, you're not getting any of the bottom dwellers to eat and you may be forced to eat the vegan food I am bringing if you don't bring something to share. Imminent death right there!
Until next time! May the Hash go in Peace!
Ho 2 Houswewife