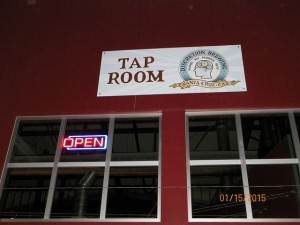 Hash #780 started out innocently enough at Discretion Brewery on 41 st.  Ho to Housewife and Dog Breath were the Hares this week.  Waxi Pad made a rare appearance at the hash because he works down the street from the bar.  We had  visitors this week, K9 Snowball, Just Daniel and their dog were visiting from Charleston, South Carolina.  They said they were moving to San Francisco.  Boy did they pick the wrong week to visit!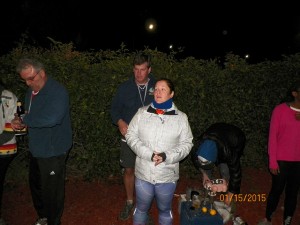 They say a picture is worth 1000 words.  What does this picture tell you about this week's trail?  Check out the look on their faces!  I see fear of being lynched!   Dog Breath is thinking he's going to be put on hare probation again.  Ho to Housewife is thinking she's definitely getting voted worst trail of the year.  Waxi Pad, Flip Flops on the Rocks and Wicked Retahted bailed on trail and went and got dinner instead.  They turned out to be the smart ones!  Go figure!  My GPS measured trail at 6.39 miles.  The pack was promised a Turkey/Eagle split, but that was just a bunch of BS.  Shitty is kind description of this trail.  The Hares trespassed on private property and pissed off some residents near the Oil Can Henry's on Soquel and Rodeo Gulch Road.  Trail lead into a shiggy area under a bridge.  When the FRB's got to the area, there was a crazy lady under the bridge screaming at us and waving a gun.  When I crossed the bridge, she screamed at me to stay off her property or she was going to blow my head off.  At first I thought it was just another Santa Cruz loony blowing smoke.  But when I looked down at her and my headlamp lit the area, she really was waving a gun.  Thmp-Thmp and dBASED were the only ones that went down there and managed to escape unharmed.  The FRB's waited for the rest of the pack and made sure no one went down there.  We decided to go up North Rodeo Gulch Road and look for where the trail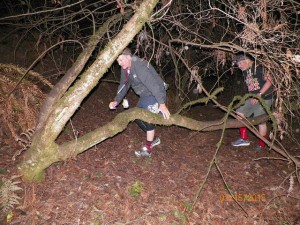 came out of the woods.  We found flour and continued on trail.  If that wasn't enough, the Hares lead the pack back into the woods.  The Hares made their own trail through the woods.  There was a shit load of poison oak!  We finally got through the shiggy and exited on Benson St, and headed toward Thurber.  There was a liquor check on Thurber in the woods.  Trail continued on Thurber down to Soquel, crossed Soquel and we found ourselves in front of Moe's Alley.  When Princess Di (arrhea) and Occasional Rapist got to Moe's, they said fuck this shit and went into the bar, got a drink and a cab ride back to the start.  Brilliant!  Trail went on, and on, and on.  We crossed the freeway, and ended up by Holy Cross Cemetery on 7th.  The remainder of the trail was a long haul down Capitola Road to the Capitola Mall, down 41st to the beer check at the Capitola Sports Bar across from the mall.  The only hashers that made it to beer check were Yours Truly, Thmp-Thmp, TIMMY!!!, Just Frank, Just Daniel and the dog.  The rest of the pack gave up on trail and went to religion in the Home Depot parking lot.  No one wanted to come to beer check, so Waxi Pad picked us up and drove us to religion.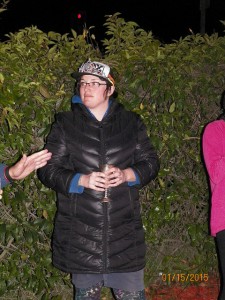 Accuprick was RA, and Electric Labia Land was Beer Fairy.  Flip Flops on the Rocks and Wicked Retahted drank for going to the Chinese restaurant instead of trail.  A bunch of hashers (Occasional Rapist, Cumcerto, Hooker on Kronix Bitch, Electric Labia Land, Pink Cherry Licker, Just Nate, Wicked Retahted) were punished for not having whistles.  Accuprick had blood on trail.  Not sure what happened there.  Thmp-Thmp and dBASED gave their account of the crazy lady with a gun near death experience.  Visitors K9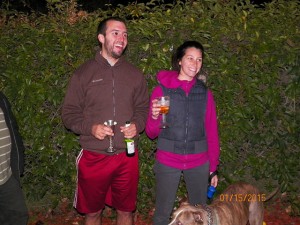 Snowball and Just Daniel were welcomed to the hash.  A bunch of hashers (Occasional Rapist, Princess Di (arrhea), Shallow Hole, Just Frank, TIMMY!!!, Just Daniel and Thmp-Thmp) drank for auto hashing.  I drank again in celebration of my 169th hash!  Get a life!  We had a naming!  It was Just Frank's 5th hash.  He is known for wearing short shorts, being a nudist, and doing physics.   So he got named Sharktickle Physics!  And last but not least, the Hares…………
But Seriously, folks.  We're a drinking club with a running problem.  I am a known racist and don't care how long the trails are.  But on Thursday night we don't need to be out running at midnight.  In my opinion, trails longer than 3 miles should have a Turkey/Eagle split.  A large contingent of the pack are walkers and everybody should have a good time.  Also, lately I've had some interactions with neighbors who come out of their houses to see what all the screaming, whistles and commotion is all about.  So keep it cool and don't piss anyone off.  We don't want to draw any negative attention to ourselves and have the cops called on us.
On On,
Shallow Hole