Never thought you would see the day when a scribe was actually waiting on Hash Flash to be up so they could post the Trash did you? Well the apocalypse is here so make sure you get Rat Pussy to help you stock up on your booze for the end of the world! Anywho, here is the short and shitty post for the short and shitty trail.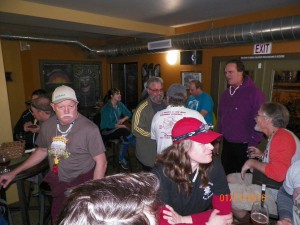 We started things off a Steel Bonnet brewing in Scotts Valley, a nicer establishment than I suppose a lot of the pack is used to but we were behaved for the most part. We didn't get far before we hit our first speed check…and then another…and another until we finally made our way into a park. The frogs were so loud we couldn't hear the people up ahead and Brokebench did one of his high-pitched horror movie screams and the frogs got shut down it was impressive. The same jokester also made a star wars joke with a trashcan lid (see photo)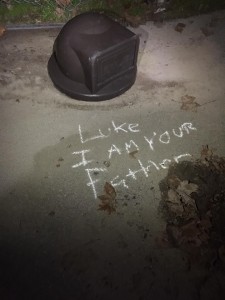 . Ultimately we just got circle jerked to beer check. I was the first to find beer check and it was just Hugh huddled in the dark with her little red wagon filled with beer who looked at me and said "SHHHH SIT DOWN WITH ME AND BE QUIET" so we creeped in the dark until the rest of the Turkey pack arrived. Since eagle trail was longer we just waited for a while until we saw the first headlamps over the hill at which point some worked REALLY hard to shut us the fuck up so we could creep in the dark and make the eagles go out of the way before making it to beer check. We were quiet for a quite a while not counting the various burps and farts. Turkey trail was only just over a mile, the eagles got taken up and around and SHOULD have had to circle jerk but Shallow had to wise up and yell "HEY GUYS THERE IS A SHORTCUT!" What a buzzkill! Honestly shit didn't get too weird on trail other than what I already described, it was short. I can tell you it was in fact, a shitty trail, no really, Chewie took a shit the size of an infant and Princess later stepped in what she described as a "greasy" shit (ewwww), someone's dog is getting into the bacon grease!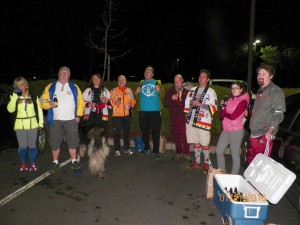 Then it was time for religion in the business park nearby the start. Probably the most shocking tale from trail was that 6 of 9 ACTUALLY PAID! Shocker! (not that kind of shocker) He also got his 50th hash patch. Steamy Baanorrhea and I got our 25 hash patches, and accuprick reached 200 (get a life!). This week also came with quite a few backsliders, Princess, Brokebench, Hangs Loose, Thmp, Slownad and our RA, Accuprick. At some point some muggles walked by and the song went from hash-worthy to Thmp singing "row row row your boat…" but Hangs Loose clearly didn't get why there was a switch because he proceeded to continue with "gently up my ass". That's one place to park a boat I suppose. Shallow got her down down for ruining the Turkeys fun and her man Waxi Pad got his for showing up only to start and religion. Finally the hares! Thanks for the short and shitty trail Hugh Heifer and dBased, but I think next time I'd rather sit here on my computer drinking a beer than run your shitty trail.
On On,
Pussy Wood