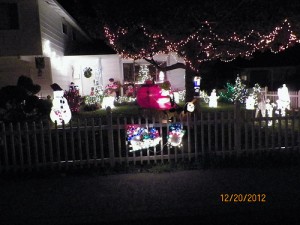 The Nightmare before Christmas
On this chilly winter night the pack invaded the home of Hares, dBASED, Occasional Rapist, and Hot Wheels.  I must say the place looks a lot nicer now.  I wonder why?  Our fourth Hare was neighbor, Cuff my Muff.   The Hares broke out a large selection of booze from their liquor cabinet in hopes to get the pack drunk enough so they wouldn't remember the atrocities of the evening.   Virgin Griselda, friend of Occasional Rapist came out for her first hash.  Not sure what Occasional Rapist told her, but she was not dressed in fitness apparel.  Her stylish dress boots looked like they would give her blisters in ½ mile.   dBASED gave instructions to the pack with background music on his cell phone that sounded like it came from a porno movie.  The Hares took off in cars and no one was in a hurry to leave the warmth of the house.  Reluctantly, the pack set off.
The first picture was of the entrance of New Brighton State Beach.  No beach to be seen though, as the FRB's found the next photo of Capitola Knolls apartment complex.    There was a little snafu in which hashers didn't know they had to present the picture to the hares before they would be given the next picture.  Dog Breath was kind enough to run back and get the picture, so the pack could move on.   Next, we were directed to Shore Life Community Church.   After that, they sent us to the City of Capitola Corporation yard, where we found Hot Wheels playing with his cell phone looking bored off his ass.  Poor kid, he has 235 hashes under his belt and has not had a drop of alcohol yet!   The pack then went to the parking lot of Aprillia Motors (previously the Italian scooter place), where dBASED handed us the next picture.   The most scenic part of the trail had to be the tour of the Cabrillo Mobile Home Estates.  We ran into a nice young drunk couple who had heard of hashing before and may join us in the future.    Then we were directed to Plum Street, Brookvale Terrace, where Occasional Rapist handed us a picture of Noble Gulch Park.  Next we found Hot Wheels in back of the New Brighton Middle School.  He handed us the last picture.  Thank God!  Beer check was in the parking lot of a Dentist's office, close to the start.
Religion was in dBASED's back yard (also looking nicer these days).  Accuprick was RA and Dog Breath was his lovely Beer Fairy.  Dog Breath got the first down down for being a backslider.  Hugh Heifer was punished for not doing trail last week.  Her excuse was that she was sick.  Lazy is more like it!  Broke Bench Mountain was also punished for backsliding.  His excuse was that he was getting cultured at "the Theater".  Deep Stroke drank "for still being here" and for stalking Accuprick at the Dentist's office.   Waxi Pad showed up in "business attire" straight from his company Christmas party, and just in time for a down down.  Virgin Griselda was so shit faced, she fell down on the altar and knocked over glasses of beer, then sang to us in Spanish.  Schlong Division and Just Marna were chastised for refusing to drink beer on trail.  Dog Breath received a patch for 175 Surf City Hashes!  Get a life!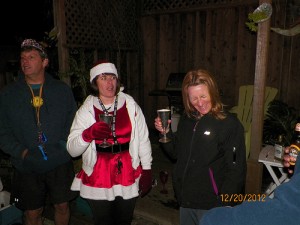 Next, we had a naming.  Just Marna stripped down to her sports bra in hopes of getting a more desirable name.  The pack settled on Cumcerto because she plays classical music on the flute.  Her sister, Princess Di(arrhea) also joined her for a celebratory drink.
If that wasn't exciting enough, Deep Stroke was given an award on her 1 year analversary of joining the hash.  She received a lovely metal statue of a shoe.  My guess is that Occasional rapist found the stupid thing and wanted to throw it out but dBASED thought it would be better to give it to somebody.  Was this the proverbial kick in the ass Deep Stroke needed to get the hell out of town?  We'll see tomorrow night if she shows up!  And last but not least, the Hares…………….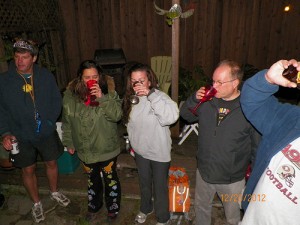 The drinking and merriment continued inside the house, where Occasional Rapist served everyone hot vegetarian Chili.  Yum!
See all you wankers tomorrow night at Henflings where Hugh Heifer will scare the devil out of us for hash # 666!  Bring it on Satan!
On On,
Shallow Hole