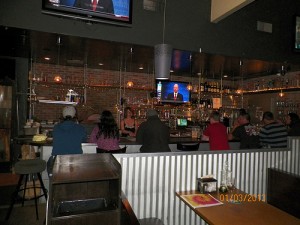 Happy New Year Surf City H3!  Let's hope 2013 is a year of good times, healthy livers and peace on earth.
For the first hash of the year, our Hares Princess Di (arrhea) and Thmp-Thmp summoned the pack to Burger.   This was Surf City's first visit to this location.  Great beer selection!  They even had a beer named especially for me called Shallow Grave.   It was a delightful porter with the hint of chocolate.  Yum!  I should try to sue for royalties, or at least free samples!
We had 2 Virgins this week.   Virgin Sarah, daughter of or GM TIMMY!  Not sure why it took so long for her to show up at the hash.   Broke Bench Mountain brought Virgin Albert.  They arrived late and caught the pack at Beer Check.
We had a few visitors.  Taint Brush and Tonya Hardon came from Silicon Valley H3.  Since dBASED and Occasional Rapist went over the hill to hash with them the previous Saturday, they returned the favor and made the trek to Santa Cruz.  Nice couple who like to make a homemade version of Chelata (clam beer made by Budweiser).
Dog Breath brought a mysterious lady named Rowdy, who said she was from Monterey, but has been hashing in the Middle East for 5 years and her home hash was Zimbabwe.  Guesing her met her on one of his top secret CIA missions.  She seemed a little too subdued for her name.
Just Andrea made an appearance this week.  Apparently it was her 3rd "paying hash".  We seem to see her a lot, either at the start or at religion, but rarely on trail.  In all fairness, she is still recovering from a foot injury so she couldn't do trail this week.  She does like to party, so she fits in well with this motley crew of nut jobs.
For the first trail of the year, you would think the Hares would go easy on us.  But no, they made the pack climb on of the biggest hills in town, all the way up to the entrance of UC Santa Cruz.  Damn them!  There was a bottle of Jagermeister near the tennis courts of University Park Terrace Park.   We went through a bunch of apartment complexes, then headed downhill on the Bay Drive walkway.  There was another bottle of booze stashed on the wooded trail.  Beer check was in a little park close to Mission St.
The Hares chose an elementary school parking lot for Religion.   Not surprising, considering the Hares are the adoptive parents of a couple of cats and Psycho Baby (AKA Jugular Jimmy).   Accuprick was RA.  Tonya Hardon was his Beer Fairy, who took the first down down.  She drank again with Taint Brush and Rowdy when the visitors were called up.  Dog Breath was sentenced to drink for lying (not sure what he lied about though).  Deep Stroke drank because she's still here, claiming RV problems are prohibiting her from leaving town.  I have a hunch there may be foul play involved.  Perhaps Puff the Magic Drag Queen has been using hash cash to pay the mechanics to hold the RV hostage.   Santa Cruz IS paradise don't you know?  Why the fuck would anyone want to leave here?  Driving cross country sounds like a good idea, but take it from me, I did it 3 times and it's a LONG ASS trip!  You think there would be all this cool scenery, but it's not that great.  In the Midwest all you see is fucking corn fields.    In Wyoming, they have the the biggest bugs you've ever seen.   And your windshield gets covered in bug guts.  On route 40 driving through New Mexico all you see are signs warning you of Elk in the road next 400 miles!  And have you ever ben to South of the Border (The tourist trap in South Carolina)?  I did see a mirage driving through the Mohave Desert.   But you can see all kinks of shit with a little dose of hallucinogenic.
We celebrated Accuprik's 100th and Hairy Potter's 169th Surf City Hash!  Get a life!  Hairy Potter also drank for being a backslider.  dBASED was chastised for "hash man love".  WTF?  Occasional Rapist and Just Andrea drank for being DFL's.  Virgin Sarah's Dad made her come.  Incest is best.  She sang a British version of a hash song.   Virgin Albert told a stupid joke about Dr Pepper.  Choka Cola, drank water and is now serving as her husband's designated driver.  Their bun in the oven should be arriving shortly.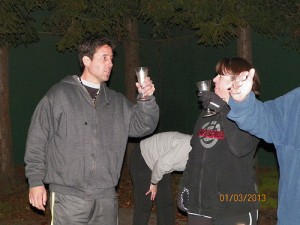 And the Hares………….. S H I – TTY     TRAIL!
Usually this would be the end, but Accuprick decided to continue to dish out down downs.  Must be old age.  TIMMY!!! drank for being an irresponsible bastard because he lost the Hashit vest.   Wicked Retahted was called up for just being himself.  And then the pack sang a lovely rendition of Happy Birthday to Accuprick.  That bastard is 60 years old!
,
The road goes on forever and the party never ends………………
Shallow Hole