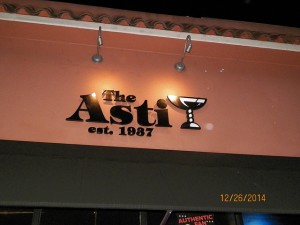 Yes Wankers, this week's hash was on Friday night instead of Thursday due to Christmas.  A sizable pack showed up at the Nasty Asti downtown for the Second Anal Krampus Hash.  This theme was introduced to Surf City last year by Dung Fu Grip.  This year Dung Fu coerced Pink Cherry Licker to be his devil in crime co-hare.
If you're wondering "who the hell is this Krampus dude", check out his website at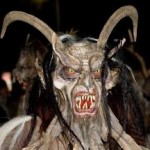 www.krampus.com .  Basically he's the Christmas devil, or Santa's evil counterpart.   If you're not on Santa's "Nice List", Krampus will punish all the naughty children, swatting them with switches and rusty chains before dragging them, in baskets, to hell.   So you'd better watch out!  In Austria, Northern Italy and other parts of Europe, people dress up as devils, wild-men, and witches to participate in Krampuslauf (Krampus Run).  Intoxicated and bearing torches, costumed devils run through the streets scaring people.   So in full Krampus style, hashers showed up with horns on their heads, ready to raise hell in Santa Cruz!
There were 2 trails.  I measured the Eagle at 4.7 miles.  Occasional Rapist's trail map was 3.96 miles.  Everybody started out going down the river levee, up the stairs to Beach Hill.  There was a Southern Comfort liquor check stop.  Trail headed down hill toward the boardwalk.   Luckily this trail didn't go on the sand.  Instead, trail lead the pack towards West Cliff.  There was a check in front of the West Cliff Inn.  Instead of going up the hill, trail went right, across the bridge and onto Center Street.   There was a little tour of Santa Cruz High School, before going up Walnut and across Mission Street.   The turkey eagle split was on King Street.  Turkeys went towards the pedestrian bridge across Mission Street to Holy Cross Church.  The eagles went up Laurent Street, up a big hill.  We were rewarded with some liquor on the hill though.  Some peppermint schnapps.  Trail continued on Laurent to King and then over the Pedestrian bridge by Holy Cross Church.
There was a crazy schizophrenic lady in front of Holy Cross Church.  Perhaps she was hanging out in front of the church hoping for an exorcism by the priest.  Lord knows she had some nasty demons plaguing her.  Several hashers had interactions with her.  Some hashers thought she was on the phone, but she was talking to herself.  Dung Fu told an interesting tale of how she hugged him and told him how much she loved rabbits.  Then she asked him to help her perform CPR to revive her "imaginary friend."  We may never know the fate of her imaginary friend.  Trail went down the steps, passed the clock tower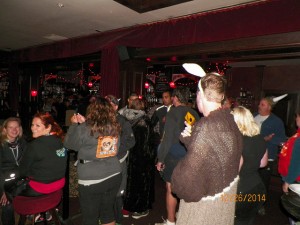 and lead to beer check at Red (the high class upstairs bar).  The Hares treated the pack to pitchers of beer and appetizers.  I tried the rosemary and fennel French fries.  They rocked!  Hope Fap Jack's reputation isn't tarnished after hashers invaded the bar!
Religion was up on top of Oswald's parking garage.  It was pretty cold and windy up there.  Fuck this winter shit!  Accuprick was RA and Fingernips was beer Fairy.  Dung Fu Grip passed out gifts.  We all got flash drives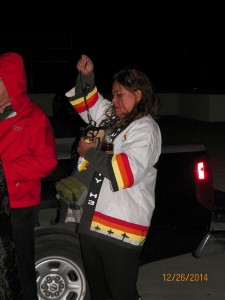 with hash songs and porn on them.  Paki Sak got a down down for hiding out in TIMMY!!!'s truck to stay warm.  Dung Fu Grip told his tale from the trail about the crazy lady.  We were happy to know that the imaginary friend survived and Dung Fu took him/her on trail.  Dog Breath drank for the imaginary friend.  Visitors, Today is Monday, Paki Sak, Popo Strip Show and Ska Skank Redemption were welcomed to the hash.  Herpie Hand Cock drank for being a backslider.  Dog Breath drank for showing up late.  Ho to Housewife drank for getting lost at a school 2 weeks in a row, and got caught at the YBF.  Puff the Magic Drag Queen was following her butt, so he drank too.  And last but not least, the Hares…………………………………….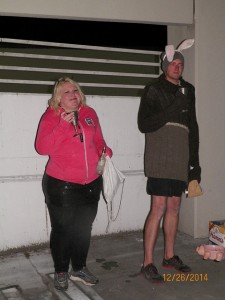 See you Thursday night, where we will be ringing in the New Year with Occasional rapist and dBASED in La Selva Beach.   Start location is Cliffside at La Selva .  Park across the street from 342 Vista Road, La Selva Beach, CA 95076
On On,
Shallow Hole