Yes, the Gods must have been smiling on us as there wasn't a raindrop in sight. I almost thought I was in the wrong state….or maybe just the wrong state of mind.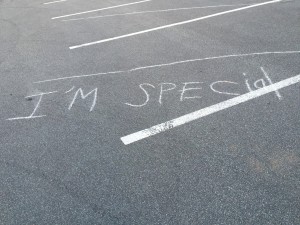 Nevertheless, I was looking forward to a little fresh air and a passing ocean breeze to clear the haze of anesthesia. Turns out that I did trail with Big Foot aka Accu…or half a trail because we were ordered to stay off the sand because of our delicate, fragile tendons. 
But I digress…the start was a clusterfuck…..tried to park in the lot but Annie and ButtBalls were shooing us away like pigeons in the park.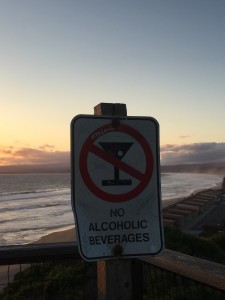 Guess they really did not want us on their shitty trail. Cars and trucks were being moved and relocated like bumper cars….practically running over dogs, gear and people's toes! Then we had to play hide the beer every time the authorities drove by. That's a fun game……..NOT!!!
So after all the re-organization of the vehicles and a little first aid for dismembered body parts, the pack was finally off…..but it became clear that the hares were not on the same page. Lots of different marks going in totally different directions. Of course, DBased was in his element. But we were not to be deterred and we understand the complex nature of their strange marriage so we just forged ahead….shaking our heads.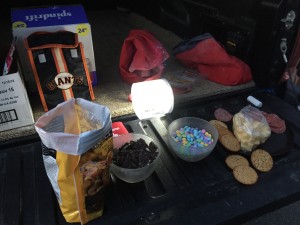 I found it ironic that the hares, in an attempt not to disturb the caretakers house had marked "shh" in caulk…however the incessant barking the homeowners dogs negated the need for a "shh" sign!??
Another chalk sign attempted to ridicule some members of the pack by spelling "I'm special". Yes honey we all are "SPECIAL"…..in more ways than one. In fact the whole group is awfully special.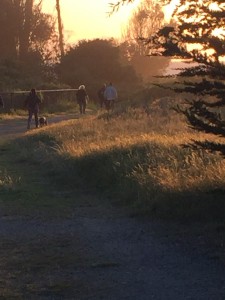 Most of the special pack meandered through the campground, admiring the scenery, the sunset and each others butts. Some found the LC…a tasty peach concoction. And then some Idiot left it on the beach…ARGGGGGGGGGH.
Finally, after an exhausting 1 mile trail, we met back in the bumper car lot to feast on Annie's buffet of Easter treats. She did go out of her way to make up for the "trail"….by plying us with pastel M&M's, pretzel mix, cheese and crackers, chocolate bark and some crappy canned wine highlighted by the festive solar lantern. A lovely touch.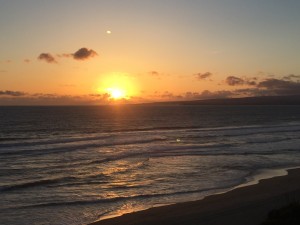 Religion was a lively affair….lots of singing and songs and the usual beer guzzling antics.
A another Epic Surf City Hash!!
On On
CumFartZone