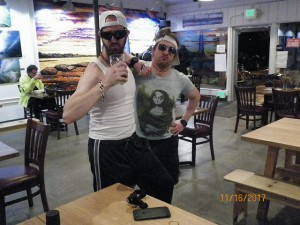 We started at East Cliff Brewing with the Jersey Shore Boys in full regalia. We got the memo from Courtesy Flush about his sacred costume hash complete with step by step instructional videos on how to rock the complete Bro look. All week long we practiced our best squats and pumped up the guns to look bad ass. We ran out to KMart to pick up a new white wife beater tee. We raided our Mom's jewelry box to search for the most appropriate and obnoxious gold chain. We slathered on the dippity do, spritzed ourselves and everything else within 20 feet with crappy cologne and cheap perfume. Hair was teased up to dizzingly high heights and lips were glossed and perfectly pouty. The eyeliner was slithered on neatly with sleek black lines extending  far beyond the reaches of the eye and good taste.  The nauseous blue eye shadow glittered and sparkled. These bro and bras were ready to hit the town…..at least attempt another shitty Surf City trail.
Much ado was made about this trail…complete with not one but two Liquor checks, weenies and marshmallows roasting over an open fire pit, and copious amounts of muscle milk.
The excitement mounted over a few pre trail beers and much primping and posturing. A quick Dollar Tree foray was rewarded with extra hairspray, glitter and really shitty perfume. I mean really –  who expected Channel #9 from the dollar store??
Finally we set off on this exciting beach side trail….strutting our stuff and meandering through a few neighborhoods, finally emerging at the Santa Cruz Harbor. Once beyond the Crows Nest we had to navigate huge tractor made mountains in the sand as the water lapped dangerously close to our toes. Amazingly little 4 legged Two F*ck Chuck was able to keep up despite missing many of the most recent hashes.
Once we survived the Sub Saharan death march we we rewarded by the promised bon fire.  We settled in to enjoy toasted marshmallows and leftover spiked muscle milk…..Gag me.
CumfartZone wedged her tush on a soggy log in order to take notes and enjoy her beer in comfort around the crackling blaze. It was short-lived.
Unfortunately our new RA used her ill gotten power to expel CFZ from the log and partake of the first down down. Grrrrrrrrr.
Banished to the cooler, CFZ meekly cowered and did her dutiful scribe duties without any more fuss.
Bare Back Unicrack was called up for peeing on trail THREE times….and CumYouWillNot, who has no shame, apparently peed right on the driveway in front of a house. A modicum of discretion would be nice so we all don't get hauled into the local jail!
Crimes included RealBoringBitch pointing with his fingers. Luckily CuntJungle set him straight.
CumYouWillNot comes off the beach trail and runs gleefully up to the first fire ring she sees and asks "where's the beers dude?" All she gets are blank stares. Pay Attention Missy!! Those were 12 steppers…..NOT hashers!
UrineCider apparently five fingered someone elses shades….Not cool Bro.
Our new beer meister for the night parked the beer truck at the wrong location. With all his gadgets, GPS, Geocaching skills and giant alien like headlamp he still could not find his way to religion. Way to go Dbased.
Meanwhile all the Bros and chicklets were called up for a Down Down. These folks took the time to READ the description of the trail and made an EFFORT to dress up appropriately. Curtesy Flush, Baker's Dozen't, Just Sean, Urine Cider, Just Andrea, Shallow Hole, Cunt Jungle, BareBack, CumYouWillNot, PCL, Puff, Fap Jack, Real Boring Bitch, Wicked…in other words the whole pack.
Well done people.
Curtesy Flush handed out some prizes for the best Flex, best squat, and best clean and jerk.
He lovingly made some BROceltes(translation….bracelets) for the winner. He is such a metrosexual kinda guy…..kinda like Vag Repair Kit…..they both read Architectural Digest, love fresh flowers in the home, iron their sheets and make their own bread. One day they will make a girl very happy.
Shallow stepped into her new role as GM easily and effortlessly. How hard could it be to supply and pass out the chalk, set the timer once the hares are off and offer introductions at the starting circle? Well, for some this is a monumental task….but Shallow rose to the occasion. Only 103 more hashes to go!!
Good luck Girlfriend.
Oh and we had a Birthday…Curtesy Flush…who else!!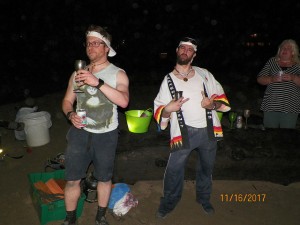 So, onto Thanksgiving festivities and overeating….so what else is new.
On On On,
CumFartZone