Monday Comes On Thursday,
Three days late for a Monday and one week late for 420. To further his sad reputation, TIM arrived well after his advertised hare-out time of 6:30. The only upside to this is the reduction in the amount of time we had to deal with him.
I know, I know. TIM is a all-around good guy and everyone likes him. The only exception may be when he hares. He said he was disappointed he could not work another thrilling adventure into Pogonip as a part of this year's trail. He also said he even discovered a new piece of turf to introduce us to and not to worry about the fact it may involve a stint onto private property. (The hare, being the first through, always escapes, it's the pack that has the cops called on them!)
So, let's set the table for this (late) Four-20 Feast. We're in Harvey West Park using a picnic area without a permit. Baseball and soccer games are surrounding us and concerned parents have fingers poised above the emergency button on the hand-held device should the pack become too rowdy. This has been designated the weekly FHAC-U trail so those jokers are here in abundance. A number of these clowns have not been viewed since last year's Red Dress Run. That must have cured them of wishing to visit Surf City for quite a while. I can only hope they remember TIM is not a frequent hare for us and that his presence here today does not deter them from visiting with us again soon.
As mentioned, the hare showed up late but still believed he had time for a beer-and-a-bowl so it was approaching the seven o'clock hour before he opted to deliver Instructions of Trail. For a change, IoT was actually worth your time as it was stated money would be required on trail. This led one to believe a brew pub was in our immediate future. It proved true though it was not so 'immediate'. Hare off.
The next fifteen minutes, though our hare claimed he would only require ten, was consumed with fierce socializing, renewing old acquaintances and being updated on people's lives. All in all, a rather enjoyable and enlightening time. But as all good things must end, sadly, time for Circleup for Introductions was called for by co-GMs Cumz Out My Nose and Broke Bench Mountain. This requested was responded to by the following hounds: Steamy Baanorrhea, Flours For Anal Bum, Cum You Will Not, Clearly Not A Hooker, Dung-Fu Grip, Rubik's Pube, TIMMY!!, Hugh Heifer, Skid Mark, Worm, Shanghiney, Table Me, No Film, Gary the Shit Stain, Snake Me Anywhere, Please Do Me, Pink Cherry Licker, Sister Mary Orgasm, Drink and Squirt and Puff the Magic Drag Queen. Our canine contingency this week was Scratch and Sniff, Spot'd Dick and Swamp Rat. Pack out.
Trail pulled the pack through the parking lot to an on-right onto Harvey West Boulevard followed by an on-right onto Coral Street. Now you may be thinking, We're headed back towards the start, TIM would NEVER consider a trail THAT short! And you are correct, however, never underestimate the deviousness of TIM! Just as Coral turns on-right to morph into Evergreen Street, a hare arrow pointed the pod on-left and on-up the (steep) hill on a pedestrian path. This culminates at High Street. Trail was eventually located on-left and on-up the circular ramp leading to the top of the pedestrian bridge towering over Highway 1. Once across, an on-left skirted the edge of Holy Cross Church and on-right and on-down Mora Street to on-left onto River Street.
Almost immediately though we were directed across River TOWARDS the river! Once across River,(without benefit of a pedestrian safe crossing) the next on-right, Josephine Street was our destination. Josephine terminates at the river levee but that would never stop THIS hare! Across the walkway we went to plunge over the cliff on-down to the (mercifully) dry bed of the mighty San Lorenzo River.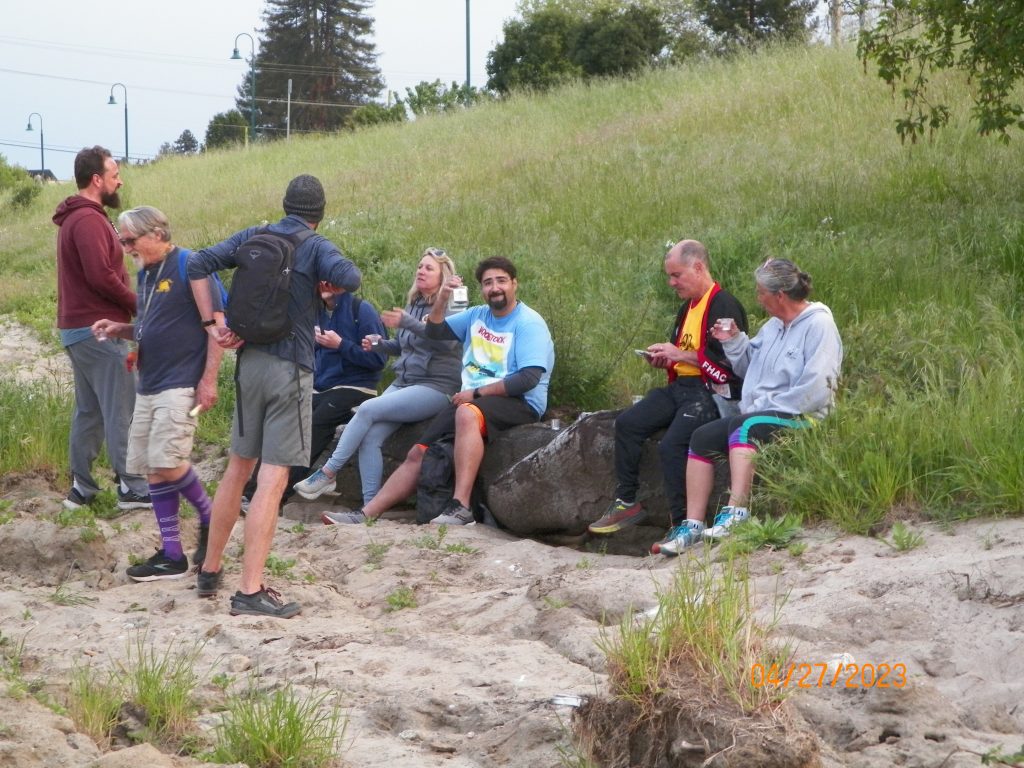 Here's the FRBs enjoying refreshments of a number of types on the thankfully dry bed of the river.
These thugs would hang on awaiting the arrival of the Walkers.
Then we would reluctantly on-up to the top of the levee again and on-right and back on trail.
Once back on the levee trail proceeded until the parking lot for PetSmart. There it was on-left and on-down into the park lot where the brood spread like butter. We vaguely had an idea as to which way to go and eventually enough hounds found enough marks to bring the gang back to River Street. At least this crossing of River utilized a traffic signal for our safety. Once across, it was on-right one block to Madrona Street. Once turned, our destination became clear, Woodhouse Brewing. And there we were(there we were) inside Woodhouse. And a great place it is too. You do, however, need to be a fan of IPAs as not much else exists on the menu. Food was also available at this venue. After concluding our business here, we were told more trail was to come so TIM was again allotted a small amount of lead time.
The pack returned to River Street to perform an on-left to Highway 1. This time, however, we must cross the highway itself rather than a safely elevated over-crossing. When the light said it was safe, most hashers ran faster than they had all night though knowing the grim statistics of this particular crossing. Once safety was attained, it was two blocks until an on-left directed us onto Fern Street. Just as Fern reaches the railroad tracks the BN was observed and we made the on-right on-in to Shanty Shack Brewing. Here the beer selection is more varied and everybody was able to find somebody they wanted.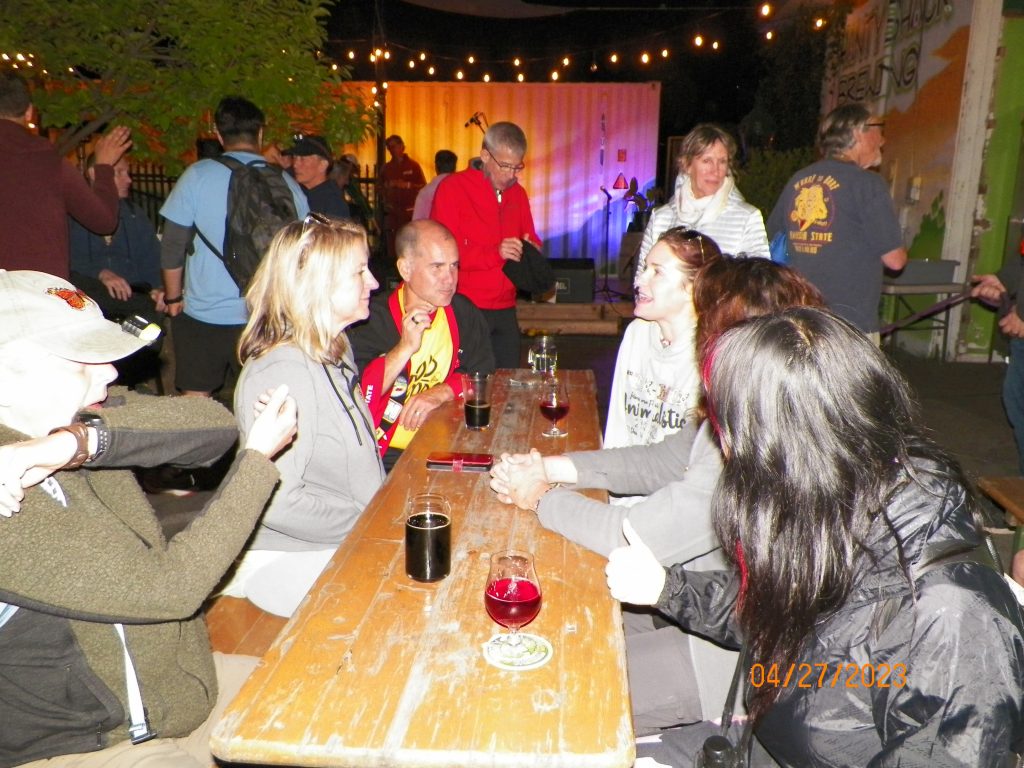 Outdoor drinkin' at Shanty Shack(colloquially called Shabby Shack) was in order on a nice and warm evening.
Flours For Anal Bum, Skid Mark, Worm and Clearly Not A Hooker discuss non-important issues.
Business completed here, it was reversing on-out to on-in to the start.
Once everyone was safely assembled and had beer-in-paw, Dung-Fu Grip grabbed the reins and reeled in offenders for their deserved down-downs. Here's a sampling of what he did to his kennel mates this eve: Broke Bench Mountain because Scratch and Sniff managed to poop not once but twice along trail; Cum You Will Not for asking at Woodhouse, How many are going in the rear?, we did not inquire as to whose rear; Flours For Anal Bum for looking for her glasses until someone laughingly told her, They're on your head!(who said head?); Rubik's Pube for louldly exclaiming at Woodhouse, I'm only here for the meat!(did her husband know that?); Worm who was so intoxicated he had to be pushed along trail in a shopping cart by overworked, underpaid harriettes; visitors were recognized and Sister Mary as a backslider. We were worried the gate would be locked so….oh. The damn hare. We thanked TIM for haring and the beautiful stop in the river bed and the two, count-em-two, Beer Checks but little was said about the trail between those three events. Back to the feared closing of a gate locking our vehicles in the park, Religion was dismissed and everyone trotted to their cars and exited safely. This Hash is over.
The preceding was a factual accounting of actual events though possibly not as they actually occurred. One should never allow the facts to stand in the way of a good story. Do not allow the profound to become the enemy of the interesting.
A Scribe's sole purpose is to provide entertainment to their kennel mates. Whether or not they are successful in this endeavor is still a subject open to debate.
I chose not to complicate this Hash Trash with facts thereby allowing me to extract almost any end I desired. It was with this motive in mind I recounted the events that comprised Hash Twelve-42.
By Special Appointment of His Royal Majesty 'G', this Hash Trash has been compiled and printed by permission of no one other than the author at Santa Cruz, Ca., or elsewhere if need be, on this, the second day of May in the year of our Hash two-thousand twenty-three.
Submitted with all respect due,
Puff
the
Magic Drag Queen