Cum You Will Not,
Lived down to her name for this Hash. There was no cum on trail. Many hashers wish they had not 'come' at all! Clarification to follow.
We assembled in a cold, shady and windy area of Jade Street Park. This alone should have served as a forewarning to the flock. Hounds hopped to and fro in an effort to find some sun and it's promised warmth but were basically unsuccessful in this endeavor.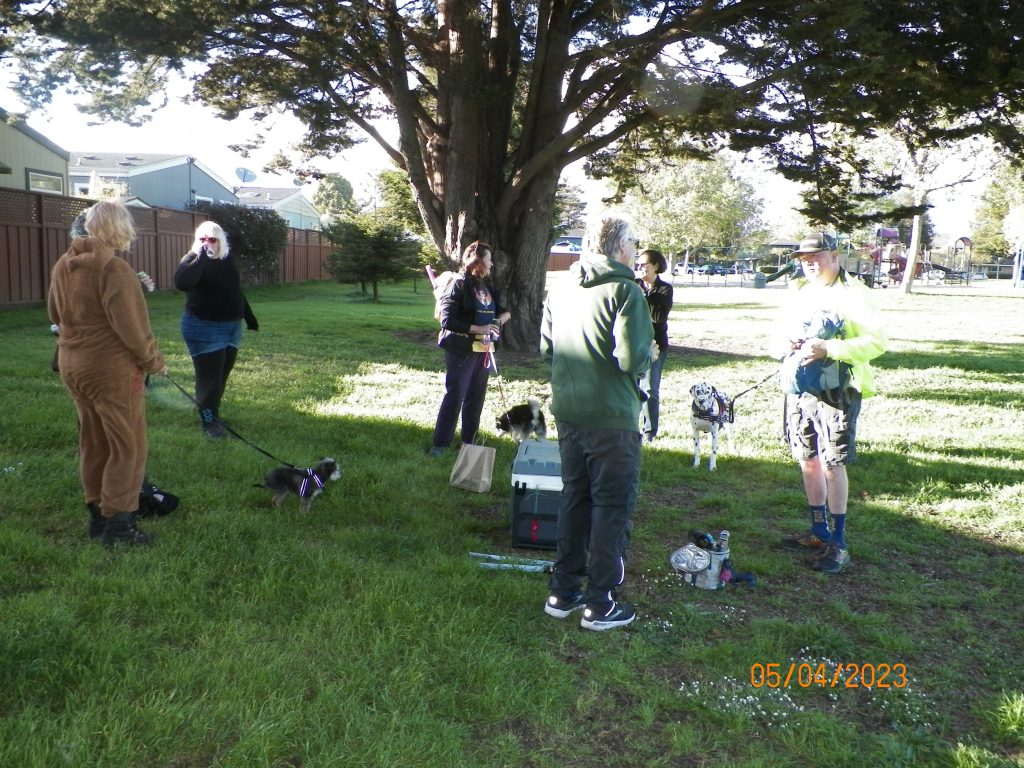 Here we see First Responders on a quest for some warmth. It was not as cold as it was windy but the source of the frigidity mattered less than the results! Additional quantities of alcoholic antifreeze will be required this day.
Eventually the entire pack assembled and huddled-in-mass but to no avail. The wind speed increased inversely proportional to the decrease in our body temperature. Our hare-pair, that of Cum You Will Not and Dung-Fu Grip, feeling as frigid as anyone, delivered Instructions of Trail relatively close to the announced time. It was stated a Turkey/Eagle split would be available as well as a Liquor Check and Beer Check. There would also be an opportunity to destroy the Death Star but you will need to be able to withstand withering fire from Storm Trooper Dung-Fu as you made you strafing run. Uh, okay. whatever that meant. Hares away.
The next shivering fifteen minutes were spent doing exactly that, shivering! Hounds were hunting for their outer garments. The only one not bouncing to build body heat probably was Hareless whom wore a Star Wars themed costume which served her ably as insulation. Not a second past the allotted fifteen minute lead time, co-GMs Cumz Out My Nose and Broke Bench Mountain called for Circleup for Introductions and heard cold greetings from the following: Steamy Baanorrhea, Pink Cherry Licker, Hareless, TIMMY!!, Flours For Anal Bum, Rubik's Pube, Cold Smegma Kamikaze, dBASED, Circle Gherkin' and Puff the Magic Drag Queen. This week's canine contingency consisted of Spot'd Dick, Scratch and Sniff, Swamp Rat and Bronson. Junk Puncher is currently on vacation in New Mexico. (lucky dog!) Pack away.
We were told to return to the parking lot and there would find some markings pertaining to this trail. Once there, flour was found taking us onto 45th Avenue and soon to make an on-right onto Opal Street and one block later on-left onto 47th Avenue. Now we began diving deeply into the area of Capitola colloquially called the Jewel Box. This is due to streets named Opal, Garnet, Emerald, Topaz, Crystal, Jewel and Diamond. 47th was used until Crystal where an on-left was dictated back to 45th where we went on-right one block to Capitola Road where another on-right was bidden.
We traversed along Capitola Road until back to 47th where we were directed on-left but immediately on-right to remain on Capitola Road. This lasted until 49th Avenue where we went on-left to merge with Wharf Road. We continued along Wharf Road until taking the on-right on-down into the bowels of Rispin Mansion, across the twin bridges towering over Soquel Creek and into Peery Park and on-right to Riverview Drive. We traipsed quite a bit of Riverview before making an on-right onto Riverview Avenue followed by an on-right onto Soquel Creek Pathway. This would bring us to Stockton Avenue where it was on-left until Stockton ends at Cherry Avenue where it was on-right. Cherry would bring us to Monterey Avenue and an on-right.
We soon crossed Monterey and found the Turkey/Eagle split. The Eagles are heading up to the top of Depot Hill. Doesn't sound like fun, Scribe will avoid that. However, not too far along Monterey, a hare arrow pointed the Turkeys on-up to join the Eagles. That horrendous set of stairs brought the Turkeys on-up. There everyone had the opportunity to destroy the Death Star by tossing a ball into a bucket while being blasted by Dung-Fu Grip from his laser cannon, AKA squirt gun. No idea what he had filled it with either. More on this during Religion. After dispensing with this fun and frivolity it was on-down the stairs and on-left to a walkway on-left above the beach into Beer and Liquor Check conveniently located right beside each other.
After these two checks were dispensed with, it was on-in back to Jade Street Park. Once there, co-RAs Pink Cherry Licker and Dung-Fu Grip begin issuing down-downs. Here's a sampling of what they did to the pack: Rubik's Pube for coordinating donations for the raffle for Red Dress; all that followed through with the Star Wars theme for this Hash; Best Costume Award to Cum You Will Not; Death Star destroyers Rubik's Pube as best(but was over the line) and worst shot to Steamy Baanorrhea who hit a car parked on a nearby street(!); Hairless whom chose not to spin around as requested for the song Do You Want A Finger? And announcements and on-on-on to be at the Brit. And done. Oops, almost forgot the hare-pair. Everyone appreciated the close proximity of Beer and Liquor Check but little else. This Hash is over.
The preceding was a factual accounting of actual events though possibly not as they actually occurred. One should never allow the facts to stand in the way of a good story. Do not allow the profound to become the enemy of the interesting.
A Scribe's sole purpose is to provide entertainment to their kennel mates. Whether or not they are successful in this endeavor remains a subject open to debate.
I chose not to complicate this Hash Trash with facts thereby allowing me to extract almost any end I desired. It was with this motive in mind I recounted the events that comprised Hash Twelve-43.
By Special Appointment of His Royal Majesty 'G', this Hash Trash has been compiled and printed by permission of no one other than the author at Santa Cruz, Ca., or elsewhere if need be, on this, the ninth day of May in the year of our Hash two-thousand twenty-three.
Submitted with all respect due,
Puff
the
Magic Drag Queen
Surf City H3 Scribe