Let's move on,
To another starting point. It appears our hare-pair accepted the website for Felton Music Hall as gospel truth and did not check to insure it's accuracy. It was NOT open at 6PM as it reputedly would be so upon their arrival, the hares moved the start to Monty's Log Cabin. So, trail 'began' with a half mile addition from a semi-respectable venue to a well known den of denizens. Not an especially auspicious beginning, shall we say. Once there, an extended period of waiting was initiated in an effort to connect with as many lost hounds as possible. While such action meant more to the hares than the pack, it provided early arrivers with an excellent excuse to secure a second libation. This provided us with a completely different perspective pertaining to the impending trail. When the hares decided they'd snared as poor half-minds as they could, Pink Cherry Licker delivered Instructions of Trail claiming Turkey was approximately three miles and Eagle an incredible six! In this mountainous terrain and heat?!? Good luck, Eagles! Hares out.
Fifteen minutes of our lives were expended chatting, drinkin', paying bar tabs and drinkin'. GMs Cumz Out My Nose and Broke Bench Mountain, finally have found us, then called for Circelup for Introductions and heard from: dBASED, Baker's Dozen't, Rubik's Pube, TIMMY!!, Steamy Baanorrhea, Dung-Fu Grip, Oral D, Clearly Not A Hooker, Jersey Lunchbox, Driponya, Circle Gherkin', Just Katie and Puff the Magic Drag Queen. This week was a slim canine contingency as one section of trail was an area dogs were prohibited from. This did not deter Cumz and Broke Bench though, Scratch and Sniff accompanied them. Pack out.
Trail proceeded back towards town along dangerous California Highway 9 but mercifully soon made an on-left onto Laurel Drive followed by the next available on-right, Gushee Street. Just past Hihn Street we were directed on-left into a small park area. We have held Religion here once. The walkway brings you back to Gushee very quickly and we continued until reaching Felton Empire Road. There it was directly across to Cooper Street to an on-left onto Farmer Street followed by an on-left onto Ashley Street. This would take us past the Felton Cemetery where Liquor Check awaited unsuspecting hounds.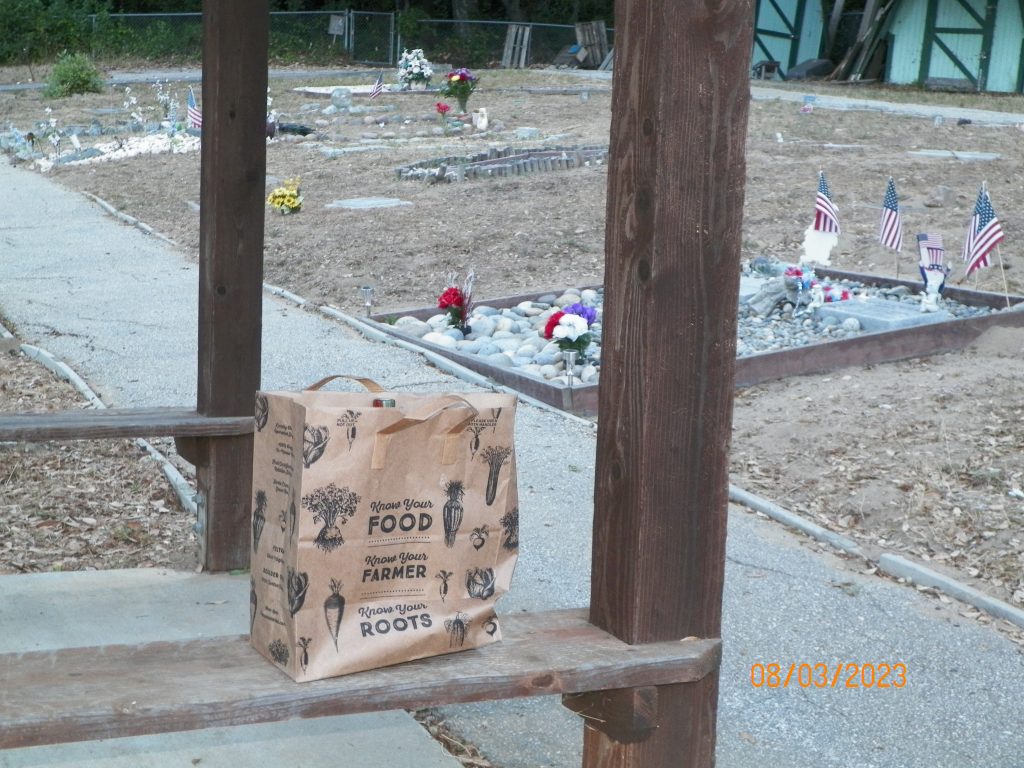 We continued along Ashley and then made an on-right onto Blair Street. When Blair ends, an on-left is dictated onto Love Street which one block later ends at Felton Empire. Thanks to the moving of our starting point, we've already passed the one mile mark. Not a very promising beginning for a trail reputedly of only three and six miles for the Turkeys and Eagles respectively.
At Felton Empire and on-right initiated the incredibly dangerous undertaking of traversing on-up all the way to the entrance to the Fall Creek Unit of Henry Cowell Redwoods State Park. We have been here a number of times before so we knew what to expect: a long and winding trail bordered by beautiful Fall Creek and redwoods and poison oak sufficient to insure you did not stray far from said trail. Through the parking lot we went and plunged on-down Fall Creek Trail. At the two mile mark of trail, Fall Creek Trail forks. Here was the first major dilemma of trail. Apparently, the hare-pair had (foolishly) placed the Turkey/Eagle split in the middle of trail to insure no one would miss it. Well, no one DID. Sadly though, that also includes any mortals who just happened to be on this trail on a beautiful, warm Summer evening…and there were plenty of them. Enough in fact to partially obliterate the marks. The only remaining remnants were what appeared to be a 'T' and an arrow pointing on-right. Circle Gherkin' remained at the check to direct traffic while FRBs had dispersed in both directions.Those that went on-right soon returned claiming to have found no marker. Those that went on-left never returned. It was soon decided on-left was Eagle and on-right Turkey. The Eagles proceeded along Fall Creek Trail and then on-right on Ridge Trail. The Turkeys went on-right and then on-left onto High School Trail. The Eagles would rejoin them along this trail and the entire mob proceeded to an outdoor amphitheater at San Lorenzo Valley High School where the hares were encountered lounging. The most fervent activity here was not the usual slurping of libation but the fending off of mosquitoes. While a scenic location for Beer Check it proved more advantageous for the local vermin than the pack. The poor FRBs struggled along the six mile trail, including a formidable hill, and were quite a distance behind the Turkeys.
Once the hapless Eagles had recovered sufficiently to amble again, the on-in to Religion was initiated. This was another mile and a half added to trail length, thank you. This was to the current abode of Hareless. Once there, Dung-Fu Grip fired up his Religion machine. Here's a sampling of down-downs issued this evening: Timmy!! for finding the only pile of dog poop for miles around, Dung-Fu for shedding blood on trail, Baker's Dozen't for relaying a sizeable section of trail rubbed out by passing mortals and backsliders were justifiably punished. This Hash…oh. The accursed hare-pair. Everyone appreciated the scenic jaunt through a redwood forest, just not so damn much of it next time please. This Hash is over.
On-on-on was at Taqueria Vallarta.
The preceding was a factual accounting of actual events though possibly not as they actually occurred. One should never allow the facts to stand in the way of a good story. Do not allow the profound to become the enemy of the interesting.
A Scribe's sole purpose is to provide entertainment to their kennel mates. Whether or not they are successful in this endeavor is still a subject open to debate.
I chose not to complicate this Hash Trash with facts thereby allowing me to extract almost any end I desired. It was with this motive in mind I recounted the events that comprised Hash Twelve-60.
By Special Appointment of His Royal Majesty 'G', this Hash Trash has been compiled and printed by permission of no one other than the author at Santa Cruz, Ca., or elsewhere if need be, on this, the sixth day of August in the year of our Hash two-thousand twenty-three.
Submitted with all respect due,
Puff
the
Magic Drag Queen
Surf City H3 Scribe